California Leads In Solar Power: One Of The Largest, Most Technologically Advanced Solar Power Plants Completed [Pictures] [Infographic]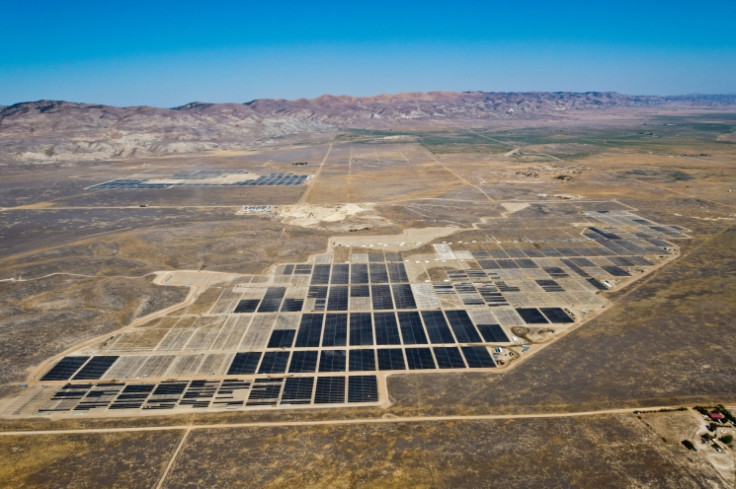 One of the world's largest and most technologically advanced solar photovoltaic power plants is now commercially operational in California, the U.S. Department of Energy said.
The 250-megawatt project, which was completed Thursday, features the ability to shift positions of panels wirelessly to track weather and optimize solar input to collect as much of the sun's energy as possible.
California Valley Solar Ranch, in San Luis Obispo County, was built by NRG Energy Inc. (NYSE:NRG) and SunPower Corporation (NASDAQ:SPWR). The project created hundreds of jobs and put an estimated $315 million into the local economy. The plant now powers 42,000 homes.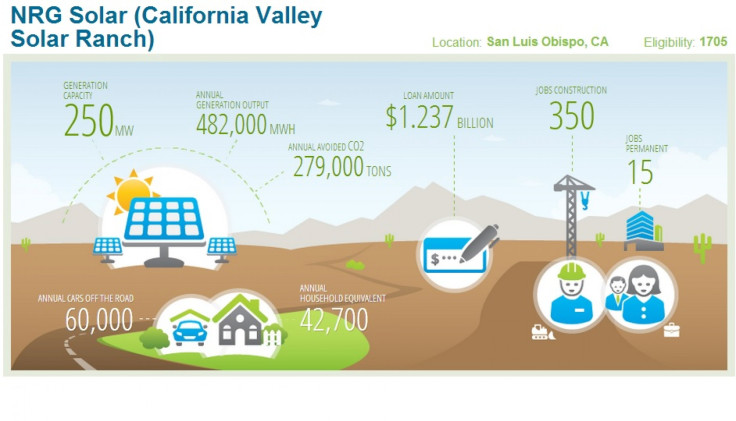 In 2011 the DOE guaranteed a $1.2 billion loan to support the construction of the Valley Solar Ranch plant. The loan guarantee is part of a wider DOE program to help finance large-scale projects.
"This isn't just big news for California. It's part of a broader clean-energy transformation that is taking place across the country," the DOE said Thursday in a statement. "Solar energy facilities are now producing electricity at the scale of traditional power plants. These utility-scale projects show that solar power is no longer found just on rooftops."
The facility is the first utility-scale solar energy project in the U.S. to use wireless tracker monitors and control systems to help improve annual output by approximately 25 percent, compared to fixed installations of panels. The project will also avoid 279,000 metric tons of carbon dioxide annually, the equivalent to the emissions of 60,000 vehicles, the DOE said.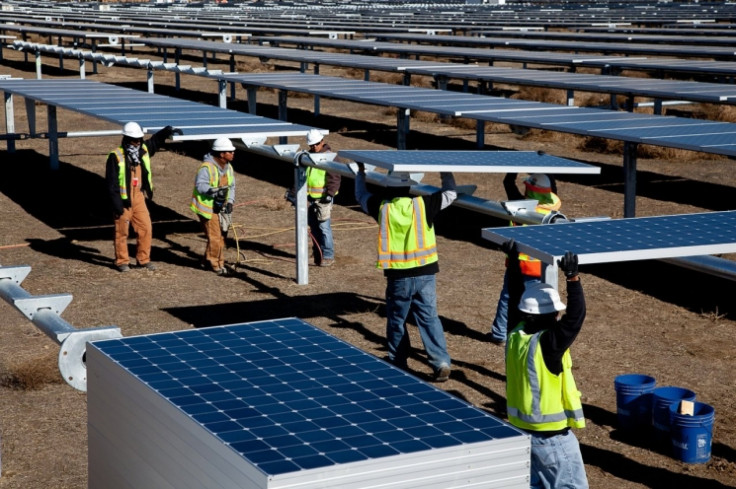 Part of President Barack Obama's climate action plan is the reduction of greenhouse gases by 17 percent by 2020, from 2005 levels. One way the administration is combating carbon emissions is to promote renewable energy programs.
To meet the 2020 goal, other renewable projects besides solar have been put in place by the Department of Interior. Since 2009, Interior has approved 25 utility-scale facilities, nine wind farms and 11 geothermal plants, which together would provide enough electricity to power 4.4 million homes.
A key component of the action plan is to expand and modernize the electric grid to save consumers money on energy bills while promoting cleaner sources of energy. In support of these goals, Obama signed a memorandum this month to direct federal agencies to "streamline the siting, permitting and review process for transmission projects across federal, state and tribal governments."
Solar power is not only attractive to homeowners or states looking to save on their electricity bill, it is also being used, increasingly, by corporations in order to save on their energy bills.
Today, businesses, nonprofits and government organizations have installed new solar panels producing more than 1,000 megawatts of power. As of mid-2013 the total commercial deployment was 3,380 megawatts for 32,800 facilities across the U.S., increasing to more than 40 percent since the previous year, according to the Solar Energy Industry Association (SEIA).
SEIA came out with a graph with the top 25 companies using solar energy to power their facilities.
© Copyright IBTimes 2023. All rights reserved.