California Mudslides 2015: Roads Closed In Southern California After Deluge Traps Hundreds Of Cars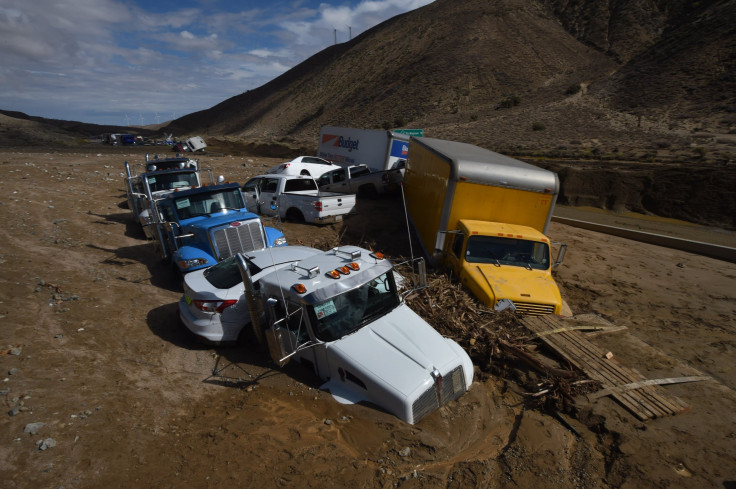 Torrential downpours in Southern California left a major trucking route buried in up to 20 feet of mud. A mile-long stretch of State Route 58 will remain closed this week following a deluge that left nearly 200 cars and 300 people stranded, CBS News reported Sunday.
Intense rains over the region's high desert and mountains in recent days sent massive mudflows onto highways, lifting vehicles and crashing them into one another. One spot in the Antelope Valley saw 1.81 inches of rain in 30 minutes Oct. 15 in what the National Weather Service described as a 1,000-year rain event -- a storm with a 1-in-1,000 chance of striking in any given year.
Everyone trapped in the muddy mess was believed to have safely escaped, although emergency workers were double-checking the scene, according to CBS News. Daniel Valentin recalled being swept away while driving along Highway 58 with his family. "My daughter's 8 years old. She freaked out really bad," he told the news station. "She started screaming. 'Dad, dad we're going to die!'"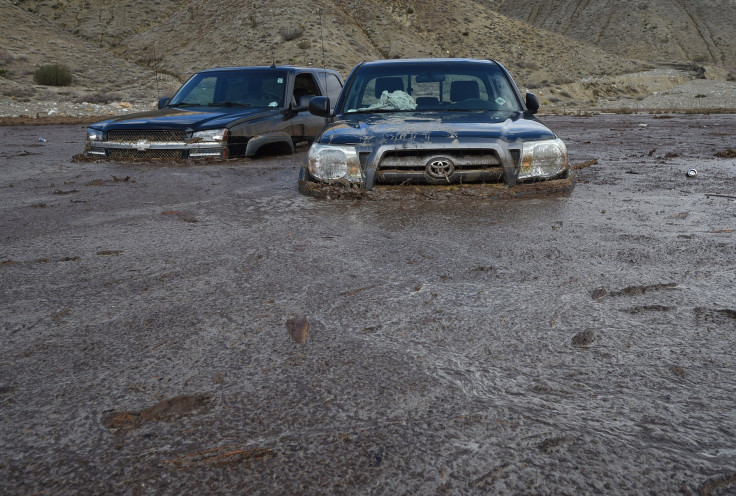 Thursday's storm was the result of a slow-moving low-pressure system that pinched off from the jet stream, Daniel Swain, a climate scientist at Stanford University, told the Los Angeles Times. While the storm was not related to the El Niño event forming in the Pacific Ocean, weather experts said these storms offer a preview of what's to come in California's winter.
During an El Niño, warm equatorial waters that pool near Asia and Australia are propelled toward the Americas by shifting winds and currents. The west-to-east commotion has the effect of raising the ocean's overall surface temperature, flinging more moisture into the air and boosting the potential for heavy storms from California to Chile.
Climate scientists say they expect this year's El Niño will be among the top three strongest events since 1950. While the phenomenon could bring flash floods, it might also deliver replenishing rains to parts of California, which is grappling with a brutal four-year drought. Still, the above-average rainfall isn't expected to snap the Golden State from its dry spell; doing so will require years of higher-than-normal rains, scientists at NOAA's Climate Prediction Center told reporters last week.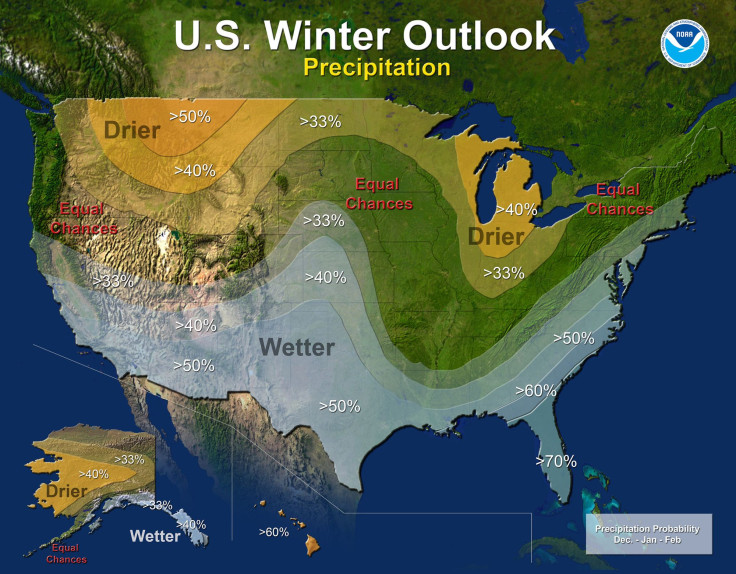 © Copyright IBTimes 2023. All rights reserved.