California Wildfires 2015: How Climate Change And Risky Development Are Raising Costs Of US Wildfires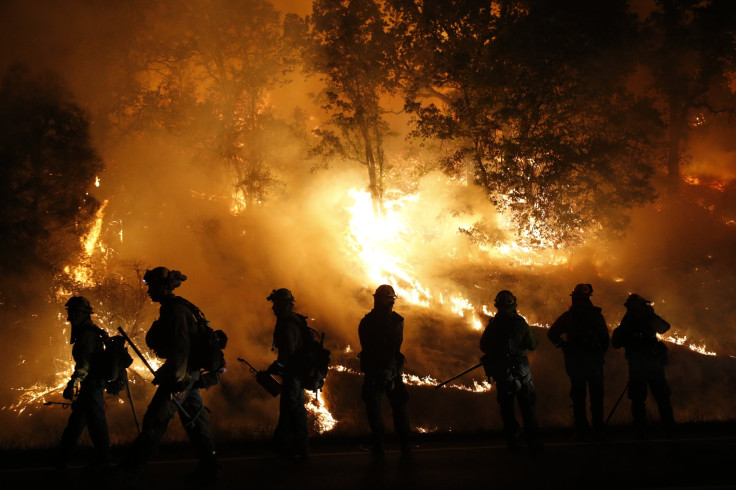 As deadly wildfires roar across Northern California this week, and with summer blazes scorching Alaska and the Pacific Northwest, 2015 is on track to become one of the worst years for wildfires in U.S. history. The threat of destructive blazes is quickly rising as global warming turns states into hot, dry tinder boxes and as communities sprawl further into fire-prone forests.
"This is the future," California Gov. Jerry Brown said Monday as wildfires wiped out hundreds of homes and forced thousands of Californians to evacuate. "Climate change is not going to go away."
The Valley and Butte fires blazing in California's northern counties have together burned 139,000 acres and displaced 23,000 people in recent days, California fire officials reported. At least one person has died in the fires, while more than 800 homes were destroyed. As of Tuesday evening, only 30 percent of the Valley fire and 40 percent of the Butte far was contained.
Wildfires in recent decades have grown more intense and destructive, particularly in the wide green forests of the U.S. West. The annual number of large wildfires there has jumped by more than 75 percent, from about 140 fires in the 1980s to roughly 250 fires in the 2000s, the Union of Concerned Scientists found in a 2014 report. The average wildfire season is also longer, stretching from a five-month period in the early 1970s to more than seven months today.
With more fires breaking out, the costs to communities and government agencies are piling up. In six out of the last 10 years, wildfires caused more than $1 billion in economic losses, including property damage and disrupted business activity, according to data compiled by the National Oceanic and Atmospheric Administration. The costs of battling fires is rising, too. Federal wildfire protection and suppression efforts now average more than $3 billion a year, compared to less than $1 billion in the 1990s, Headwaters Economics, a research firm, said in a 2013 report.
"As a nation, we need to grapple with the fact that this is taking significant financial resources," said Rachel Cleetus, a lead economist and climate policy manager with the Union of Concerned Scientists in Massachusetts.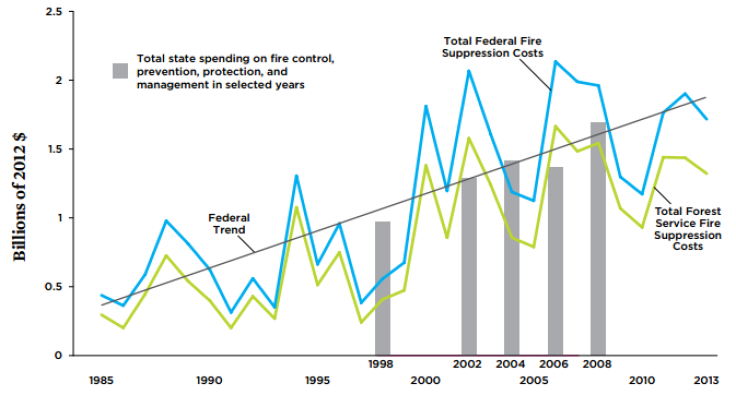 Wildfires are similarly taking a toll on human health. Smoke from forest fires carries heavy amounts of particulate matter, carbon monoxide and other air pollutants into neighborhoods, boosting the risks of lung and heart-related illnesses. Those health threats will worsen as wildfires grow in frequency and severity, experts warn. Firefighters are also dying in greater numbers as conditions grow more dangerous. In the 1970s and 1980s, the average number of firefighter deaths per year was nine and 13.1, respectively. In the 1990s and 2000s, those averages jumped to 17.2 deaths per year and 19.3 deaths per year, respectively.
Scientists say the uptick in wildfires can be partly tied to the forces of climate change. Burning fossil fuels to create energy and clearing landscape for agriculture is pumping unprecedented amounts of greenhouse gases into the atmosphere, causing the planet to warm. In the Western U.S., the average annual temperature has risen 1.9 degrees Fahrenheit since 1970, leading soil and plant moisture to evaporate, rainfall to diminish and snowpack to rapidly melt -- all factors that increase the risks of longer, stronger wildfires.
As temperatures rise in the future, U.S. wildfire activity could double by 2050, scorching land not only in the West but also the Northeast and Midwest regions, according to federal researchers.
In California's case, a record four-year drought is fueling an abnormally fierce wildfire season. Already about 700,000 acres have burned this year in the state, compared with about 500,000 acres in a typical year, and the season may still extend for several months. At the same time, a historically low snowmelt and vanishing groundwater reserves are straining the water supplies firefighters rely on to suppress the blazes.
"California is now in a situation where they pretty much have a year-round wildfire season," Cleetus said. "This is the new normal."
The surge in U.S. wildfire costs is also linked to the spread of homeowners and communities into risky areas. Since 1990, about 60 percent of new homes in the U.S. were built in "wildland-urban interface" areas, or locations where structures and flammable shrubbery combine to form an environment prone to catching fire.
"In the West, people are migrating to places that are beautiful places to live," said Ray Rasker, the executive director of Headwaters Economics in Bozeman, Montana. "There's no strong financial disincentive from local governments to keep them from permitting homes in dangerous places."
The problem is only likely to accelerate unless communities and governments limit development in high-risk areas and require fire-safe construction. Only about 16 percent of the wildland-urban interface in the West is now developed, meaning millions of private acres may yet see housing subdivisions, schools and office buildings in fire-prone regions. "We have an opportunity to get it right still," Rasker said.
Headwaters Economics helped create a $1 million grant program backed by the U.S. Forest Service and private foundations to help five U.S. communities develop plans for managing wildfire risks. The idea is to help local governments that can't afford to hire planning consultants to form strategies for where and how residents should build. A town, for instance, could require new subdivisions to be built using non-flammable materials, or encourage landowners to clear fallen logs and shrubs from their properties, reducing the kindling for massive blazes.
"This is actually a solvable problem," Rasker said. "You have to get a handle on continued homebuilding on fire-prone lands."
© Copyright IBTimes 2023. All rights reserved.