Valley Fire: California Governor Declares State Of Emergency In Lake And Napa Counties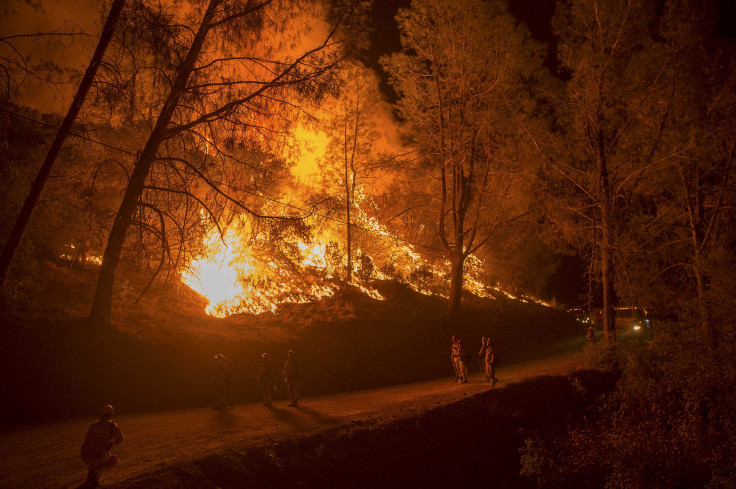 California Gov. Jerry Brown declared a state of emergency in Lake and Napa counties Sunday after the so-called Valley Fire in the region exploded in size to more than 50,000 acres overnight. Communities and infrastructure there have been devastated while thousands have been forced to flee.
The Valley Fire began Saturday at 1:24 p.m. PDT (4:24 p.m. EDT) in Lake County northwest of Sacramento, according to the California Department of Forestry and Fire Protection, aka Cal Fire. As of Sunday morning local time, 1,000 fire personnel, 125 fire engines and four airtankers are battling the blaze, that state agency reported.
KGO-TV reporter Cornell Barnard, who is on the scene in Middletown, north of San Francisco, tweeted earlier that Cal Fire believed more than 1,000 homes in the area were destroyed by the fire, but that rain was beginning to fall in some areas.
The cause of the fire is under investigation.
In his state-of-emergency proclamation, Brown ordered that "the California National Guard shall mobilize under California Military and Veterans Code section 146 (mobilization in case of catastrophic fires) to support disaster response and relief efforts and coordinate with all the relevant state agencies, including the governor's Office of Emergency Services, and all relevant state and local emergency responders and law enforcement within the impacted areas."
The wildfire has destroyed a handful of buildings and was threatening hundreds more. So far, the inferno has claimed at least one school: Middletown Christian School, a small private school that serves students from kindergarten through high school, according to KGO-TV.
Meanwhile, the Butte Fire in Amador and Calaveras counties that has blackenend 65,215 acres since Wednesday was 20 percent contained by Sunday morning, Cal Fire reported.
© Copyright IBTimes 2022. All rights reserved.
FOLLOW MORE IBT NEWS ON THE BELOW CHANNELS