Cambodia's Former King Norodom Sihanouk Dies At 89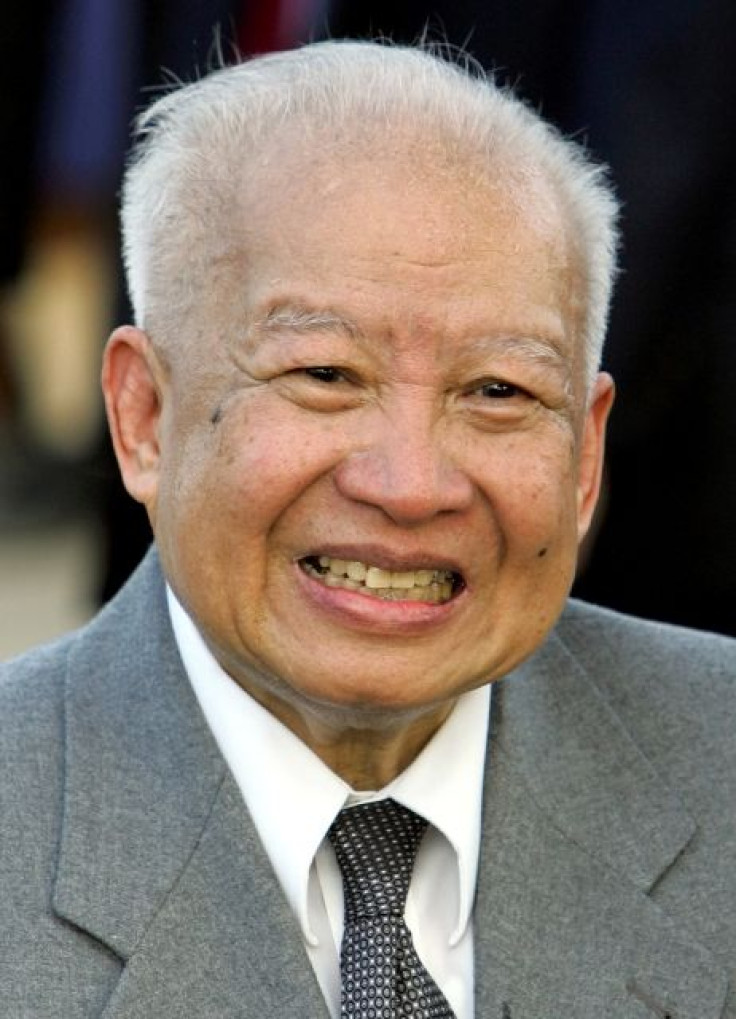 Former king of Cambodia Norodom Sihanouk died Monday in Beijing of natural causes at the age of 89.
The current monarch of Cambodia and Sihanouk's son, Norodom Sihamoni, will collect the former ruler's body for a state funeral in Phnom Penh. Flags flew half-mast everywhere in Cambodia to mourn the former king's death, reports Reuters.
"This is not just mourning by the royal family but for all Cambodians. He is the father of the nation," Sihanouk's close aide Prince Sisowath Thomico said, as reported by Reuters.
Dogged by other ailments, besides cancer and diabetes, Sihanouk was a frequent visitor to China to receive treatment.
Revered as "King Father," the flamboyant leader was at the helm of Cambodian politics for almost 60 years. Born during the French colonial rule, he was instrumental in spearheading the movement to gain independence from France in 1953.
Although autocratic, he steered the newly independent Cambodia resolutely through the 1950s and 1960s, putting his nation on the path to modernity. But his disastrous incursions into politics invariably led to three decades of war in Cambodia, killing a quarter of the population and scarring the country forever.
"There can be no doubt that Sihanouk's actions and his decisions contributed to the political malaise that finally tore Cambodia apart," historian Milton Osborne wrote in his 1994 biography, as reported by Reuters.
Sihanouk was thrown out of political office by his closest aides in March 1970 when he aligned himself to his "bitter enemies," the communist Khmer Rouge. The Khmer Rouge came into power in 1975, and while Sihanouk may have hoped for a bigger role in the government, the Pol Pot regime had envisaged different plans for the king. He was retained as a figurehead and was effectively a prisoner in his own palace.
Almost a quarter of the population was decimated due to poverty, starvation, disease, execution or torture under Pol Pot's "reign of terror." The 1970s Khmer Rouge's "killing fields" led to estimated 1.7 million deaths, completely ravaging the country. Sihanouk, like most families in Cambodia, too lost 5 children and 14 grandchildren to the tyranny of the Khmer regime.
At the peak of his political career, Sihanouk managed to adroitly manipulate powers in the East and the West to safeguard the independence of his country, besides his own survival. He "alternately courted Washington and Moscow during the Cold War," reports Reuters. When the Vietnam War loomed over the region, he focused on keeping Cambodia neutral.
King Sihanouk followed only one course in politics: "the defense of the independence, the territorial integrity and the dignity of my country and my people," as reported by the New York Times.
The Khmer Rouge fell in 1979, and in 1993, Sihanouk was once again enthroned as king after a U.N.-brokered accord that ended nearly 14 years of war in Cambodia. He was relegated to being a figurehead with diminished powers. More and more helpless at being eclipsed by Prime Minister Hun Sen, in 2004, he abdicated in favor of his son, Norodom Sihamoni, partly to keep the monarchy alive and ensure stability in Cambodia.
With a flair for flamboyance, Sihanouk gained reputation as a gourmand and playboy. Sihanouk's time will be remembered as the "Golden age" for a country that was impoverished and battle weary. He died at a time when Cambodia marks its annual festival of the dead where families come together to pray for their ancestors.
© Copyright IBTimes 2023. All rights reserved.