Camden, New Jersey: Can Casinos Help Save America's Poorest City?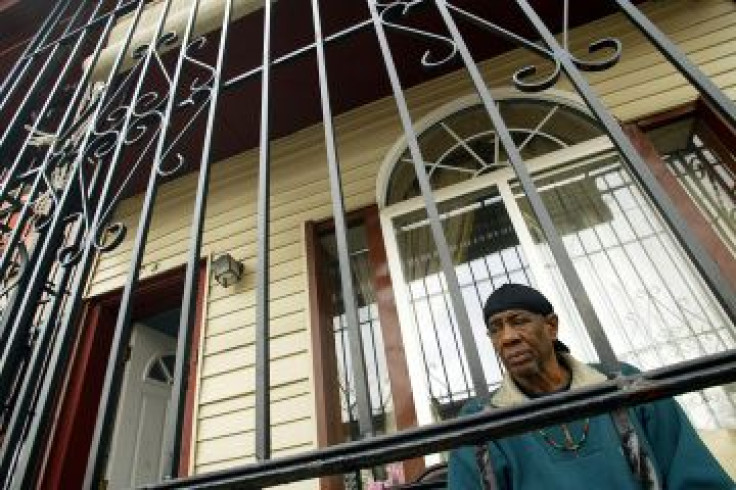 A New Jersey politician has floated a novel idea on how to help Camden – the poorest city in the state, and one of the poorest in the whole country – casinos.
New Jersey's state senate president Steve Sweeney last week told the Press of Atlantic City newspaper that while many state lawmakers have proposed opening a gambling den at the Meadowlands complex in East Rutherford or in Monmouth Park in Oceanport further north, a more appropriate location might be Camden, the poverty-stricken town of 77,000 in the southwestern region of the state -- a place that has suffered from decades of crime, violence, drug abuse, neglect, homelessness and unemployment. Sweeney added Newark and Jersey City as other possible candidates as well. For the moment, gambling in the Garden State is legal only in Atlantic City, but there has been talk of expanding the industry elsewhere.
Gross gambling revenues in Atlantic City have slipped from more than $3.3 billion in 2011 to less than $2.9 billion last year. But Sweeney countered that non-gambling revenue, that is, income from restaurants, shopping and clubs, has climbed as a percentage of total revenues generated on the boardwalk. "Those tax dollars count too," he said. However, on the whole, revenues from New Jersey's five non-gambling taxes (which casinos must pay) have fallen by 2.4 percent for the 12 months ended in September 2013.
Still, Sweeney believes that opening a casino may benefit Camden, which has become synonymous with post-industrial urban decay and social collapse. The raw numbers that define Camden are simply staggering. According to the latest data from the U.S. Census Bureau, 42 percent of Camden's residents live below the poverty line (defined as an annual household income of about $22,000 for a family of four). The Census Bureau's 2012 American Community Survey, which examined a five-year time frame, found that 38.6 percent of Camden's families lived below the poverty line – making it the poorest city in the state – followed by Passaic (29.7 percent), Newark (28 percent), Paterson (27.6 percent) and Trenton (26.6 percent).
The data suggested that poverty in the state is concentrated in a few areas – indeed, with only 7.4 percent of all New Jersey families living below the poverty line, it is one of the richest states in the country. Consider that the average annual household income in Camden amounts to about $26,000 – a little more than one-third of the $71,000 average for all of New Jersey, the third-highest such figure in the U.S.
Just across the Delaware River from the glittering skyline of Philadelphia, Camden's infrastructure is also crumbling – some 4,000 abandoned homes litter the city. Paul Jargowsky, a public policy professor at Rutgers University-Camden and director of the Center for Urban Research and Education, told South Jersey Times that almost all of Camden is composed of neighborhoods where at least 40 percent of households live in poverty. In contrast, nearby white suburbs like Cherry Hill and Mount Laurel have virtually no such areas of poverty. "America has decided to concentrate its poor," Father Michael Doyle of Camden's Sacred Heart Church told NBC-TV. "The wall around Camden is very high. It's an economic wall. You can't get over it."
Camden's poverty data is exacerbated by its demographics – it has a huge number of blacks, Latinos and single-parent families headed by a female, segments of the public that tend to suffer the highest rates of deprivation. Such immense poverty has bred crime and violence. The FBI labeled Camden the "most dangerous city in the U.S.," reported CNN, despite the fact that violent crime actually declined in the city last year. In 2013, Camden recorded 57 homicides, down from 67 killings in the prior year, while incidents of violent crime plunged by 38 percent. Nonetheless, given Camden's relatively small population, the city posted a "crime index" (an FBI parameter) of 606.4 – a rating deadlier than found on the mean streets of such killing fields as Detroit and Oakland, Calif. (which have larger populations). "[2012] was a tough, tough year," Camden police chief Scott Thomson told NBC. "And for a city as hardened as Camden is and has become over time, it buckled the city to its knees... It's gotten to the point where even in our daytime hours in this city, people are scared to leave their homes... Children should not have to fear even sitting on their own front steps."
Not surprisingly, Camden has a thriving trade in illegal drugs. A report on NBC last year noted that the Camden police are so outnumbered and outgunned by criminals, that drug dealers sell their wares in the open at various locales around the city.
Rolling Stone magazine reported that Camden has some 175 open-air drug markets, which generate a quarter of a billion dollars in dope revenues annually (compared with total municipal tax revenue of only about $24 million in 2011, which isn't even enough to pay for half of the police force). Rolling Stone further estimated that some 80 percent of drug buyers are white suburbanites who venture into Camden to acquire virtually any narcotic they wish.
The fight against rampant crime has been almost paralyzed by a prolonged economic malaise. In early 2011, facing a huge deficit and unable to fund basic social services, the city of Camden reduced its police department by almost half, firing some 168 officers, while also laying off one-third of its firefighters. In August 2013, control of Camden's police department switched from the city to the county, and more officers have since been hired. But crime remains a grim reality.
The residents of this beleaguered city are seemingly trapped in a brutal cycle of deprivation that breeds desperation and hopelessness. Jobs are very hard to come by. The collapse of manufacturing decades ago slugged Camden, which was once home to the largest shipbuilding firm in the world, as well as companies like Campbell's Soup and RCA Victor, which employed thousands of workers. Between 1950 and 1970, the city's industrial base shrunk by half, as manufacturers fled to the suburbs, taking the white middle-class with them. Camden now has an unemployment rate of at least 20 percent, perhaps higher, PBS reported.
The education system in Camden has almost evaporated. The New Jersey Department of Education said 90 percent of Camden's secondary students rank in the bottom 5 percent of all students in the state in terms of academic performance. And only about one-half (49 percent) of Camden students graduate from high school. The state of New Jersey has since taken over the city's school system following a request from Gov. Chris Christie. "The conditions in Camden are very, very negative for families," state board of education member Edythe Fulton told the Star-Ledger newspaper. School districts in Newark, Paterson and Jersey City are already under state control, but students in these cities continue to struggle.
Camden's enormous problems have been festering for decades. Similar to many other U.S. cities in the Northeast and Midwest, Camden witnessed devastating race riots in the late 1960s/early 1970s, prompting a mass exodus of whites, leaving behind an overwhelmingly ethnic minority population base with few job opportunities. Camden is now 48 percent black and 47 percent Hispanic.
To make matters even worse, Camden's politicos have practiced mismanagement and corruption on an epic scale – at least three mayors have been indicted and sent to prison over the past few decades for various acts of malfeasance. "I always think of Camden as the best visual aid in America to see what has gone wrong and what is going wrong," Father Michael Doyle lamented to NBC.
But not all is bleak in Camden. In recent years, some developments have taken place in an attempt to revitalize parts of the battered city. Some old buildings on the waterfront have been converted into luxury condominiums (which, of course, remain far beyond the aspirations of the city's poor); while educational and medical institutions, Cooper Hospital and Rutgers University, have upgraded and expanded their facilities, making a firm commitment to remain in the city.
But some recent initiatives by New Jersey government officials can only go so far to alleviate Camden's deeply entrenched woes. A report from Governing.com noted that despite receiving "hundreds of millions of dollars in state aid to keep it going," the city is still failing. "The situation is so bad that Camden may never be able to stand on its own. It's either state support or bankruptcy for the city," the report declared. Governing.com noted, in fact, that between 2000 and 2008 -- as poverty, crime and unemployment intensified in Camden, city spending actually surged by 20 percent, partially due to large increases in municipal worker salaries and benefits.
The city has an annual budget of $150 million, but its tax revenue is less than one-sixth that figure. Also, the aforementioned waterfront, the most valuable real estate in the city, is owned by the government and nonprofit organizations – meaning one-half of the city property is tax-exempt. This unsustainable financial condition forced the city to lay off hundreds of workers.
On a symbolic level, Camden has become a kind of a whipping boy, an example of all the social ills of modern U.S. society. Conservatives tend to blame Camden's decline on political corruption, powerful unions and immorality, while liberals put the culpability on government neglect, racism and greedy corporations. In December 2013, Rolling Stone magazine published a feature story on Camden written by Matt Taibbi that depicted the city as a post-apocalyptic nightmare with no hope for salvation. "In Camden, chaos is already here," Taibbi wrote. "In September, its last supermarket closed, and the city has been declared a 'food desert' by the [U.S. Department of Agriculture]. The place is literally dying, its population having plummeted from above 120,000 in the Fifties... Their home is a city with thousands of abandoned houses but no money to demolish them, leaving whole blocks full of... wreckage to gather waste and rats... It's a major metropolitan area run by armed teenagers with no access to jobs or healthy food."
Some local observers criticized Rolling Stone's depiction of Camden as excessive and alarmist. Stephen Danley, an assistant professor of public policy and administration at Rutgers University-Camden, characterized Taibbi's piece as exploitative and even "poverty porn." "The constant stream of pictures of addicts shooting up is almost impossible to look away from," Danley wrote on Rutgers' blog. "It drives voyeuristic clicks, while feeding local despair... voyeurism drives magazine sales, not hope, and dope fiends make for better pictures than local community members trying to get by." Danley posits that not only has mass media exploited and dumped on Camden's woes, but so have its neighbors in more literal ways. "The surrounding region dumps its waste into a plant in the Waterfront South neighborhood [of Camden] and a horde of predatory businesses have left the neighborhood facing an epidemic of asthma and blight," Danley wrote. "When not literally dumping waste, the suburbs have metaphorically dumped their poor into the city by signing agreements that paid Camden to meet their affordable housing requirements, thus outsourcing their responsibilities to the poor."
Jargowsky said that Camden's ills might be eased through the construction of low- and medium-income housing in wealthier suburbs. "The pillars that are most important in a community are the quality of the schools and public safety," he told South Jersey Times. "If the schools can be stabilized, and the new metro police department can reduce crime more than it already has, progress can be made." But he added that such measures would likely incite much opposition. "It's a self-sustaining situation right now, because no one will want to move into [high-poverty] neighborhoods, and the people in the suburbs will fight harder and harder to keep the people from Camden out," he said. "Meanwhile, poverty grows worse as children grow up there."
As for constructing casinos in Camden, Robert Corrales, a city spokesman for the city of Camden, actually likes the idea. "It definitely sounds like something Camden would be interested in if legislation was able to bring it," he told South Jersey Times. "We're collaborating with the county and the state in efforts to make Camden safer, create more jobs for residents and create a tax base. It could be a boost to the city as a whole. It would be a big help." Such a measure would be subject to approval by voters statewide.
However, comments by readers on NJ.com seem unanimously opposed to the idea. "DICK14" quipped: "The only thing Newark and Camden should be building is prisons and jails." Another commenter named Calhoun criticized state senate president Sweeney. "Every time I think Sweeney can't sink any lower, he floats an idea like this that proves me wrong," he wrote. "Did the casino gambling experiment really save Atlantic City?... Casino gambling did not save Atlantic City and it will not save Camden or Newark or any other city that is facing tough times. More gambling will take more money out of the pockets of blue-collar workers and retirees -- the very people phonies like Sweeney claim to care about -- and put it in the pockets of casino owners." Calhoun went on to complain that "there are only so many people into gambling, and making more casinos in the state will only spread them around in the state. Gambling is not a cure-all. In fact, it cures nothing. It [produces] nothing, and does nothing to advance society."
Meanwhile, the casinos in Atlantic City continue to struggle. 2014 represents the fourth year of a five-year "grace period" that Christie granted to Atlantic City to revitalize its gaming industry. Of the city's 12 casinos, one, the Atlantic Club Casino Hotel, has already filed for bankruptcy and closed. "It's obviously a critical year because we need to begin to see progress in Atlantic City or we're going to start considering alternatives," Christie said. "It's a year when we have to show some significant results."
Gaming analysts warned that there are still too many casinos in Atlantic City to serve a shrinking market. Moreover, the legalization of Internet gambling in New Jersey late last year will likely further erode Atlantic City's casino profits and revenues. Wayne Schaffel, a former Atlantic City casino publicist, told Associated Press that the resort's gambling industry will probably further consolidate. "At the end of the day, the winners will be the few remaining casino companies," he said. "The losers will be the thousands of employees who lose their jobs; the state, which will suffer from ever lower revenue and taxes, and Atlantic City itself."
Indeed, after more than 35 years of legalized gambling and multibillion-dollar casinos, poverty still stalks Atlantic City. Indeed, the U.S. Census stated that about 25 percent of Atlantic City's residents live below the poverty line, a proportion that has stayed level since before the casinos opened.
Professor Danley commented in an interview that a casino would bring short-term tax revenues to Camden but would also be a continuation of a long-term pattern of exploiting Camden due to its poverty. "Middle-class communities fight casinos in part because they are bad long-term investments; placing bad long-term investments in Camden to close budget gaps is almost a ritual at this point," he said. "The cycle of using Camden's poverty as an excuse to build facilities unwanted by middle-class communities is exploitative and needs to be ended."
© Copyright IBTimes 2023. All rights reserved.
FOLLOW MORE IBT NEWS ON THE BELOW CHANNELS