Campaign Donations 2016: Will Donald Trump Return White Nationalist's $250 Contribution?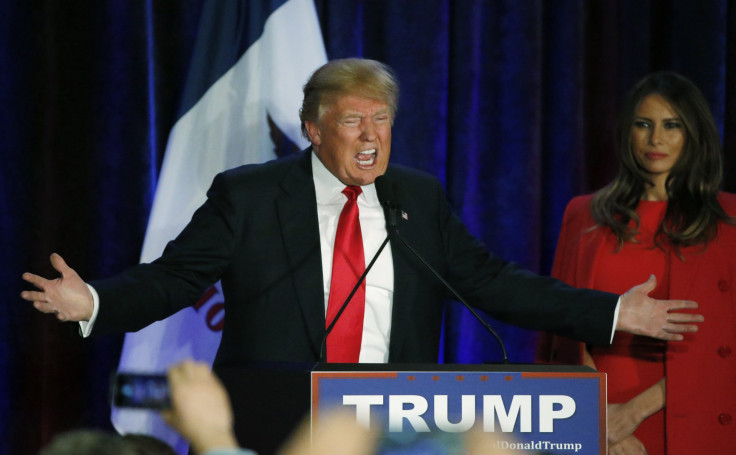 U.S. Republican presidential candidate Donald Trump often brags that his candidacy is self-funded. But finance reports released Tuesday revealed that Trump's campaign received a donation from at least one known white nationalist, a contribution that activists urged the billionaire to return.
"When a white nationalist was running racist robocalls backing Donald Trump, Trump brushed it off and said he would 'disavow' that kind of support," Michael Keegan, president of the progressive advocacy group People For the American Way (PFAW), said in a statement. "Now is his chance to show whether he means it by returning the contribution immediately," Keegan added.
The person Keegan referred to is William Daniel Johnson, a white nationalist activist and author who regularly appears in media espousing nationalist ideas. The Southern Poverty Law Center, an Alabama-based organization that monitors hate groups, said that Johnson claimed racial mixing and diversity in the U.S. has led to social and cultural decline.
Johnson gave $250 to the Donald J. Trump for President Inc. organization in September, according to the Republican candidate's campaign finance report filed with the Federal Election Commission, Media Matters reported. The contribution is listed as coming from from white nationalist organizations run by Johnson. As of Monday, the latest campaign report didn't show that Trump had refunded the contribution.
Donald Trump Presidential Candidate Profile | InsideGov
It's no secret that Trump's campaign has galvanized the nation's white supremacists — anti-multiculturalists and anti-minority groups who have called for the U.S. to become a white nation — given the candidate's rhetoric about Latinos and Muslims. Following the terrorist attack in San Bernardino, California, in December and during the official launch of his campaign last June, Trump called for a ban on Muslims entering the U.S. and disparaged Mexican immigrants as "mostly rapists and drug dealers." Latino and Muslim advocacy organizations have blasted the comments as racist.
Trump has mostly dismissed the controversy surrounding his remarks about Muslims and Latinos as political correctness run amuck among liberals and mainstream media outlets. "Trump can bash 'political correctness' all he wants, but anyone who aspires to our nation's highest office should understand that cashing checks from those pushing an explicitly racist agenda is unacceptable," said Keegan, the PFAW president.
© Copyright IBTimes 2023. All rights reserved.