Can Christine Quinn Become The First Female Mayor Of New York City?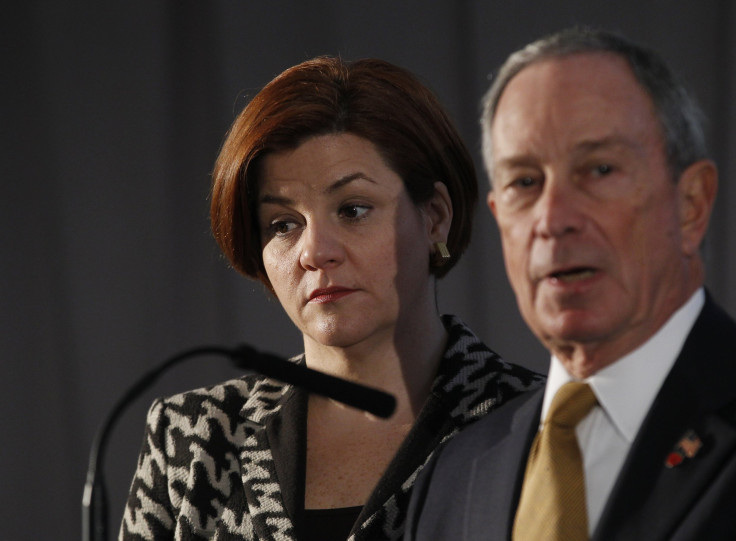 If New York City Council Speaker Christine Quinn is elected mayor next year, she will become the first female to ever hold that office.
Despite its image as a "modern" and "progressive" metropolis, City Hall in the Big Apple has been run by men for centuries.
Since 1665, New York City has elected (or appointed) a total of 108 mayors, all of whom were men and only one of whom (David Dinkins) was non-white.
Although women have made significant advancements in politics in recent decades, the mayoral offices are largely closed to them -- particularly in the large urban population centers.
Aside from New York City, the cities of Los Angeles and Philadelphia have never had women mayors. Chicago has had only one -- Jane Byrne, who served one term from 1979-1983.
According to the U.S. Conference of Mayors, as of January 2012, of the 1,248 mayors of U.S. cities with population of more than 30,000, only 217, or 17.4 percent, were women.
And only one city of any appreciable size, i.e., above 2 million population -- Houston -- has a woman running City Hall, namely Annise D. Parker.
In fact, Parker (who like Quinn is a lesbian) is now serving her second term as Houston's mayor. But she is not even the first woman to lead Houston -- as long ago as 1982, Kathy Whitmore was elected mayor of the Bible Belt city.
Aside from Houston, such cities as Baltimore; Fort Worth, Texas; Las Vegas; and Oakland, Calif., currently have women mayors.
According to the Center for American Women and Politics (CAWP) at Rutgers State University in New Jersey, the proportion of mayors who are women is roughly equal to their representation in other major political offices.
Currently, women hold 20 percent of 100 U.S. Senate seats and 17.7 percent of 435 seats in the House of Representatives.
But given that women account for more than half the U.S. population, their participation rates in national and even state politics is quite low.
According to the Kansas Historical Quarterlies, the first woman ever elected mayor of a U.S. city was Susanna Madora Salter, who won the post in 1887 in the Quaker village of Argonia, Kan., (more than three decades before the 19th Amendment to the U.S. Constitution guaranteed all American women the right to vote).
Salter was in fact the first woman elected to any political office in the U.S. She only served one year, however, and refused to seek re-election.
Jamie Chandler, a political scientist at Hunter College in New York, explained that the lack of women mayors in New York City's history is partly attributable to the dominant power of incumbents (all of whom, of course, have been male).
Indeed, since 1978, New York has had only four mayors: Ed Koch, who served 12 years; Dinkins, four years; Rudy Giuliani, eight years; and Michael Bloomberg, 11 years.
"The timing hasn't been right for a strong woman contender to have a good chance of winning the office," Chandler said.
There have been women mayoral candidates in the past, such as Ruth Messinger and C. Virginia Fields, the former Borough of Manhattan Presidents.
"But it's hard to beat an incumbent, because they tend to easily win re-election," Chandler added.
"The 2013 mayoral race is an open contest -- no incumbent -- so Quinn's chances are better than any of her female predecessors."
Naturally, gender bias also plays a role, not only in New York, but around the country.
For much of the 20th century it was difficult for women to win elected office, Chandler said.
"It was only around the 1980s that the number of women serving began to increase, and only in the last decade where this trend has accelerated," he noted.
"It's going to take more time for major cities to catch up to the point where the number of women mayors reflects the number of women in the U.S. population."
Chandler noted also that Parker's rise to the mayoralty of Houston was not easy, having faced fierce opposition from conservative and religious groups.
"However, she had been elected to office six times prior, and Houstonians largely dismissed her sexuality and gender as an issue," he said.
"Victory comes down to the quality and experience of the candidate. Parker won because of this, [as well as] her strong connections with Houston's small business and energy sectors. She also didn't face a strong conservative candidate."
© Copyright IBTimes 2023. All rights reserved.