Can The Enigmatic Chinese Businessman Behind The Nicaraguan Canal Complete The Project?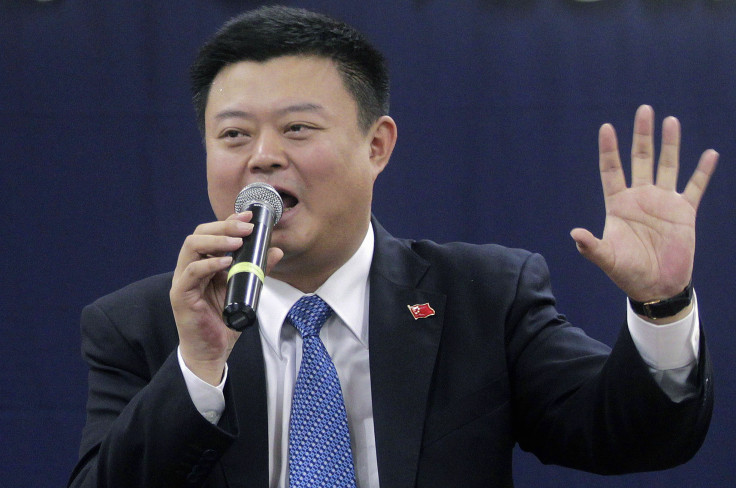 The world already has one major waterway carved across Central America to provide a crucial conduit for sea cargo. Now, a century after the opening of the Panama Canal, it may one day have another, in Nicaragua. But the man behind the proposed Nicaragua Canal, a shadowy Chinese billionaire named Wang Jing, has never been involved in a project of this scale -- and experts say he may not have the resources to finish it.
As the Nicaraguan legislature granted in June 2013 a 50-year concession to a new development authority that would build a canal through the country, President Daniel Ortega celebrated a moment that would cement his country's "total and complete independence."
The authority empowered to construct the canal is the Hong Kong Nicaragua Development Investment Company, a Chinese-based firm founded in 2012 by the enigmatic 41-year-old telecommunications billionaire. In his interactions with the international press, Wang has insisted that the project is strictly commercial, and that suspicions that he might be acting on behalf of the Chinese government, which may be interested in the huge infrastructure project, are unfounded.
But according to June Teufel Dreyer, an expert on China's international relations at the University of Miami, claims that Wang is operating independent of government influence are not credible.
"It's just too strategically important for the Chinese government for it to be the work of a rogue entrepreneur acting alone," she said. "If he were selling soft drinks, that'd be one thing. But not a canal."
The project certainly comes with huge ambitions. At a current projected cost of $50 billion -- roughly five times Nicaragua's GDP -- HKND will construct a railroad, roads, oil pipeline, free trade zone, two ports and a canal more than three times as long as Panama's, at 172 miles. Once completed, the new infrastructure is projected to provide tens of thousands of jobs and double per capita income in a country that, after Haiti, is the poorest in the Western Hemisphere.
Under the terms of the arrangement, which can be renewed for a second 50-year term, HKND would pay Nicaragua $10 million annually for 10 years, and then a portion of canal revenues beginning at 1 percent and increasing later. But HKND retains the right to sell its interest in the canal to whomever it likes. Ortega agreed to the deal with Wang without opening the bidding to other companies, and received the approval of Nicaragua's legislature after just one week of debate.
The man behind this huge deal, the founder and CEO of HKND, has not been forthcoming with information. Wang was born in December 1972 in Beijing, the son of an office worker and a homemaker. As a young man, he studied traditional Chinese medicine, though he has refused to reveal where. Then, he parlayed a mining business in Cambodia and Myanmar into wealth. In 2010, Wang acquired a 33 percent stake in Xinwei, a telecom equipment company once linked in a joint venture with Dagong, a Chinese state-run enterprise. This stake provided Wang with his fortune -- Xinwei estimated its assets in March to be 26.89 billion RMB, or $4.4 billion -- and allowed him to turn his attention overseas.
To the press, Wang has deflected speculation that state-run interests have had any role in his company. But the connections are many. Several top politicians, including current President Xi Jinping and Jiang Zemin, a former Chinese president and party leader, paid a visit to Xinwei headquarters during Wang's tenure.
Xinwei also was able to negotiate a $2 billion line of credit from the China Development Bank, a state-owned enterprise. Wang has also enlisted another major state-run enterprise, the China Railway Construction Bank, in conducting a feasibility study for the canal (the results of which haven't been released). According to Margaret Myers, an expert on China's relations in Latin America for Inter-American Dialogue, a Washington think tank, the close relationship between big business and the Communist Party in China makes any connection less than surprising.
"Even if he's not especially closely affiliated with the leadership in China, it doesn't mean he doesn't have connections in some form. Most billionaires in China do, and that's often how they acquire their billions," she said.
In any case, Wang's record doesn't inspire confidence that he will be able to complete the job. In an investigation into Xinwei's overseas business ventures since Wang acquired a stake in the company, the South China Morning Post of Hong Kong discovered that in 12 of the 20 countries in which Wang has claimed business interests, no evidence exists that business has occurred. And none of these projects involve the same level of logistical and financial challenge that the Nicaraguan canal poses.
Derek Scissors, a fellow at the American Enterprise Institute, believes that Wang's spotty record makes it impossible to believe he will be able to build the canal alone.
"The most likely possibility is that he's a crackpot, and that if the project goes forward he'll be shunted aside and the Chinese government will take over," he said.
"There's a possibility he's not backed by the Chinese government, but there's no possibility the canal will be built without China's government getting involved."
Dreyer suggested that Beijing has an incentive to avoid the appearance of overt involvement in the canal project, as it still may be leery of stepping on Washington's toes in Central America, a region that has been America's geopolitical backyard for nearly 200 years.
"China doesn't want to antagonize the U.S. over this. But they're developing more of a sense of self-confidence, and they still believe that the U.S. is declining," she said.
China's presence in Latin America as a whole is growing, too. Trade between China and the region expanded from $28 billion to $250 billion between 2000 and 2013. In June, the state-run China Harbour Engineering Co. signed a memorandum of agreement with Honduras to build a 10-line railroad across the country.
Whether or not Wang, with or without the backing of the Chinese government, can see the project through is another question. The Nicaraguan canal's sheer size and differences in the tidal height along the two coasts present engineering challenges, and the country has long been an unattractive destination for outside investment -- in 2013 Nicaragua ranked 118th in the World Bank's "Doing Business" ranking.
But Dreyer points out that ambitious projects are not without precedent for the Chinese: In the early 1970s Beijing successfully constructed a railroad linking Tanzania and Zambia under difficult circumstances.
"When the Chinese decide they want to do something, they normally do it," she said.
© Copyright IBTimes 2023. All rights reserved.