Chinese Workers Arrive In Nicaragua To Do Viability Studies For Controversial Canal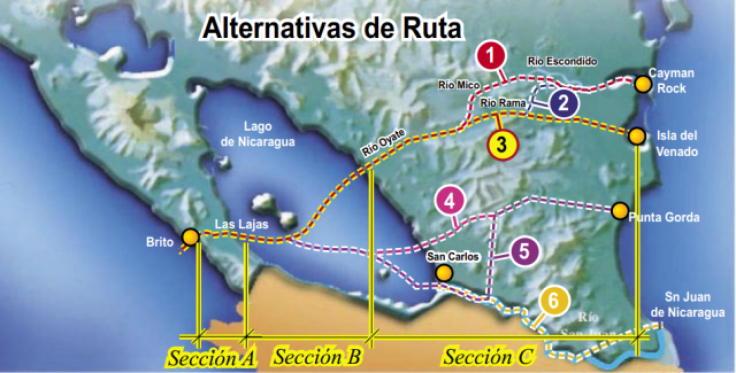 The tiny town of Brito, on the Pacific coast of Nicaragua, has expanded its population in the last few weeks. Chinese workers have been arriving, slowly but steadily, ever since President Daniel Ortega's government announced the construction of a Nicaragua Canal, with funding and equipment from Chinese company HK Nicaragua Canal Development Investment Co. Ltd. The project, which aspires to be a competitor to the Panama Canal, is one of the jewels of Ortega's administration and, should it be realized, would bring one of Nicaragua's longtime dreams to life.
The Chinese workers have been joined by young biologists from the Universidad Nacional Autónoma de Nicaragua (National University of Nicaragua, or UNAN) and a British environmental consultancy hired to evaluate the potential impact the future construction site will have on the environment. Their studies are conducted with utmost secrecy, as none of the plans for the Canal -- including its planned route -- will be made public until late December. Wang Jing, chairman of HKND -- a unit of HK Nicaragua Canal Development Investment Co. and the man behind the entire project -- will hold a press conference in Hong Kong to announce the final version of the project and pitch the plan to potential investors.t
The cost of the project is estimated at $40 billion, but analysts believe it will go much higher. "Experience teaches us that the real cost would be at least 20 percent higher," said Jean-Paul Rodrigue, a transportation expert at Hofstra University in New York.
The project has sparked controversy both inside and outside of Nicaragua. For many citizens, the thought of delegating this national dream to a foreign company is an affront to the country's sovereignty, and has even been disputed in Congress: according to some experts, it is against the Constitution.
"What Ortega has done here is give his country to a foreign entrepreneur, only to become rich himself, without paying a cent to the Nicaraguan people," said Dora María Téllez, a noted historian and a key figure in the Sandinista revolution that Ortega headed in 1979.
"This project raises many questions," said opposition Congressman Carlos Langrand. "Why did they seek out a Chinese partner, without an international request for bids? We do not see seriousness in this project."
And it does not look like the partnership with China is going smoothly either. In August, tensions arose as both parties gave contradictory reports on the state of the project: while Wang Jing was giving details to the British press on the route of the canal and its capacity, Ortega denied that any final drafts were going to be made before the viability reports had been filed.
But all of these issues might even be beside the point: experts in transportation and engineering the world over are saying that the Canal is not feasible, and it will never happen.
"It is borderline fantasy," said Ed Sands, global logistics lead at consultancy firm Procurian. "There is simply no need, no demand for another canal in Central America. Panama has taken care of that."
"The cost is going to be too outstanding, and who is going to take care of that? China's current banking crisis will end it," he added.
"Does anybody have $20 billion to spare?" agreed Rodrigue. "It is just going to be a colossal waste of resources."
© Copyright IBTimes 2023. All rights reserved.