Canada Parliament Shooting: One Shot Dead In Parliament Building, Three Separate Shootings Confirmed By Ottawa Police [BREAKING]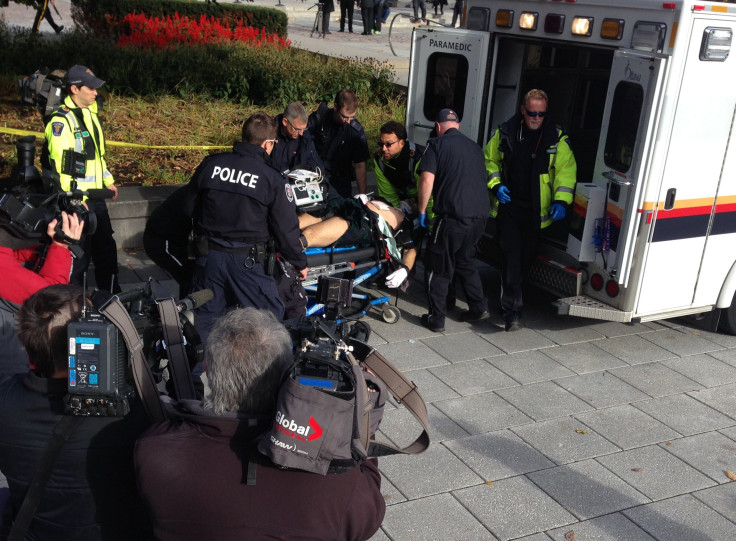 Gunshots are being reported in the halls of Canada's Parliament, and a Canadian soldier has been shot at the National War Memorial in Ottawa. Parliament Hill, where Canada's federal government is seated, is on lockdown. It's unclear whether there is one shooter or more.
Ottawa police were called in around 9:52 a.m. EDT Wednesday. SWAT teams are reportedly on the scene. A group of first responders were photographed working on a man near the steps at the War Memorial. The man has been taken away on a stretcher, but it's unclear what affiliations he has with the Canadian military.
UPDATE 12:10 p.m. EDT: Watch a harrowing video of Canadian police exchanging fire with one of the gunmen in the Parliament building via the Globe and Mail:
UPDATE 12:00 p.m. EDT: The Associated Press reports that police say shots have also been fired at a shopping mall near Parliament Hill. The American embassy in Ottawa is also on lockdown.
UPDATE 11:50 a.m. EDT: Ottawa police confirm there were three separate shootings, if not more.
A man has been shot inside Parliament, according to CBC. Bob Zimmer, a Canadian PM, tweeted that a "lone gunman is deceased," before 11 a.m., it is unclear who the man is that was shot in the Parliament building. The Ottawa Police Service said there were "numerous gunmen" involved in the attack.
Watch coverage of the shooting live via CTV News.
ORIGINAL STORY CONTD.
The National War Memorial is just a few hundred feet away from the Parliament Hill complex of government buildings. "Dozens" of shots were reported outside the library there, according to Global News. Tony Clement, a Canadian MP, tweeted that there were "at least 30 shots" fired while he was in a meeting with other MPs and Prime Minister Stephen Harper.
The shooting comes a day after a man hit two Canadian soldiers with his car near Montreal. One of the soldiers died and the other is being treated for less serious injuries. The attacker led police on a car chase before police shot and killed him. The man had recently converted to Islam, and a Royal Canadian Mountain Police spokesman said authorities were concerned "he had become radicalized."
© Copyright IBTimes 2023. All rights reserved.