Canelo Alvarez vs. Gennady Golovkin: Actual Start Time, TV Details For Fight
Just three weeks after maybe the most anticipated fight in history took place at Las Vegas' T-Mobile Arena, the venue will host the best boxing match of 2017. Canelo Alvarez and Gennady Golovkin are scheduled to meet in the ring Saturday night, unifying their middleweight titles to determine the best 160-pound fighter in the world.
The HBO pay-per-view starts at 8 p.m. EDT, though the main event won't actually begin until about three hours later. With three undercard bouts set to go first, Alvarez and Golovkin are expected to walk to the ring at approximately 10:50 p.m. EDT. That would give the fight a start time much earlier than that of Floyd Mayweather vs. Conor McGregor, which didn't get underway until close to midnight.
Former middleweight champion and current Golden Boy Promotions president Oscar De La Hoya is hoping to get as many eyes on the fight as possible. It features two of the most exciting athletes in the sport, and Saturday's bout promises to be a war.
"They have power, they have speed. They have good footwork. They have big hearts. They get hit, they might go down, but they're gonna get back up and fight even harder. This type of fight, you don't see every day. You just don't," De La Hoya told International Business Times. "This type of fight, you see every 15 or 20 years. The last time we saw fights like this is when I was fighting and I fought the very best. I chose to fight the very best at the peak of their careers and look, you win some you lose some, but you're fighting the very best. And so this is that type of matchup. We're very proud to put it together and may the best man win. We're gonna see like eight, nine, 10 rounds of hell inside the ring."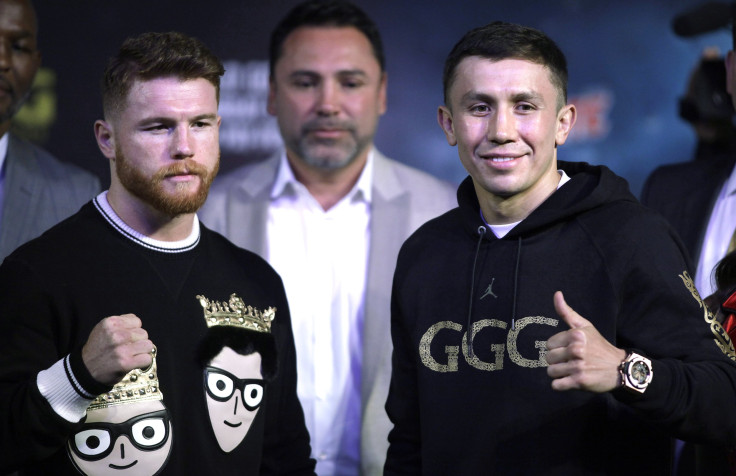 Prior to his last fight, Golovkin had knocked out 23 straight opponents. Daniel Jacobs took Golovkin the distance on March 18, though the champ did manage to score a knockdown in his unanimous decision victory. It was Golovkin's 18th straight title defense.
Alvarez's last fight was as dominant of a decision as you'll see. He was the better fighter in all 12 rounds against Julio Cesar Chavez Jr., though he failed to score a knockout in the 164-pound bout. Alvarez had knocked out his previous two opponents, and Saturday marks the first fight at 160 pounds in his career.
Saturday might not be the biggest fight of Alvarez's career as far as PPV sales go. He took on Mayweather as just a 23-year-old in 2013, and the bout generated 2.2 million buys. Alvarez is the sport's biggest draw now that Mayweather is retired, selling more than one million buys for his fight with Chavez.
Golovkin has his legion of fans in the boxing world, though nothing that compares to that of the Mexican fighter. His fight against Jacobs was just the second time Golovkin headlined a PPV, and it generated 170,000 sales.
Alvarez vs. Golovkin should generate at least 1.5 million PPV sales, and it could do well north of two million if all goes right.
© Copyright IBTimes 2023. All rights reserved.