Canelo Alvarez vs. Liam Smith: Actual Start Time, Scorecard, LIVE Round By Round Coverage For Boxing Event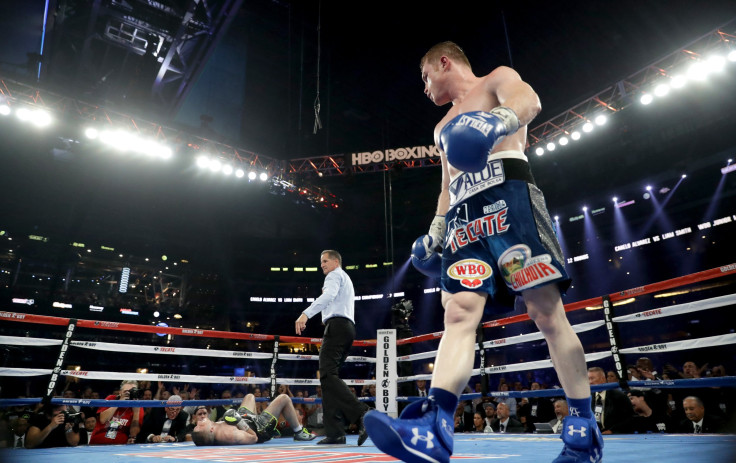 Recap: Canelo Alvarez captured the WBO light-middleweight title on Saturday night, delivering a vicious left hook to the liver that knocked out Liam Smith in the ninth round at AT&T Stadium in Arlington, Texas. It is the sixth consecutive victory for Alvarez after losing in a majority decision to Floyd Mayweather in 2013.
Alvarez (48-1-1, 34 KOs) dominated the fight, establishing his jab in the early rounds and landing harder punches over the course of the bout. While Smith (23-1-1, 13 KOs) managed to absorb the blows, he struggled in the late stages of the bout, having been knocked down in the seventh and eighth round.
International Business Times scored every round for Alvarez.
The 26-year-old was effective in landing hard uppercuts throughout the bout. Alvarez mixed up his punches and was in command of the fight from start to finish. Referee Luis Pabon immediately stopped the fight at 2:28 in Round 9.
Smith made some rounds competitive, but the Englishman failed to land any significant power punches. Smith fought with a brutal cut over his right eye for much of the fight. According to CompuBox statistics, Alvarez landed 157 punches compared to Smith's 115, but Smith only landed 68 power punches compared to Alvarez's 113.
"Liam Smith was a resilient fighter," Alvarez said. "He was tough, has a lot of heart. He thinks before he attacks. I could tell in the way he blocked, in the way he approached me."
There was a boxing-record 51,240 in attendance at AT&T Stadium, with most supporting Alvarez, a native of Guadalajara, Mexico.
Preview: Liam Smith (23-0-1, 13 KOs) of Liverpool defends his WBO light-middleweight title up on Saturday night against Canelo Alvarez (47-1-1, 33 KOs) of Guadalajara, Mexico, at AT&T Stadium in Arlington, Texas.
Alvarez, 26, is coming off a convincing victory in May over Amir Khan of England, while Smith, 28, is making his third title defense after winning the vacant belt in October. Alvarez is the heavy favorite (-1200) compared to Smith (+700).
While Alvarez is considered one of boxing's elite fighters, Smith is not as known outside of England. Smith said the opportunity to fight in the U.S. is a "dream" he has had since he started boxing.
The fight will be at a catchweight of 154 pounds. Alvarez has a 72-inch reach, while Smith has a 69-inch reach. Smith is listed at 5-foot-10, while Alvarez is listed at 5-foot-9.
The coverage on HBO pay-per-view begins at 9 p.m. E.T., but the main event is not expected to start until after 11:45 p.m.
Luis Pabon is the referee. Nelson Vasquez, Levi Martinez and Oren Shellenberger are the judges.
Here is how International Business Times scores the Alvarez-Smith fight:
Round 1
Alvarez used his jab effectively to start the fight, while Smith was less aggressive. Alvarez the more active fighter, especially with a solid left to the body.
Alvarez 10-9
Round 2
Smith on the defensive, with Alvarez cutting off the ring and looking more focused with a series of solid punches. Alvarez cut on the side of the eye.
Alvarez 10-9
Round 3
Expert jabbing and some nice combos from Alvarez. Smith managed to land a solid uppercut. Tough round, but Alvarez probably had the edge.
Alvarez 10-9
Round 4
Alvarez connected on a solid jab that seemed to shake Smith a bit. The pace of the fight has been entertaining with Alvarez seemingly landing harder punches. Smith, who is showing some promise, needs to start finding angles to land big punches otherwise this fight will end soon.
Alvarez 10-9
Round 5
Smith had Alvarez on the ropes at one point, but the champ has struggled to actually hurt Alvarez. More aggression from Smith in this round, but Alvarez looks like the more intimidating fighter with stronger punches and had a good combination. Smith has a cut over his eye.
Alvarez 10-9
Round 6
Good uppercut from Alvarez. He is going to the body, and that seems to be slowing Smith down. Smith's face is not looking good, and it seems like he may not be able to last the 12 rounds.
Alvarez 10-9
Round 7
Smith knocked down for the first time in his career. Alvarez landed a big right hook. Smith beat the count, but it doesn't seem like he will last. Alvarez's shots to the body have done damage. Smith closed the round well, but this is a one-sided bout.
Alvarez 10-8
Round 8
Smith down again off a hard body shot late in the round. He managed to survive the round but his right eye looks ugly. Not much from Smith in this round, and it seems clear that he needs to shock Alvarez with an unexpected punch to pull off an upset.
Alvarez 10-8
Round 9
Alvarez wins by KO. He knocks out Smith with a vicious left to the head and then a left to the body. Pabon calls the fight. It was a valiant effort by Smith to last as long as he did.
© Copyright IBTimes 2023. All rights reserved.