Canelo vs. GGG: Who Is The Favorite? Opening Betting Odds And A Preview For 2017 Fight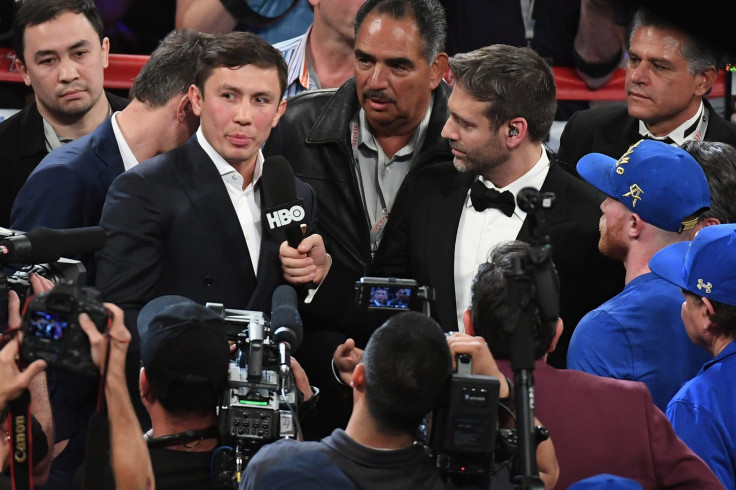 While boxing appeared to have taken a step back in 2016 with a lack of memorable high-profile fights, things quickly turned around in 2017. In April, the youthful Anthony Joshua defeated veteran Wladimir Klitschko by technical knockout in perhaps the most exciting heavyweight fight in decades.
But Joshua-Klitschko might be just the tip of the iceberg for neglected boxing divisions. It's been 30 years since Sugar Ray Leonard and Marvelous Marvin Hagler fought in a hotly contested middleweight battle, and there has been a noticeable void ever since, leading many to wonder if the division had taken a permanent backseat to welterweights.
One fight may finally reinvigorate the division and catapult boxing back to the prominent days of Hagler, Leonard and Tommy Hearns.
Indeed, on Sept. 16, Hagler-Leonard may finally start to lose some of its glorious nostalgia, as Gennady "GGG" Golovkin (37-0, 33 KOs) and Canelo Alvarez (49-1-1, 34 KOs) get set to meet in a battle of pound-for-pound superstars.
When Golden Boy Promotions announced the signing of the fight following Alvarez's lopsided win over Julio Cesar Chavez, Jr. on Saturday, the boxing world rejoiced and breathed a collective sigh of relief. It was the fight that so many had longed for and feared might not ever happen. There was a worried perception that the fight could only take place when at least one of the two was far removed from his prime.
As of right now, Golovkin, the unified champion, and Alvarez, arguably the face of boxing, are clearly among the world's best boxers, let alone in the middleweight division, and they will headline the biggest superfight since welterweights Floyd Mayweather vs. Manny Pacquiao in May 2015.
Unlike the Mayweather-Pacquiao fight, this fight promises to be an entertaining duel between two evenly matched knockout artists. Las Vegas odds makers are giving the slight edge to Golovkin at -160, compared to Alvarez at +140. The odds are in contrast to Mayweather-Pacquiao, which opened to Mayweather as the favorite at -285 and Pacquiao the +225 underdog.
To put Golovkin-Alvarez into historical context, Hagler was a 4–1 favorite against Leonard, who won in an "upset" 15-round decision. Entering the much-publicized fight, the two big-name middleweights had a combined three losses and two draws between them, compared to just one loss and one draw between Golovkin and Alvarez. Hagler and Leonard also had 76 knockouts between them in 98 fights, while Golovkin and Alvarez have a combined 67 knockouts in 88 fights.
Years later, Leonard's win over Hagler still remains contentious, as a solid case can be made for both fighters winning and no rematch ever took place despite the heavy demand. Based on their similarities, perhaps it might be the same case when Golovkin and Alvarez meet in four months.
For boxing enthusiasts, it doesn't get much better. Both Golovkin and Alvarez are true power punchers with a penchant for seeking a knockout rather than winning rounds. They are both effective at landing jabs and uppercuts and have solid chins. The much-hyped Mayweather-Pacquiao bout generated 4.4 million pay-per-view buys and $72 million at the gate, yet many felt disappointed by the lack of action.
For the casual fan, there will likely be increased interest as the fight date approaches and as word spreads of both boxers' immense talent. In many ways, this is not a fight cloaked in hype, but rather one that is almost entirely merit-based. Golovkin and Alvarez have earned their way to this massive payday after years of fighting the best the market had to offer.
The build-up to Saturday's announcement had already been intriguing, with some speculating that Alvarez was playing a strategic waiting game against Golovkin to meet the champion at a comfortable weight. Alvarez has often fought at a catch-weight in recent years, while Golovkin was left to accept fights against boxers like Kell Brook, a true welterweight who was outclassed by Golovkin at roughly 13 pounds above his normal fighting weight.
Meanwhile, both boxers have been involved in two recent fights that many might say has defined their careers and sparked more interest in this showdown.
At just 23 years old, Alvarez proved his willingness to face all competition when he signed on to fight Mayweather in 2013. Though Mayweather clearly deserved the decision victory, Alvarez showed flashes of greatness by landing some quality punches on the defensive specialist. It was a spirited effort by a young fighter who put his undefeated record on the line against one of boxing's all-time greats.
Despite the loss, the Guadalajara native rightfully earned his superstar status and reaffirmed his place among boxing best after defeating Miguel Cotto in November 2015. In a highly technical middleweight fight, Alvarez was the aggressor over 12 rounds against the hard-hitting Cotto, who proved a worthy opponent based on his well-timed punches and defensive posture. It was still a clear-cut victory for Alvarez and it elevated him into the boxing elite by going the distance against such an accomplished fighter.
Like Alvarez, Golovkin's two biggest fights were within the last two years and they featured two different results. The Kazakh faced the most polished opponent of his career when he stepped into the ring against David Lemieux in October 2015. Golovkin asserted his dominance over eight rounds, fully controlling the fight before shutting the door on any potential Lemieux rally with a well-earned TKO. It was the type of fight many expected from Golovkin, but had never been privileged to actually witness since so many top fighters dodge him.
But in his last fight, Golovkin has his 23-fight knockout streak snapped when he settled for a 12-round unanimous decision win at Madison Square Garden against New York-native Daniel Jacobs. Though he seemed to deserve the win and even knocked down the highly regarded Jacobs, the fight revealed that when challenged by a smart, defensive and hard-hitting opponent, Golovkin can look vulnerable.
For those who at one time presumed Golovkin— even at age 35—would roll to a clinical victory over Alvarez, the seeds of doubt have been planted that he may not be as invincible as previously thought. Some may take the view that the 26-year-old Alvarez is on the mercurial rise after dismantling his last three opponents, while Golovkin looks like the fading legend for not closing out Jacobs in typical GGG fashion.
Such viewpoints only prompt more interest, which might have been the goal for Golden Boy Promotions all along. Though Alvarez had never shown fear of fighting Golovkin, Golden Boy appeared to have at least some reservations in 2016 about their most prized talent stepping into the ring with a boxer who discards opponents with relative ease. Now that Alvarez feels more secure at 160 pounds, and with Golovkin coming off a less-than-impressive win, this fight sure seems more up for grabs than it would have been last year.
In some ways, this is also a battle of fame vs. reputation. One boxer has a big following, while the other fights in relative obscurity.
Fresh off firmly claiming the throne as Mexico's most favored boxer, Alvarez takes his huge base with him into this fight. Wherever great Mexican boxers go the viewers follow, and Alvarez is no exception to the rule. Even against a career underachiever like Chavez or even an American one with limited name recognition like James Kirkland, a fight involving a big-name and successful Mexican boxer generates huge attention. Alvarez is carrying on the tradition of great Mexican boxers while also entering this fight with the respect of dedicated boxing fans.
Golovkin, on the other hand, is only visible to ardent boxing fans. He has struggled to come anywhere close to the fame of Alvarez, Mayweather and Pacquiao, but Golovkin does bring with him a heavy dose of credibility from those who show more than a passing interest in the sport. Many who reject boxing's theatrics in and outside the ring have been drawn to Golovkin's demure and business-like demeanor, along with the convincing way he disposes of any challenger who mounts the courage to step into the ring with him.
Such personality differences are nothing new. In some ways, Golovkin shares similarities with the soft-spoken and hard-nosed Hagler, while Alvarez, with his flash of red hair and loyal Mexican support, has the charisma and confidence of Leonard.
The contrasts between Golovkin and Alvarez end there. For those considering shelling out about $99 for this pay-per-view event, there promises to be less disappointment than the seemingly dull Mayweather-Pacquiao fight. Golovkin and Alvarez won't hold back on the power punches and don't want to settle for anything less than a knockout win. Both seem to prefer going toe-to-toe and slugging it out, which is what most fight fans want.
Like Joshua-Klitschko, this prize fight is a refreshing change of pace. On top of everything, Golovkin and Alvarez will both no doubt welcome a rematch no matter the result.
The outcome for Golovkin-Alvarez is anyone's guess. But when it comes to the health of the sport, this fight already means boxing just won by a knockout.
FOR FREE to continue reading
✔️ Unlock the full content of International Business Times UK for free
offer available for a limited time only
✔️ Easily manage your Newsletters subscriptions and save your favourite articles
✔️ No payment method required
Already have an account? Log in
© Copyright IBTimes 2023. All rights reserved.