Cannabis Comes To Wall Street: The Next Big Industry?
At a certain location on Wall Street, a group of investors were thinking of getting in on the ground floor of an industry that is, for now, largely illegal. While there was a clandestine feel to the event, it was impressive for the businesslike approach of the various entrepreneurs, all of whom are involved in the cannabis industry in the states that have legalized its usage for medical purposes, toward the investors. They were pitching ideas, not about cultural change but about financial opportunities.
There is a sense that cannabis use for medical purposes will be legalized sooner rather than later in New York. The event was the seventh quarterly forum of the ArcView Group, a legal-cannabis investment organization founded in San Francisco, but it was the first to take place in a state where medical cannabis has yet to be legalized. According to a Fortune feature article on ArcView, investors pay an annual fee of $3,500 to attend the event, while entrepreneurs pay between $1,250 and $3,000 to pitch at the forum.
Spearheaded by Steve DeAngelo, ArcView brings investors with deep pockets to businesses pitching ideas primarily centered on the medical-cannabis industry. DeAngelo is the president of ArcView as well as the executive director of the Harborside Health Center in Oakland and San Jose, Calif. He arranged the pitch as a "Shark Tank"-style event where entrepreneurs present their ideas to potential investors.
"Our entrepreneurs and investors come from all across the country and, in some cases, come from other parts of the world, and we are really looking at the legal-cannabis industry as something which is in its infancy," DeAngelo told the IBTimes.
DeAngelo acknowledged that there is plenty of work ahead before medical cannabis is legal in most U.S. states, but he said he believes that having businesses in place is an important first step. Investors are curious about the new markets related to medical cannabis, he noted, pointing out: "It is certainly only legal today in a few jurisdictions, but we know that, in the near future, that's going to be changing. Forward-thinking investors and forward-thinking entrepreneurs want to be in a position to get ahead of the curve of that change and not be behind it."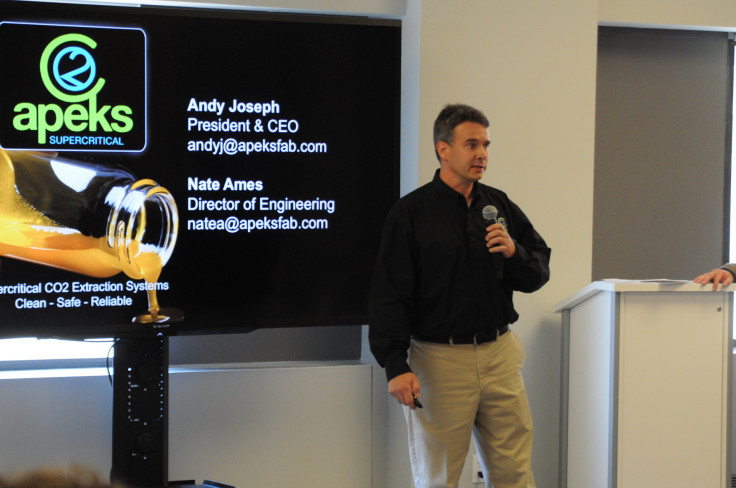 The secrecy surrounding the ArcView event -- where some individuals attending did not want to have their faces appear in any coverage and its Wall Street location was kept quiet -- was juxtaposed with the invited media representatives who peppered investors and entrepreneurs with questions.
DeAngelo and ArcView stressed the forum was not about flouting the law. Instead, they anticipate a change and are trying to benefit from it. They believe cannabis -- the term they employ to distance themselves from the word marijuana and some of the negative connotations attached to it in certain circles -- will be big business in New York and elsewhere once it becomes legalized. And where else to trade big business than at its heart?
"There are a couple of reasons why we came to New York," said the impeccably dressed DeAngelo, who was always followed by his loyal Chihuahua. "First of all, there is a great deal of legal cannabis activity on the East Coast. We have systems of legal cannabis distribution that are being implemented in Washington, D.C., that are being implemented in New Jersey, that are being implemented in Vermont, that are being implemented in Massachusetts. So you have a lot of legal cannabis activity going on in the East Coast, and, of course, New York, and in particular Wall Street, is the international capital of finance. So it really seems to be the most appropriate place for us to have a presence."
Although there was a "lifestyle water pipe" pitched at the forum, the idea was to promote not just bongs but local business creation and the resulting tax revenue for local governments and American manufacturing within regulation. With more states believed to be seriously considering medical-marijuana legislation, cannabis will mean both big business and an opportunity for investors in a field with comparatively little competition. There is plenty of risk, but for those buying and selling, the potential multimillion-dollar return is too great to ignore.
During the presentations, cannabis was anecdotally linked to the tech industry and the dot-com bubble of the 1990s, when a new industry led to huge gains for investors, although, in some cases, the profits were short-lived. The comparison is appealing, but there is no illusion among entrepreneurs or investors that the nascent firms will match the instant success of tech startups. They appear to anticipate a painstaking process with all aspects of the business being carefully created. While there are legal hurdles, the connection was clear between cannabis and Wall Street: Money was to be made.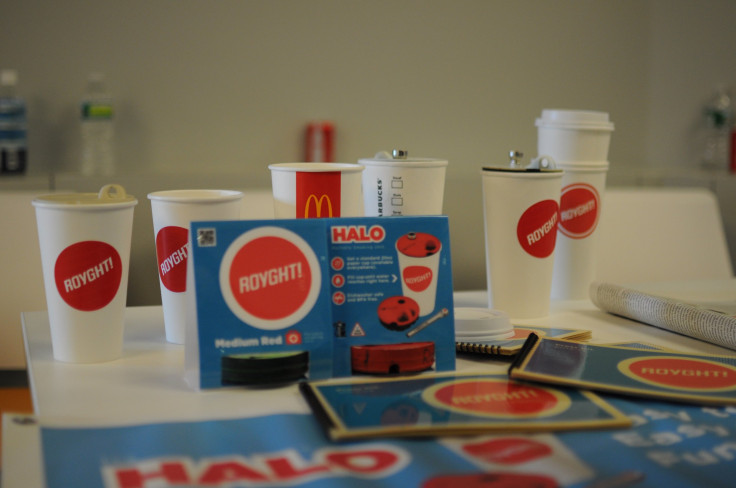 Some of the businesses at the event are focused on a lifestyle in which cannabis use goes beyond the culture of black lights and tie-dyed clothing. One of them, Royght, has developed a product called the Halo, which adapts a standard 20-ounce paper cup (the size used to serve medium drinks at McDonalds or ventes at Starbucks) into a portable water pipe. The adaptable pipe is meant to broaden the acceptance of medical-cannabis usage, not hide it.
Many individuals don't want to be attached to the old idea of marijuana use, and they may be uncomfortable having those products linking them to cannabis.
Matthew Luxton, Royght's co-principal, said the company had pitched at the ArcView forum four different times before New York. While investors liked the Halo at first, they hated its marketing, believing it could be mistaken as an appeal to children, and they also wanted a better business plan. With these lessons learned, Luxton said, Royght has created a partnership with a factory outside Detroit and dedicated itself to having all components of its product made in the U.S.
The Halo is meant to be aesthetically appealing, and similar lifestyle products, including a high-tech bowl cleaner developed by KashItClean, were among the items that piqued the interest of investors.
The sophistication was beyond gadgetry as businesses catering to security as well as software needs were among the most established representatives of the burgeoning cannabis industry. MJ Freeway has established a cloud-computing "seed-to-sale" database for medical-marijuana dispensaries with the capability to track individual strains, maintain inventory and keep patient records. MJ Freeway assures dispensaries of a high-level of security when using its software.
Speaking about the need for business software, Amy Poinsett, MJ Freeway co-founder and CEO, said security is a concern but that there are measures in place within the platform. Poinsett noted: "Certainly, people ask us about security when we are talking to prospects. We actually feel we are providing a much higher level of security than what they are going to have in their store. If someone were to break in to a marijuana dispensary and steal a laptop, they are going to get patient information off that laptop if it is a locally based system. With a cloud-based system, we have different levels of security taking care of patient data as well as substantial security for intrusion detection."
MJ Freeway is growing as the needs of dispensaries change. Jessica Billingsley, co-founder and chief operating officer, said: "We continue to develop and release new updates all the time to our system. [With] our most recent release, probably the most interesting part of it was integration with testing companies so testing data can be pulled directly to our system -- and some states require that that be noneditable data, so that is testing data that can then be printed on the patient label or the product label for adult-legal medicines saying exactly what's in it."
Physical security is also necessary for dispensaries and facilities, which led to the creation of Canna Security America, or CSA, a marketer of surveillance and alarm systems that are tailored to each dispensary. The company's founders also played a role in drafting some of the regulatory policies in place in Colorado.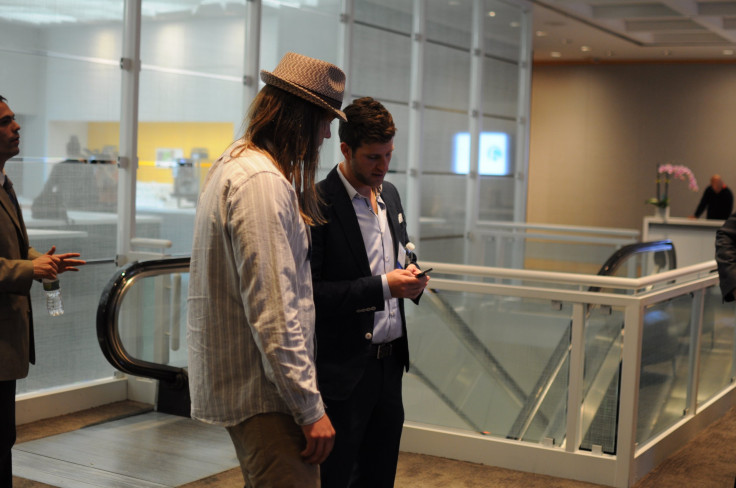 CSA President Daniel C. Williams said: "What we are seeing in Washington [state], which is currently regulating now, is ... a lot of burglaries. We believe in functional regulation, for instance, the government coming in and saying, 'We'll endorse your industry if you follow a certain set of rules and we are going to create those keeping the concerns of the industry in mind.'" Williams also sees shortcomings in how each state is regulating independently without trying to adapt successful models from other states. He said: "It has been like starting from scratch. We would, hopefully, like to change that. We don't see any reason why, if there is functional regulation in a state that is working, they can't modify or adapt those to their own needs instead of reinventing the wheel each time."
Ideas surrounding cannabis are changing, as are its investors. ArcView's DeAngelo noted that new investors joining his group have backgrounds not in advocacy but in business. He said: "In the very beginning days, we were exclusively industry insiders, entrepreneurs who have done well and some high-net-worth individuals who have contributed to political reform. Now what we are seeing increasingly is people come to cannabis from an investment background, who have spent their whole lives as investors, and they may -- and, in most cases, do -- support and are interested in cannabis law reform, but they really come to the issue from a perspective and background of investors."
The next step for DeAngelo and the businesses pitching at the Wall Street forum is to engender support for new legislation, but the only way he believes that change can happen is by showing there is money involved and people are invested. He contended, "Very few things in America really start to change in any significant way until the investor class gets behind that change and embraces it."
Despite DeAngelo's forays into the business world, he remains an advocate at heart, believing there is great change found within cannabis. He said, "We are not only bringing a great financial opportunity to Wall Street and to the entire nation, we are also bringing an opportunity to improve the environment, to improve public safety, to improve public health and to bring our country back together again."
© Copyright IBTimes 2023. All rights reserved.