Can't Miss Saigon: McDonald's Corp. (MCD) Enters Vietnam… Finally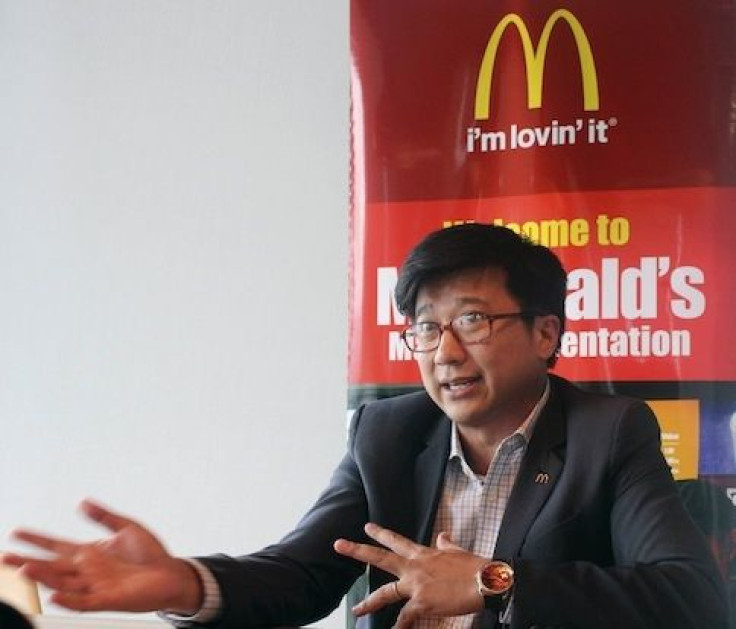 U.S. fast-food retailing giant McDonald's (NYSE:MCD) has opened its first restaurant in Vietnam in Ho Chi Minh City (formerly known as Saigon), four decades after the end of the Vietnam War that saw America's clients suffer a humiliating defeat to the Communists.
Hundreds of customers lined up on the first day of the 350-seat restaurant's debut on Saturday, Agence France-Presse reported. "I like fast food. I don't like Vietnamese food. I don't like fish sauce," 25-year-old customer Nguyen Hoang Long told AFP. "McDonald's in Vietnam is seen as a high-class restaurant. In the U.S., it's just normal." USA Today noted that customers found a festive atmosphere on hand, with techno-pop music and a Ronald McDonald clown greeting them, adding that Vietnamese diners enjoyed the burgers and chicken meals, but were less enamored with the French fries. "We don't really like the fries," said 24-year-old Mai Phu Toan. Cars and motorbikes trudged past the drive-through window as well – in Ho Chi Minh, a teeming city of some 7 million people, motorbikes remain the predominant form of transportation.
The franchise is owned by Nguyen Bao Hoang (aka Henry Nguyen) -- who worked in a McDonald's when he grew up in the U.S. – and who just happens to be the son-in-law of Nguyen Tan Dung, the prime minister of Vietnam. The BBC reported that Henry Nguyen had dreamed of introducing the Golden Arches to his native country, which he returned to about 10 years ago. Nguyen is also the founder of Good Day Hospitality, a food and travel services company, and managing general partner of investment firm IDG Ventures-Vietnam, a unit of a network of venture capital funds based in San Francisco. He also has degrees from Harvard and Northwestern universities. "I think in many ways McDonald's is a symbol of something bigger, particularly for a country or market when it enters. I think it's a big deal for McDonald's, and I think it's something that people here feel is a special milestone," Nguyen said.
McDonald's now operates in 38 Asian countries, with the latest venture representing their first footprint in Vietnam, where a youthful population is increasingly attracted to Western-style food and consumer brands. McDonald's has said that it wants to have 100 restaurants in Vietnam within a decade.
But Big Macs and Happy Meals have made a rather belated entry into the Southeast Asian state – other U.S. companies like Starbucks (NASDAQ:SBUX); privately held Subway sandwich shop; Burger King Worldwide Inc. (NYSE: BKW) and KFC and Pizza Hut -- owned by Yum! Brands Inc. (NYSE:YUM) -- have already established a presence in Vietnam. KFC (formerly known as Kentucky Fried Chicken) is the largest foreign brand in Vietnam, with some 135 outlets in the country. KFC first entered Vietnam in 1997, only a few years after Vietnam and the U.S. normalized relations. Burger King, which now has about 20 restaurants in Ho Chi Minh City, Hanoi and Danang, jumped in three years ago and aggressively expanded. Pizza Hut boasts 34 locales in the country.
Other U.S. brands in Vietnam include Baskin-Robbins ice cream [a unit of Dunkin Brands Group Inc. (NASDAQ:DNKN], Dairy Queen ice cream [a subsidiary of Berkshire Hathaway (NYSE: BRK.A)], Carl's Jr. restaurant chain (owned by privately held CKE Restaurants), and Popeyes Louisiana Kitchen (NASDAQ:PLKI). The New York Times reported that U.S. companies still trail Asian fast-food outlets like Lotteria from South Korea and Jollibee from the Philippines, as well as Vietnamese coffee chains like Highlands Coffee and Trung Nguyen.
Henry Nguyen explained why McDonald's took so long to enter the Vietnamese market. "McDonald's is a very careful organization. If you show up in a market you've got to do things right," he said, according to USA Today. "The food standards have got to be there, so [the] supply chain was definitely an issue. But from what I know, Vietnam has been at the top of McDonald's list of the next market to open for a very long time."
McDonald's is virtually an American icon that many young Vietnamese have long been fascinated with. With a population of some 90 million and a growing middle class, Vietnam is an untapped market for the fast-food behemoth. "Right now… the majority of what we serve is imported food," Nguyen said. "The long-term goal over the next five to 10 years is that we help develop a local supply chain. That to me is one of the peripheral benefits for why I wanted to be a part of this. We're going to change the food industry here."
Euromonitor International, a market research firm, said the fast food industry in Vietnam is modest in size, but expanding quickly. In 2013, the business generated total revenues of $535 million, up 14.5 percent from the prior year. Euromonitor projects that revenues from Vietnam's food service industry will climb to $670 million in 2015. "Vietnamese are not necessarily going to fast food for the wonderful taste," Ralf Matthaes, managing director for Vietnam and the Mekong region at TNS Global, a British market-research consulting firm, told USA Today. "Coming to McDonald's is more of a treat, more of something aspirational."
McDonald's has made it entrance during a time of economic recession in Vietnam, including a fragile real estate market. But Matthaes claimed that the recession may have benefited McDonald's since the economic malaise had pushed down the price of real estate. "Vietnam is in the middle of a recession, but what that actually creates is a lower cost of entry," he said.
USA Today also noted that food at McDonald's typically costs more than meals for sale from street vendors. For example, a Big Mac costs 60,000 Vietnamese dong ($2.82), and a "value meal" with fries and a soda costs 85,000 dong ($3.99) – more than double the price of a bowl of pho noodle soup from a street seller. According to EatingSaigon.com, street food in Ho Chi Minh City can even cost as little as 5,000 or 6,000 dong. Nguyen Thi Hang Nga, a Hanoi street vendor who sells the staple bowl of pho, complained to the New York Times: "That [McDonald's] food may be tasty, but it's expensive for normal Vietnamese." Consequently, food like McDonald's is targeted towards the youthful urban middle class, not the poor.
Looking at the bigger picture, consumer spending in Vietnam makes it an attractive place to target for foreign retailers. The World Bank estimated that from 2008 to 2012, per capita income rose from $1,000 to $1,500. "It's got a big population, the government is making it easier to enter, and Vietnamese are now having that basic income level where there is not just sustainability but genuine opportunity for growth and profits," Matthaes told the Times.
Moreover, in a country where it is still difficult to open new businesses, Henry Nguyen was likely given a boost by his powerful and influential father-in-law. "Laws and regulations are often rather vaguely written, giving officials plenty of opportunity to delay or assist an investor's plans, but Mr. Nguyen has been able to negotiate these difficulties with ease," Bill Hayton, a former foreign correspondent in Vietnam and author of "Vietnam: Rising Dragon," told the Times. "Having the second-most-powerful man in the country as father-in-law is like having a golden ticket and get-out-jail-free card all rolled into one."
The rising popularity of Western fast-food retailers reflects a changing attitudes among the young – the World Bank reported that last year, the total consumption of that ancient staple, rice, declined in Vietnam for the first time ever, as the middle classes seek other forms of carbohydrates. And, as in Western societies, Vietnam is now confronting rising rates of obesity and diabetes, in the more affluent urban regions.
© Copyright IBTimes 2022. All rights reserved.
FOLLOW MORE IBT NEWS ON THE BELOW CHANNELS