Cardinals Manager La Russa Retires in Style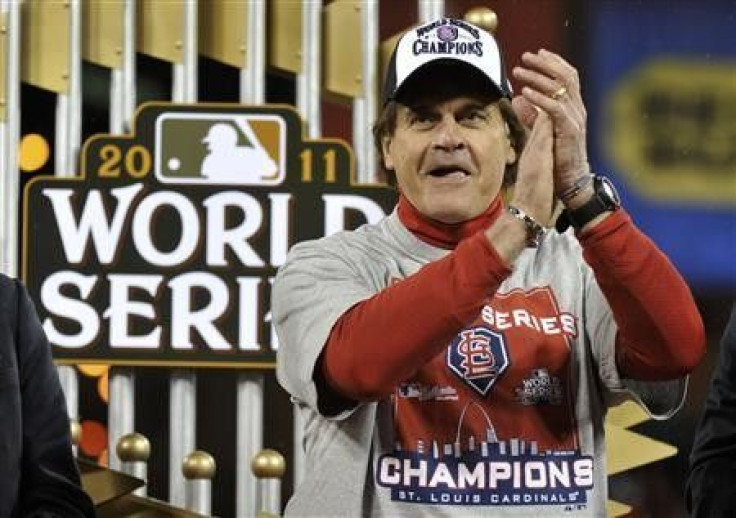 Tony La Russa announced his retirement from Major League Baseball (MLB) on Monday, just three days after managing the St. Louis Cardinals to a World Series title in stunning fashion.
La Russa, 67, had managed in the major leagues for 33 years, 16 of them with the Cardinals, who defeated the Texas Rangers in seven games for his third World Series crown.
We went through the season and I felt that this just feels like it's time to end it and I think it's going to be great for the Cardinals to refresh what's going on here, La Russa said during a news conference in St. Louis.
He said no one factor led to his decision.
They all just come together telling you your time is over, he said.
La Russa had a 2,728-2,365 record as a manager, putting him behind only Connie Mack (3,731) and John McGraw (2,763) on MLB's all-time wins list.
He won World Series titles with the Cardinals in 2006 and 2011 and with the Oakland Athletics in 1989.
La Russa's 2011 Cardinals came from 10-1/2 games behind in the final month of the season to clinch a playoff spot on the final day and forced the World Series to a decisive seventh game after being within a strike of having their season ended in the ninth and 10th innings of Game Six.
He's been like a dad to me, Cardinals slugger Albert Pujols said during the World Series. As soon as he's done with this game, he's going to be obviously in the Hall of Fame, and to share that, those moments with him, it's pretty special.
La Russa is the only MLB manager to win multiple pennants in both leagues and the second to win a World Series in each. Sparky Anderson won titles with Cincinnati and Detroit.
His decision to retire did not come as a surprise to Cardinals insiders as he and General Manager John Mozeliak had talked about the possibility since August.
I know the impact he had on this organization and specifically this 2011 team, said Mozeliak. So it was sort of hard for me to swallow. But on the same token, I have to admire that he never wavered.
When I think back to my time with him, he's been a leader, a mentor and a friend. When you have somebody step away from your life that incorporates all that it's never a great feeling.
Oakland Athletics officials praised La Russa for his remarkable career and congratulated him on retiring after perhaps his crowning moment in baseball.
He led the Athletics to three straight American League championships, including the 1989 World Series title, and the Oakland A's organization will forever be indebted to him, the team said in a statement.
La Russa, a likely Hall of Famer, began his managerial career with the Chicago White Sox in 1979 and moved to the Athletics nine seasons later. He became the Cardinals manager in 1996.
A light-hitting infielder, he played six MLB seasons, mostly with Oakland, before earning a law degree and eventually turning to managing.
Now he hopes to find a new challenge, perhaps in some other capacity in baseball or in a totally different field.
Maybe I'll open a bookstore, La Russa said.
© Copyright Thomson Reuters 2023. All rights reserved.