Carly Fiorina Leadership: Former Hewlett-Packard CEO's Net Worth, Why She Was Fired As First Female Executive Of Fortune 500 Company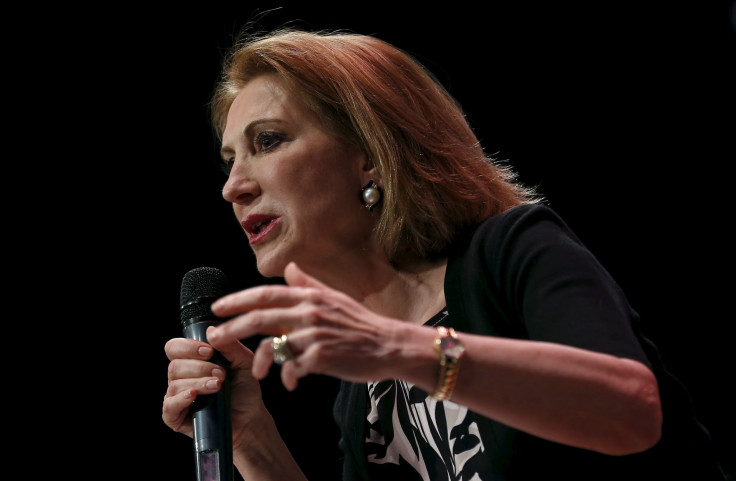 As Carly Fiorina, former CEO of Hewlett-Packard, announced her bid for the 2016 Republican presidential nomination Monday, her experience and background as the first female executive of a Fortune 500 company, and one with a net worth between $30 million and $120 million, remain controversial, and highly questionable to some.
After six years at the helm of the technology company, Fiorina was forced to resign in 2005 over the controversial decision to buy Compaq in 2002 for $25 billion. She subsequently laid off 15,000 employees at Hewlett-Packard -- a point that the website carlyfiorina.org, which the former CEO did not register, sought to drive home.
For several years after the merger, HP's board worried about Fiorina's role at the company, especially as its performance appeared to be faltering against competitors IBM and Dell, and profits lagged. In February 2005, the board asked her to step down. Fiorina was given a severance package of $21.1 million.
"Looking forward, we think we'll [need a CEO with] hands-on execution," Patricia Dunn, a board member, said at the time. In response, Fiorina noted that she and the board had their differences over company strategy. Later, she said on CBS' "60 Minutes" that she had been expelled from the company suddenly and felt blindsided.
But critics point to what happened at HP -- controversial leadership, poor profit -- as proof that Fiorina is not qualified to be chief executive again, especially of an entire country, the Washington Post reported. Others have backed her, welcoming the presence of a second female presidential candidate and the first in the Republican Party.
Other issues, besides her tenure at HP, remain. Fiorina ran for a U.S. Senate seat in 2010 in California, but lost to incumbent Sen. Barbara Boxer. Also, at the end of September 2014, she still owed nearly a half-million dollars to the staff and others who worked on that campaign, the Post reported.
Fiorina's Unlocking Potential PAC raised $1.8 million for Republicans when it was founded in 2014, CNN reported. Sarah Isgur Flores, former deputy communications director for the Republican National Committee and former political director for U.S. Sen. Ted Cruz, R-Texas, also a declared 2016 presidential candidate, joined the PAC in early 2015 and is expected to serve as Fiorina's deputy campaign manager.
© Copyright IBTimes 2022. All rights reserved.
FOLLOW MORE IBT NEWS ON THE BELOW CHANNELS