Who Is Carly Fiorina? Former HP CEO Declares Her Candidacy For President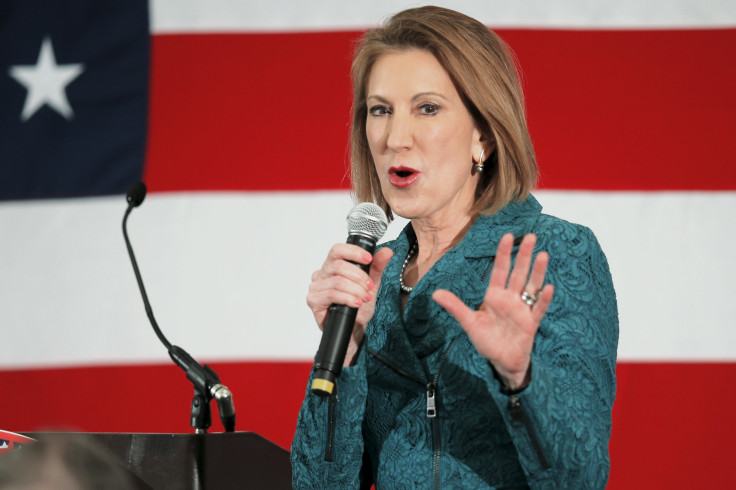 If you've heard of Carly Fiorina, there's a better chance you're a tech junkie than a political junkie. The 60-year-old former CEO of computing giant Hewlett-Packard announced Monday she was running for the Republican nomination for president in 2016. Fiorina has never held public office, but says her experience in business makes her qualified to run the country.
Fiorina became the first woman to run a Fortune 500 company when she took over HP in 1999. The year before Fortune magazine named her the "most powerful woman in business" and in 2004 Forbes listed her No. 10 in its list of the world's 100 most powerful women. But many in Silicon Valley considered her tenure at HP to be disastrous. Fiorina doubled sales during her time as CEO, but halved profits and didn't make many friends with her "polarizing and disenfranchising" attitude, said an HP executive who joined the company just after Fiorina was forced out in 2005.
She's the second woman, behind Hillary Clinton, to announce her candidacy. Fiorina's political career has been short and unsuccessful so far. She was an adviser on U.S. Sen. John McCain's 2008 presidential campaign and challenged incumbent U.S. Sen. Barbara Boxer of California for her seat in 2010, but lost by 10 percent. She's already started going after Clinton during speaking engagements, claiming she takes away Clinton's "gender card," and will force Clinton to run on her policies and track record.
Policywise, Fiorina opposes the Common Core teaching curriculum and is a strong believer in the free market. GOP strategist David Carney called her "the antidote to the Elizabeth Warren arguments from the left," referring to the U.S. senator from Massachusetts' drive to take down Wall Street banks and tax the wealthy at a higher rate.
Fiorina said she would "stand up and arm Ukraine" and confront Russian President Vladimir Putin, whom she has met. She also criticized President Barack Obama, saying he has been too soft abroad, and added that her knowledge of the ins and outs of international business would make her a better president regarding foreign policy.
In April, Fiorina made the campaign rounds in Iowa, speaking at the Iowa Faith & Freedom Coalition's Spring Kickoff and a number of smaller conservative events. Fiorina is a devout Christian who opposes abortion and equal marriage rights for LGBT [lesbian, gay, bisexual and transgender] individuals. She discussed her religious views in an interview with the Christian Post in February. Last week she traveled to New Hampshire for more speaking engagements and to speak with voters.
© Copyright IBTimes 2023. All rights reserved.
FOLLOW MORE IBT NEWS ON THE BELOW CHANNELS