Carmelo Anthony (Hypothetical) Trade Rumors: 5 Ideal Landing Spots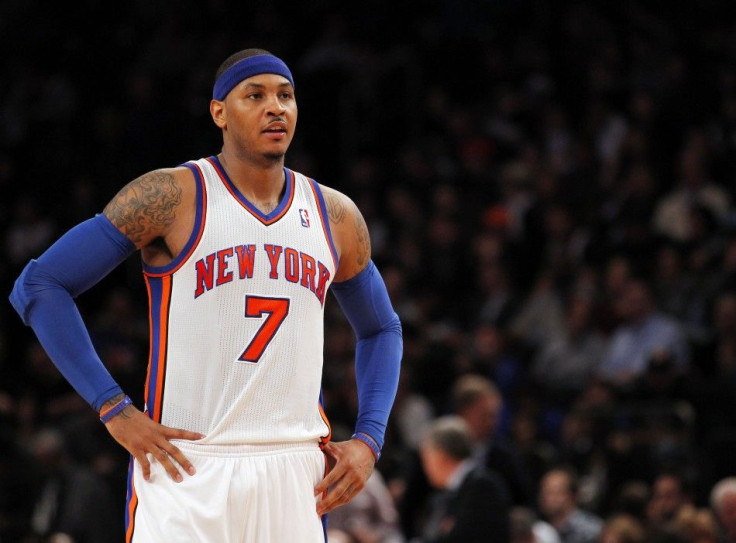 It has been a little more than a year since the New York Knicks acquired Carmelo Anthony from the Denver Nuggets in a blockbuster sign-and-trade deal in hopes of finally restoring all the glory the team had lacked in previous seasons.
To an extent, that glory has come. But not in the style Knicks fans had hoped for-in large part, perhaps, thanks to Anthony.
My colleague John Talty stated in a column on Wednesday that after the Knicks lost a 95-85 game to the Dallas Mavericks on Tuesday-a game which Anthony scored just six points on two of 12 shooting-it became abundantly clear that New York has to trade Anthony or Amare Stoudemire. And, it seems as though a good deal of Knicks fans would agree with that sentiment, too.
I myself am also on board with that, but not with trading Stoudemire in particular. Anthony, I believe, is still more valuable despite his woes, and if traded, could net more valuable pieces in return, even if the Knicks are already deep with talent.
Anyone who understands Anthony's modus operandi or has watched Anthony throughout his career knows how much he has a knack for controlling the ball, and rightfully so. He is a prolific scorer, who, for his six-foot-eight size, can overpower smaller defenders and blow by bigger ones.
But one could make a strong case that Anthony has been doing too much controlling and has been the weak link in coach Mike D'Antoni's free-flowing, up-tempo system. When he was injured, the Knicks went on a winning streak and displayed their best basketball in recent memory. When he came back, the disarray was all too familiar from before.
All the isolation plays and resulting jump shots, the current three-game losing streak, and, yes, even Stoudemire declining in production this season after an MVP-caliber 2011 without Anthony, albeit for half the season, are all proof of that. Maybe for a team that doesn't have multiple players capable of creating their own shot, Anthony would fit in better. However, playing alongside guys like Stoudemire, Jeremy Lin, J.R. Smith and Baron Davis, who all work to get their own shot off, might just be too much talent for the Knicks to handle.
That doesn't mean Anthony will be traded, though. The Knicks still need time to mesh in light of their compressed and lackluster season. We don't know if or when Anthony will adapt to the team system, but the capability to do so is there. So for those reasons, he is probably not very expendable right now.
Yet, with the March 15 deadline looming and amid all the talk of trading Anthony, let's just say the all-star was on the block. Hypothetically, where would he land in a trade if the Knicks were actually willing to part with him?
Well, first, here are the places he likely wouldn't land:
Since Anthony is arguably a scorer above all else, the top five teams that lead the league in scoring likely wouldn't want to disrupt what that have going on right now. In other words, scoring points isn't a problem with their presently constructed rosters. Those teams from one to five would be the Denver Nuggets, the Miami Heat, the Oklahoma City Thunder, the San Antonio Spurs and the Portland Trail Blazers.
The Knicks wouldn't likely trade a superstar in Anthony to a division rival. That eliminates the Philadelphia 76ers, Boston Celtics, Toronto Raptors and New Jersey Nets.
Bad teams wouldn't have a handful of valuable pieces necessary to give up for Anthony. That would eliminate the Charlotte Bobcats, New Orleans Hornets, Washington Wizards, Sacramento Kings, Detroit Pistons, Cleveland Cavaliers, and Golden State Warriors.
Teams on the rise such as the Memphis Grizzlies, Los Angeles Clippers, Indiana Pacers and Minnesota Timberwolves--also playoff teams--may be content with the young talent and potential they have already.
Assuming that the Knicks are satisfied with the Jeremy Lin-Baron Davis point guard tandem, the Knicks shouldn't have to look to the Milwaukee Bucks and the Phoenix Suns for Brandon Jennings or Steve Nash respectively.
Kobe Bryant coming to the Knicks just seems too utopian. So, for the Knicks to move Anthony to the Lakers, it would probably be almost impossible for the latter not to give up either Pau Gasol or Andrew Bynum. That would create mayhem on the Knicks' frontline with the only realistic way to avoid that situation being trading Tyson Chandler, too. That would be overcompensating.
The Bulls already have Derrick Rose, who is a scorer in more ways than one and a facilitator as well. Anthony relegates to one-on-one jump shots too often. Rose has proven he can score during and close a game with both jump shots and penetration, while maintaining team basketball.
That leaves the Orlando Magic, Atlanta Hawks, Dallas Mavericks, Houston Rockets and Utah Jazz as the teams Anthony could end up with. But keep in mind three things:
1. The Knicks would be significantly hurt at the small forward position without Anthony. Therefore, they might heavily consider getting one in return.
2. They might also consider getting rid of one of their four point guards-not named Jeremy Lin or Baron Davis-and/or Landry Fields who is underachieving at the shooting guard position.
3. The Knicks would most likely be guaranteed a draft pick or two, depending on who exactly they target.
With that said, here's how Anthony could land in each of the five possible remaining destinations:
If the Knicks were to go after Magic superstar center Dwight Howard, it would mean trading Anthony and Chandler plus some draft picks. The Knicks would be remiss if they also didn't pick up forward Hedo Turkoglu whose value has declined recently. On the other hand, if Howard isn't the target, then Turkoglu would most likely be the Knicks' main target. Swapping Fields for Jason Richardson would be an upgrade.
Anthony for the Hawks' Josh Smith seems like the most sensible deal since the Hawks have invested too much in Joe Johnson to just let him go. Reports say that Atlanta might also be willing to get rid of Kirk Hinrich, so the Knicks can swap Fields to even things out at shooting guard.
Dirk Nowitzki seems just as improbable to go elsewhere as Bryant is. Therefore, the Knicks' main Mavs target would probably be Shawn Marion, despite his age. The best guy to complement Marion in a trade and even things out monetarily would probably be Jason Terry. Jason Kidd is too old. Lamar Odom would bring more drama than the Knicks would need. Together, Marion and Terry would reunite with Chandler and provide veteran leadership. For Terry, whose contract expires at the end of this year, the Knicks can give up Fields, Toney Douglas or Mike Bibby.
The Rockets are probably the most ideal team of the five for the Knicks to trade with because they have as much depth as the Knicks. Kevin Martin, arguably the Rockets' best player, is an upgrade over Landry Fields, and Luis Scola can be Anthony's substitute at the three-spot.
The Utah Jazz already started the rebuilding process by letting Deron Williams go, so they won't be doing the same with Al Jefferson, who is the centerpiece now along with Paul Millsap. However, one of them would have to go. The trade that most seems to make sense in terms money and value is Anthony, Fields and Douglas for the Millsap, C.J. Miles and Raja Bell.
The above scenarios allude to my colleague's point made in his column that the Knicks don't necessarily need a superstar in return for Anthony. To that end, they just need players who are coming in already having bought into a team system. The teams above have players exactly like that.
But for now, look for the Knicks to stay put with Anthony. Maybe next year, when there isn't a lockout to give anyone the benefit of the doubt, the ideal of trading Anthony can become a reality.
© Copyright IBTimes 2023. All rights reserved.