Carmelo Anthony Trade Rumors: Are The Portland Trail Blazers A Legitimate Option?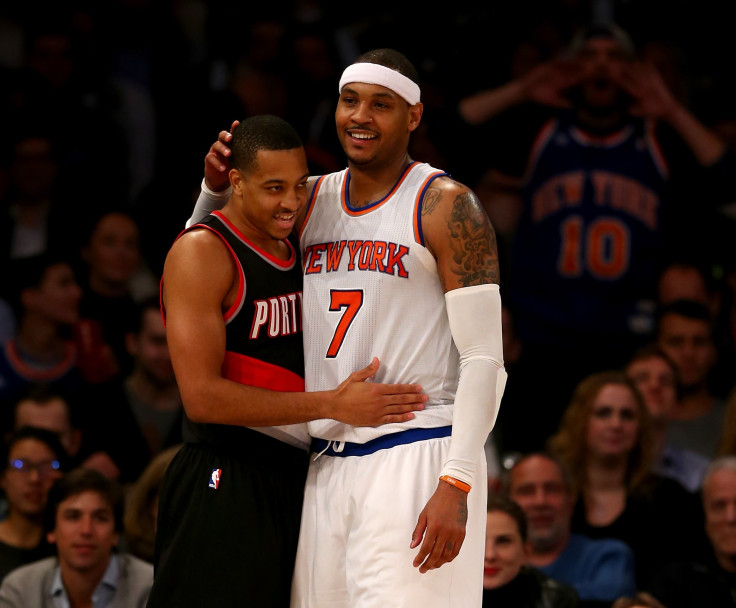 As the Houston Rockets attempt to acquire Carmelo Anthony, another Western Conference team is looking to trade for the New York Knicks' forward. The Portland Trail Blazers have what it takes to get a deal done, and it appears that they are making a strong play for Anthony.
There had been rumors that Portland might be the third team involved to help facilitate a trade that would put Anthony on the Rockets. The Blazers, however, are interested in adding the All-Star to their roster and making a run at the 2018 NBA Finals.
READ: Houston Rockets Not A Lock To Trade For Carmelo Anthony
Anthony's no-trade clause remains an issue, and he reportedly is only willing to accept a deal to the Rockets or the Cleveland Cavaliers. Portland's top players are hoping to change Anthony's mind, believing they can become a real contender with the 33-year-old.
"Obviously, with that being out there and that being a real possibility, I don't see why I wouldn't reach out to him and let him know the interest is mutual if he's interested in us," Damian Lillard said, according to The Oregonian. "We had a conversation ... so he knew that it wasn't just the team -- but it was myself and C.J. (McCollum)-- [that] would love to have him here."
Lillard was the No.6 scorer in the 2016-2017 NBA season, averaging 27.3 points, 5.9 assists and 4.9 rebounds per game. McCollum ranked 20th in the league with an average of 23.0 points, shooting 48.0 percent from the field and 42.1 percent from three-point range.
Neither player is older than 27 years old, and they give Portland one of the best backcourts in basketball. After getting swept by the Golden State Warriors as the No.8 seed in April, the Blazers are excited about what acquiring Anthony could do for the team.
"He can help us a lot; we can help him," McCollum said, according to The Oregonian. "He wants to play in the playoffs and be competitive. He's a very talented player. I think if we get him -- when we get him -- I think [we're] top three in the West, easy."
Anthony is reportedly ready to move on from New York, and agreeing to go to Portland might help him get traded immediately. Trade talks between the Knicks and Rockets have stalled because Houston doesn't have much in the way of young players and draft picks to offer New York. The Blazers don't have that same problem.
Portland selected two players in the first-round of this year's draft, and unlike Houston, they still own their 2018 first-round pick. Players like Meyers Leonard and Moe Harkless have only been in the league for a few years, and their contracts could help make a trade for Anthony work under the rules of the salary cap.
Anthony wouldn't turn Portland into a legitimate threat to Golden State, making it unlikely that he'll end up with the Blazers. They would be hard-pressed to crack the top half of the West.
READ: Kristaps Porzingis Unhappy, Future Uncertain As Knicks Shops Carmelo Anthony
The Warriors will be the No.1 seed, and the San Antonio Spurs might still be the biggest threat to Golden State after totaling 128 wins in the last two years. Anthony wants to join Houston because they acquired Chris Paul, giving them an even better backcourt than Portland. Now that the Oklahoma City Thunder have paired Paul George with Russell Westbrook, they have a real chance to make the conference finals.
Anthony is still holding out hope that he'll be traded to Houston, and New York might ultimately cave since the relationship between the forward and the team might be damaged beyond repair.
© Copyright IBTimes 2023. All rights reserved.