NBA Free Agency 2018: LeBron James Frustrated By Cleveland Cavaliers Current Offseason Decisions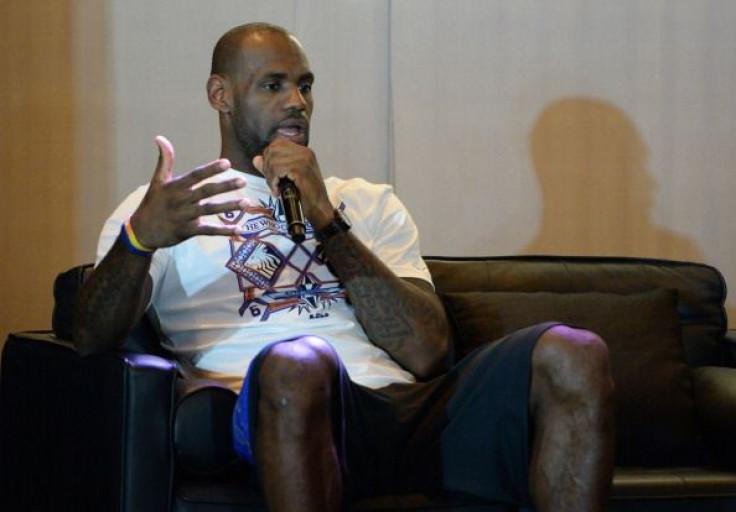 The uncertain future of LeBron James has been further muddled by new rumors of his discontent with his supporting cast for the 2017-18 season. The Cleveland Cavaliers failed to add a high-profile player this offseason, perhaps fueling speculation James may leave again when he becomes a free agent next June.
With nearly all of the top free-agents off the market, the four-time MVP has grown concerned about the lack of overall moves, a source close to the situation told USA Today Monday. James reportedly expected the Cavs to take an "aggressive offseason approach that would close the gap on the champion Golden State Warriors."
READ: Allen Iverson Disappoints Philadelphia Fans During Big3 Homecoming Game
The Cavs were denied a title in June by the star-studded Warriors in a mostly one-sided NBA Finals. The Cavs' offseasons moves included re-signing veteran shooter Kyle Korver and adding journeymen veterans Jose Calderon and Jeff Green.
The Cavs watched as their top competitors bolstered their offense. The Boston Celtics landed star forward Gordon Hayward, while the Houston Rockets paired All-Star James Harden with star point guard Chris Paul. The Warriors even added veteran shooting guard Nick Young, who averaged 13.2 points per game as a starter last season with the Los Angeles Lakers.
READ: Did Rapper Ice Cube's BIG3 Basketball Tournament Prove To Be A Success?
Days before free agency and the NBA draft, Cavs owner Dan Gilbert decided against renewing the contracts of then-general manager David Griffin and vice-president of basketball operations Trent Redden. This decision left the Cavs without two prominent front-office executives at a pivotal time. Gilbert announced in June that Griffin would not be back with the team.
"We are confident our current front office will continue to aggressively explore and pursue opportunities to improve our team in the weeks ahead," Gilbert said in a statement.
James' frustration reportedly grew when the Cavs failed to acquire then-Chicago Bulls guard Jimmy Butler. The Cavs were close to making a deal the day Gilbert opted to part ways with Griffin and Redden, a source told USA Today. Instead, Butler was traded to the Minnesota Timberwolves on draft night.
James' outlook reportedly worsened when Gilbert's favorite to succeed Griffin, Chauncey Billups, removed his name from general manager consideration on July 3. Gilbert is reportedly "continuing the process of evaluating the leadership roles" and added that the current personnel continued to "take steps position the team for success."
Sans a general manager, the Cavs also missed out on signing Sixth Man of the Year Jamal Crawford, despite James' lobbying. Instead, Crawford signed a two-year deal Sunday worth $9.8 million with the Wolves.
It's little secret that James remains hungry to win another title. When James left the aging Miami Heat in 2014, he was joining a Cavs squad that was loaded with up-and-coming players like Kyrie Irving and while the club owned the No. 1 overall pick in the draft.
Gilbert, who had been skating on thin-ice with James after he penned a disparaging letter when James left for Miami in 2010, had not consulted him before the team parted ways with Griffin. James took to social media and commended Griffin, who during his tenure, positioned the Cavs to compete in the Finals for three years straight.
"If no one appreciated you Griff I did, and hopefully all the people of Cleveland! Thanks for what u did for the team for 3 yrs! We got us 1," James tweeted.
James will be part of a 2018 free agent class that includes star players like Kevin Durant, Russell Westbrook, Paul George and DeMarcus Cousins. There have been widespread reports that James may be inclined to join a "super team" as he enters the final years of his career.
© Copyright IBTimes 2023. All rights reserved.
FOLLOW MORE IBT NEWS ON THE BELOW CHANNELS