Carmen Aristegui, Leading Mexican Investigative Reporter, Fired By MVS Radio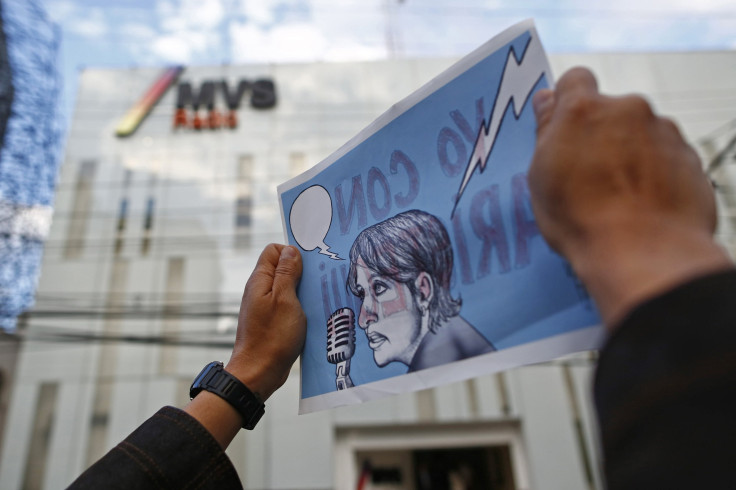 A Mexican journalist, who exposed a presidential scandal with her reporting, was fired from her radio station on Sunday after a growing dispute. The move has led to criticism among her supporters, who claim the decision was politically motivated.
Carmen Aristegui had been publicly arguing with her employer, MVS Radio, over the firing of two other investigative reporters who had been part of her team, claiming that the move was part of an "authoritarian wind" growing in the country, Al Jazeera reported.
"Instead of firing them, they should be given prizes," Aristegui said of the reporters in her Friday broadcast. "This seriously damages our journalistic work. ... This is a battle for our right to express ourselves. For our right to inform," she said, according to the Los Angeles Times.
MVS said several of its employees misrepresented themselves in the launch of whistleblowing website MexicoLeaks, claiming that they had given the impression that MVS was sponsoring the project. MVS ran ads distancing itself from MexicoLeaks and said that its use of the MVS logo was illegal.
The radio station also tightened its control over content after Aristegui's Friday broadcast, ordering new guidelines that centralized all the station's content, requiring correspondents to get their stories authorized by the central office beforehand.
The broadcaster said it would not accept Aristegui's "ultimatum" when she demanded that the two reporters be rehired. "We regret the position of Carmen Aristegui, but as a company we cannot accept ultimatums conditions from our employees. You don't obtain dialogue by imposing conditions, but listening to parties and trying to reach agreements," the company said in a statement, according to TeleSUR.
Aristegui's investigation last year revealed that Angelica Rivera, wife of President Enrique Pena Nieto and former soap opera star, had purchased a mansion in Mexico City from a government contractor, sparking accusations of conflicts of interest. Pena Nieto has reportedly denied the allegations.
Public support for Aristegui has welled up online, with the hashtag #InDefenseOfAristegui2 (#EndefensadeAristegui2) trending on Twitter. On Saturday, MVS' website was briefly hacked, and a note was put up by the hackers apologizing for the reporters' firing, Al Jazeera reported.
© Copyright IBTimes 2023. All rights reserved.