Carolina Panthers vs Tampa Bay Buccaneers Watch Live Stream Online, Preview, Betting Odds, Prediction, Cam Newton Returns After Record-Breaking Rookie Year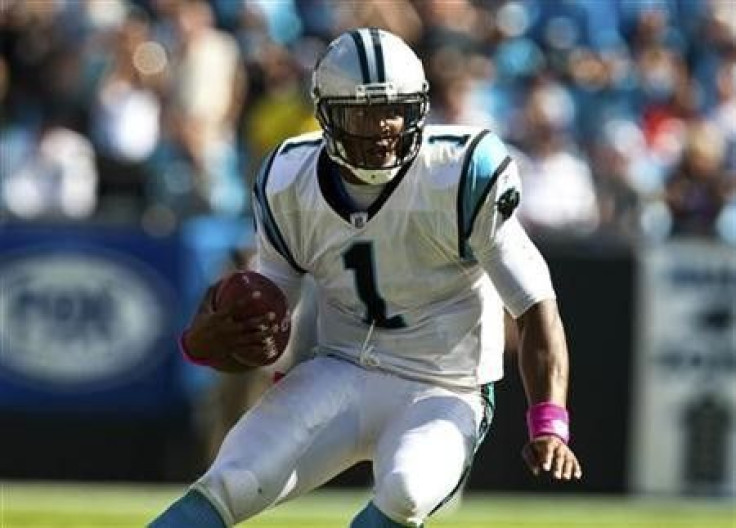 Quarterback Cam Newton looks to build on his phenomenal rookie campaign as the Carolina Panthers meet the Tampa Bay Buccaneers Sunday at Raymond James Stadium.
Newton set the record for most rushing touchdowns in a season by a quarterback and most passing yards by a rookie, but the Panthers only managed 6-10 record for third place in the NFC South. Newton threw for 4,051 yards and 21 touchdowns, and rushed for 706 yards and 14 touchdowns in 2011.
Carolina's defense undid much of Newton's work, as they gave away several leads last season. The Panthers welcome back linebacker Jon Beason, who missed 15 games last season due to a torn Achilles tendon. The three-time Pro Bowler has been nursing a sore hamstring and did not play in the preseason, but is expected to see action Sunday.
The Panthers will miss their second leading rusher from last season in running back Jonathan Stewart, who is listed as out due to a sprained ankle.
Tampa Bay turns to healthy rookie running back Doug Martin, who won the spot over veteran LeGarrette Blount during training camp.
Martin, a first round pick from Boise State, looks to improve a Buccaneers rushing attack that only gained 91.1 yards per game last season, which was the third worst in the league.
In order to spell a 4-12 campaign last season, Tampa Bay hired head coach Greg Schiano from Rutgers, after the team dropped 10 straight games to end the 2011 season.
Schiano looks to Martin to have a breakout year and quarterback Josh Freeman to build on his mistakes from last season. Freeman threw 22 interceptions compared to 16 touchdowns, and had a 74.6 passer rating in 2011.
Tampa Bay cornerback E.J. Biggers is listed as doubtful, while wide receiver Arrelious Benn is questionable.
The game begins at 4:25pm eastern time and will be shown by FOX, or watch a live stream online by purchasing NFL Sunday Ticket Max.
Betting Odds: Carolina is favored by 3 points.
Prediction: Newton proved nearly unstoppable last season, as Carolina swept their season series against Tampa Bay. The Panthers are at a disadvantage with Stewart out. He would give them a powerful 1-2 combination with starter DeAngelo Williams. Martin must put up big numbers in his first career game, and Freeman needs to cut down on the turnovers for Tampa Bay to keep the game close.
Predicted Score: Carolina 21, Tampa Bay 14
© Copyright IBTimes 2023. All rights reserved.