Caroline Kennedy As US Ambassador To Japan: Is She Qualified For Such An Important Post?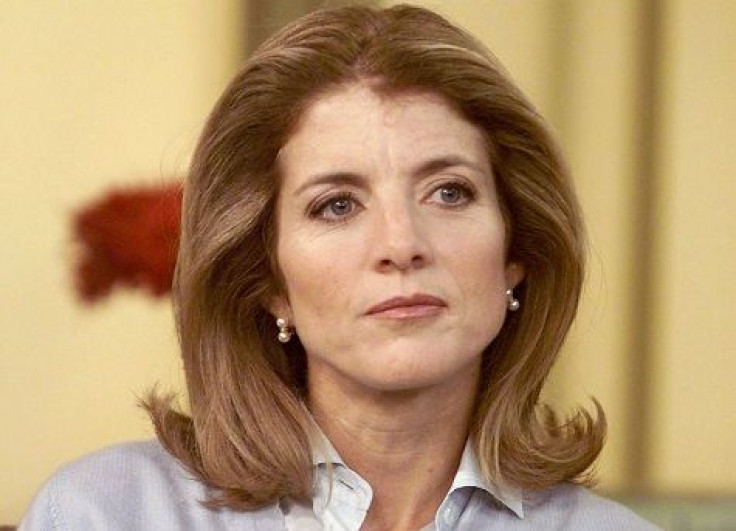 Caroline Kennedy, the daughter of one of the most famous men of the 20th century, may become the next U.S. ambassador to Japan, and officials in Tokyo are apparently quite happy about it.
According to reports in U.S. media, Caroline, 55, the daughter of former President John F. Kennedy, is actively being vetted for the high-profile post of U.S. envoy to Japan and may soon be formally appointed to replace the outgoing John Roos.
A spokesman for the Tokyo government welcomed the development.
"Late President [John F.] Kennedy was a figure familiar to many Japanese," Yoshihide Suga said at his regular press conference on Tuesday.
"It would be big news and would deepen [the Japanese] people's feeling of friendliness [to the United States]."
As one of the U.S. strongest allies and major trading partner, Japan looms large in Washington's foreign policy -- previous envoys to Tokyo have included such luminaries as former Vice President Walter Mondale, Douglas MacArthur II (son of the famous general) and former U.S. Senator Mike Mansfield.
Daniel Aldrich, a Fulbright research professor at the University of Tokyo and professor of political science at Purdue University, told the International Business Times that the Japanese public "overwhelmingly supports" the nomination of Caroline Kennedy because of the country's strong support for the Kennedy family in general.
"This is an especially difficult time for Japanese foreign policy, given recent overtures from North Korea, an increasingly aggressive China and various attempts by Japan to raise its participation in war games with U.S. troops," he said.
"The next ambassador to Japan, whether [it is] Kennedy or another candidate, will be tested quite soon by these conditions, and Kennedy is seen as a knowledgeable political insider up to the task."
And don't underestimate the enduring power and magic of the Kennedy name.
"The Japanese public holds a special fascination with the Kennedy family; this has been the case since the 1960s," Aldrich added.
"When then-Attorney General Robert Kennedy came to Japan in 1962 to help mend bilateral relations, he was mobbed by well-wishers across the nation. The Kennedy family has long been admired because of [its] willingness to openly debate challengers and to handle contentious reactions with poise and grace."
Indeed, according to a report in the Washington Post, the Japanese enjoy having "superstars" as American ambassadors.
An attorney, editor and former board member of various nonprofits in New York, Carolina was an early supporter of Barack Obama during the 2008 presidential campaign, likening the Illinois senator to her own father. She also flirted with the idea of running for U.S. Senate in New York (Hilary Clinton's old seat) but backed off amidst criticism that she was unqualified and simply using her glamorous name.
Now given that she is regarded as a lightweight by some with no diplomatic experience -- during a period of particularly high tensions in East Asia -- some observers feel she may not be the ideal candidate for the Tokyo job.
She would also have to deal with the sensitive topic of the unpopular U.S. military bases in Okinawa, as well as Tokyo's involvement in Trans-Pacific Partnership, a proposed free trade pact that would involve a number of Western and Pacific nations.
Some readers of the Japan Today newspaper were less than thrilled with her potential job offer.
"She wasn't good [enough] for UK so they send her here [to Japan]? Seems to me this role requires someone with way more experience and gravitas and not some [crony] appointment," a reader named Wakarimasen complained.
Another reader named Kevin O'Leary blasted the Kennedys.
"I don't really have much respect for a woman who marries and doesn't take her [husband's] name," he wrote. "[She] can't stand up without daddy's name. JFK was one of the most arrogant immoral heathens to occupy the White House. One president I'm not particularly proud of. Cronyism is all she offers. At least Hillary earned what she got."
A commenter named Alphaape questioned not only her credentials but her intelligence as well.
"I remember an interview done with Caroline Kennedy during the lead-up to the election for Hillary's vacated seat," he or she said. "[Caroline Kennedy] has no speaking ability and didn't really sound 'smart' at all. I know that there will be career diplomats that actually do the grunt work at the embassy, but I think someone who at least has some inkling of what is going on over here would better serve both the U.S. and Japan."
However, others expressed enthusiasm over her coming to Tokyo, some citing that the presence of a woman in the post would be highly symbolic.
"There has never been a woman ambassador here [in Japan], so that's another excellent aspect of this possible appointment," an American named Hunter Brumfield wrote. "So all the power to you, Caroline! The Japanese loved your dad ... and they will love you as well."
FOR FREE to continue reading
✔️ Unlock the full content of International Business Times UK for free
offer available for a limited time only
✔️ Easily manage your Newsletters subscriptions and save your favourite articles
✔️ No payment method required
Already have an account?
Log in
© Copyright IBTimes 2023. All rights reserved.