Cavs vs. Raptors Game 5: Predicted Score, Live Stream Info, TV Channel, Latest Odds For East Finals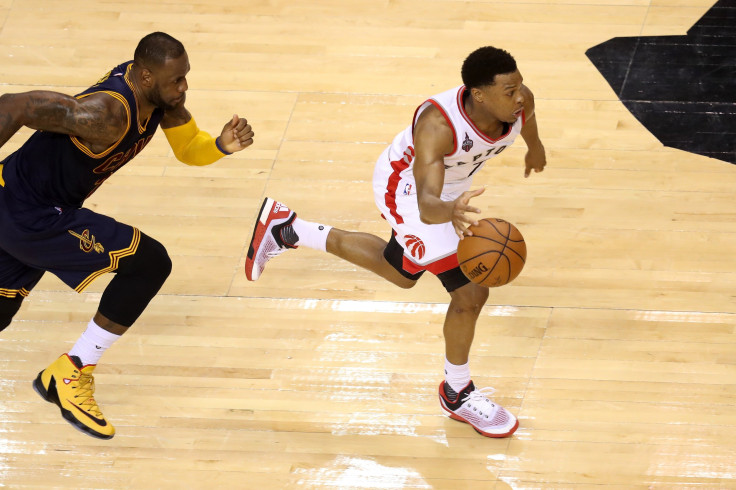 With the Golden State Warriors on the brink of elimination, the Cleveland Cavaliers have perhaps the best chance to win the first NBA title in the franchise's history. But first the Cavs must overcome an increasingly confident Toronto Raptors squad starting with Game 5 of the Eastern Conference finals Wednesday night at Quicken Loans Arena.
Behind guards Kyle Lowry and DeMar DeRozan, as well as big man Bismack Biyombo's continued dominance of the glass and paint, Toronto handed Cleveland just its second loss of the postseason in Game 4 to even the series at 2-2.
The Raptors shot 53.8 percent from the floor, with Lowry and DeRozan totaling 67 points, and took 19 trips to the free-throw line compared to Cleveland's nine in the 105-94 victory.
LeBron James scored 29 points, his highest total in these playoffs, with nine rebounds and six assists, and guard Kyrie Irving totaled 26 points with six assists, but Toronto built a 16-point lead by halftime and silenced the Cavs' late fourth-quarter push.
Biyombo pulled down 14 rebounds and swatted three shots, and Toronto head coach Dwane Casey didn't need to test center Jonas Valanciunas's wounded ankle. Valanciunas was active for Game 4, and has been spotted looking comfortable while taking jumpers.
Biyombo's dominance, with 12.3 boards and 2.3 blocks per game during the series, has directly correlated with Cleveland forward Kevin Love's decline of late. Love sat out all of the fourth quarter in Game 4 after going 4-for-14 from the field for 10 points, and he's averaged only 5.0 rebounds per game during the conference finals compared to 12.5 rebounds in the first two rounds.
Love's shot 5-23 in the last two games overall, prompting head coach Tyronn Lue to insert three-point specialist and forward Channing Frye into the lineup to try and draw Biyombo out of the middle, as well as veteran forward Richard Jefferson. Frye's responded to the increase in minutes by shooting 57.9 percent from three for 10.3 points per game in the series, while Jefferson hit all four of his shots in Game 4.
While Casey has reason to feel encouraged with the shift in momentum, the Raptors still need to win on the road, which poses a tough challenge. Toronto's gone 2-6 away from Air Canada Centre during these playoffs, while Cleveland's a perfect 6-0 at home. The home team has won all four games of the series.
Prediction: The Cavs are reeling and the Raptors are certainly confident they can dethrone the defending East champions. However, James has yet to post a truly dominant game in this series or any other. The Cavs should respond well to their home crowd and take a 3-2 advantage before Game 6 in Toronto.
Predicted Score: Cleveland over Toronto, 104-98.
Tipoff: 8:30 p.m. ET
TV Channel: ESPN
Live Stream: Watch ESPN
Betting Odds: Cleveland -10.5 points
Over/Under: 199 points
© Copyright IBTimes 2023. All rights reserved.