Celebs Talk Scotland Independence: Mike Jagger, Judi Dench, Mike Myers Among Stars Taking Sides In Historic Vote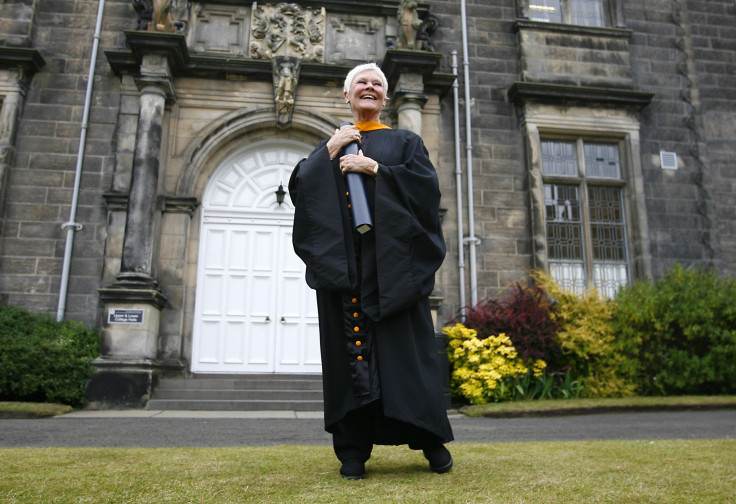 Celebrities are using their star power to weigh in on the historic Scottish independence referendum. Mike Jagger, Judi Dench, J. K. Rowling, David Bowie and Mike Myers are among the many influential voices taking sides in next week's vote over whether Scotland will become a sovereign nation for the first time in 300 years.
Voters in Scotland head to the polls Thursday to answer the referendum's "Yes/No" question: "Should Scotland be an independent country?" The outcome is far from certain. A weekend poll found a majority of Scots saying "Yes" to independence for the first time, but other polls suggest the campaign won't succeed.
Celebrities also seem torn over whether Scotland should remain part of Great Britain. Jagger and Dench are among 200 public figures who have signed a letter urging Scotland to vote "No" in the independence referendum, while others have traveled to Scotland in recent weeks to campaign for the "Yes" vote. More than 1,300 Scottish writers, musicians and artists have signed a letter arguing that independence would unleash creative freedom.
Rowling, the British author of the best-selling "Harry Potter" series, has been a staunch supporter of the status quo, donating a reported 1 million pounds, or $1.68 million, to the those campaigning against the independence effort. "The more I have read from a variety of independent and unbiased sources, the more I have come to the conclusion that while independence might give us opportunities -- any change brings opportunities -- it also carries serious risks," Rowling, a current Edinburgh resident, said in a statement on her official site. "If we leave, though, there will be no going back."
Myers, the voice of Scottish ogre "Shrek," also wants Scotland to remain in the United Kingdom. Myers, a Canadian actor with English parents, told BBC Radio 4's Today program: "I love Scotland. I hope they remain part of Britain -- and if they don't, I still love them."
Bowie, a Brit, urged Scots to stay within the U.K. during his prepared acceptance speech at the Brit Awards. "Scotland stay with us," Bowie's speech read.
Scottish singer Susan Boyle is also backing the "No" campaign. "I am a proud, patriotic Scot, passionate about my heritage and my country. But I am not a nationalist," she told the Scottish Sun.
Oscar-winning actress Emma Thompson, whose mother is Scottish, has called the "Yes" movement problematic. "I understand the romance of it. I understand the passion for it, given that the relationship between the two countries has been so belligerent and so difficult and England was so awful to Scotland," Thompson said. "I find it difficult to accept it when borders are still causing so many problems. Why insist on building a new border between human beings in an ever-shrinking world where we are still struggling to live alongside each other?"
On the other side, supporters of the Scottish independence effort include actors Sean Connery and Alan Cumming.
Connery, who is Scottish, is a major supporter of the Scottish National Party. The "James Bond" star has said he will see an independent Scotland in his lifetime. "The 'Yes' campaign has centered on a positive vision for Scotland. It is rooted in inclusiveness, equality and that core democratic value that the people of Scotland are the best guardians of their own future," he said, according to the BBC News.
Cumming, of CBS drama "The Good Wife," flew from New York to his native Scotland this week to hit the pro-independence campaign trail, the Associated Press reported.
"It's an historic moment for us all," Cumming said. "We now have a chance in this country to have our own destiny in our own hands."
To be sure, not everyone is weighing in.
Scottish actor James McAvoy, of "X-Men" fame, has said he will keep his vote to himself. Also keeping mum is Queen Elizabeth, who would remain the monarch of Scotland, but could end up spending her summers in a foreign country if voters favor independence. Her summer home, Balmoral Castle, is in Aberdeenshire.
© Copyright IBTimes 2023. All rights reserved.