Scotland's Independence: Five Hurdles The Scottish Will Face With A 'Yes' Vote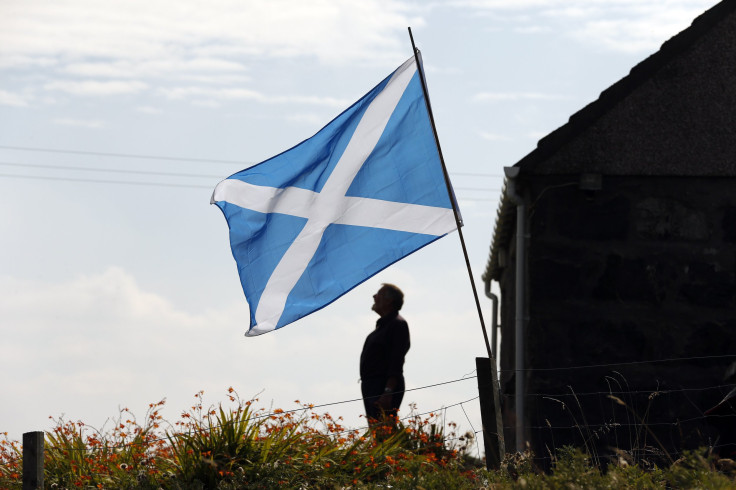 Scots will vote in a long-anticipated referendum for or against independence from the United Kingdom on Sept. 18. Recent polls indicate Scotland is split; a weekend poll showed a majority of Scots saying "Yes" to independence for the first time, but a poll this week suggest the contrary. As Scotland moves closer to referendum day, the rhetoric is turned up, the arguments are fiercer and uncertainty is at its highest. These are five hurdles Scotland would face and how they could play out if it decided to leave the UK.
Currency
Perhaps the most contentious and ultimately important issue facing Scotland is what sort of money it would use as an independent country. First Minister Alex Salmond says Scotland would keep the pound sterling, but all three major parties in the British Parliament says they won't allow it. London's line might soften if the referendum passed, if only to avoid financial disaster. The simplest solution if Scotland and the UK don't come to that agreement is "sterlingization," which basically means adopting what would be "foreign" currency administered entirely from across the border.
Sterlingization is an adaptation of the term "dollarization," which is used to refer to cases like Panama, which uses the American dollar for a domestic currency. That has kept Panamanian interest rates low, but also deprives Panama of some economic independence.
Scotland could also create a new currency, but doing so would make its credit its own responsibility. Experts say Scotland would have to build up tens of billions of pounds to guarantee creditors that their investments were safe.
Scotland could also potentially, like Ireland, pick up the euro, which leads us to hurdle number 2:
Scotland's future with the European Union
The "Yes" campaign supports remaining in the EU, saying "Scotland's EU membership will be secure" post-independence, but it may not be as simple as it seems. Scotland would likely have to reapply for membership, and European Commission President Jose Manuel Barroso said in February it would be "extremely difficult, if not impossible, a new member state coming out of one of our countries getting the agreement of the other," but other EU experts disagree. Because Scotland is a part of an EU country now, it's essentially already passed all of the EU's membership requirements. Getting in would simply be a matter of EU politics.
Oil
Oil is by far Scotland's biggest industry and the UK wants its share if Scotland leaves the union. It accounts for 10 to 20 percent of Scotland's tax revenue. Around 90 percent of British oil originates in areas Scotland could claim as its own, according to CNN Money. The high estimate of current reserves is $2.4 trillion, while the low estimate is $194 billion. Experts say North Sea oil will probably run dry around 2050, which the "No" camp has latched onto as an argument that Scots shouldn't stake their future in oil.
Debt
Scotland and the UK would have to work out how much of the UK's debt Scotland would have to pay post-independence. This goes back to the pound sterling debate. Scottish Deputy First Minister Nicola Sturgeon argues that if Scotland can't have the pound sterling, it shouldn't have to take on any of the UK's debts. The UK has guaranteed its own debt regardless of the referendum outcome to reassure investors that the British economy won't fall apart.
Both sides have agreed that Scotland should owe around 8 to 9 percent of the UK's $2.3 trillion debt, which represents Scotland's percentage of Britain's population, or around $204 billion. That would make Scotland's debt around 5 percent lower as a percentage of GDP than the UK's. A new country means volatility. Mike Amey of Pimco, the world's biggest investor in government bonds, told the BBC that Scotland's loan interest rate would be between 0.5 percent and 1 percent higher than the UK's as it stands now.
Salmond, when asked Wednesday about refusing to take on its share of the U.K.'s debt reportedly replied, "What are they going to do, invade?"
Defense
Scotland's Yes camp wants 8 percent of the UK's military assets if Scotland becomes independent, but London is not at all interested in giving any of its assets up. The Scottish government says it hopes to become a member of NATO, but Scottish lawmakers want to kick Britain's nuclear weapons stores and submarines out of Scottish waters. All NATO member states would have to agree to let Scotland in and a few aren't likely to play ball, including Spain, which faces its own separatist threat in Catalonia. If the UK decides to scrap its nuclear weapons, the U.S. would be left as the only NATO member with nuclear missiles committed to the alliance.
Scotland wants to build up a military with a budget of about $4.1 billion, or about what Scotland contributes to the British armed forces, and a strength of about 15,000 active duty personnel and 5,000 reservists.
FOR FREE to continue reading
✔️ Unlock the full content of International Business Times UK for free
offer available for a limited time only
✔️ Easily manage your Newsletters subscriptions and save your favourite articles
✔️ No payment method required
Already have an account?
Log in
© Copyright IBTimes 2023. All rights reserved.