Celtics Urged To Trade Kyrie Irving For Spurs' Kawhi Leonard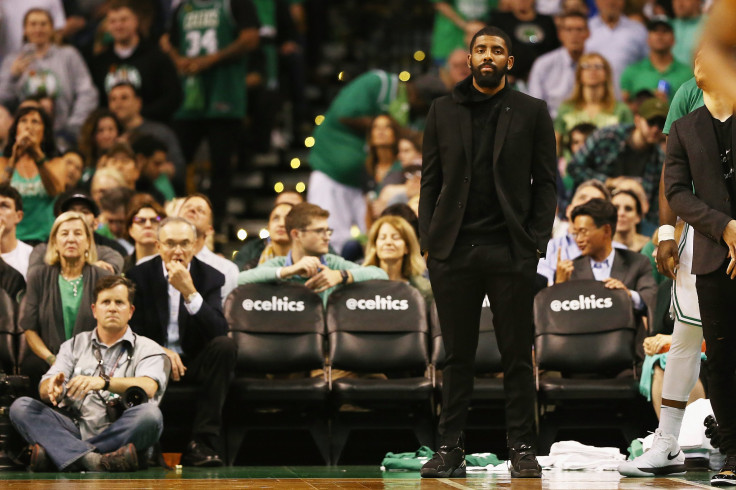 The Boston Celtics were urged by NBA legend Byron Scott to consider a trade involving Kyrie Irving and San Antonio Spurs' Kawhi Leonard, on whom the off-season market's focus will shift to now since LeBron James confirmed his decision to join the Los Angeles Lakers on a four-year deal.
Leonard is contracted to Spurs for another year, but recently requested to be traded this off-season after his straining his relationship with the team. The forward is said to be keen to join James at the Lakers, but it remains to be seen if they will trade to their rivals in the Western Conference.
Spurs are keen to retain him and are hoping they can mend the relationship with their forward and convince him to stay at least until the end of next season. Scott, however, believes the Celtics should do a deal that will bring Leonard to Boston with Irving going in the other direction.
Irving has spent just one season with the 17-time NBA champions and despite his season being cut short by injury, he played a key role in helping them finish as the second seeds in the Eastern Conference.
The Celtics, however, went deep in the playoffs and were just one game win away from making the NBA Finals, despite the absence of two of their star players Irving and Gordon Hayward. And this, according to Scott, makes the former dispensable and he believes the Boston franchise will be getting the better end of the deal as Leonard is a more complete player defensively and offensively.
"If I'm Danny Ainge I would do the deal but if I'm San Antonio, I wouldn't," Scott said on "The Jump," as quoted by the Express. "Kawhi for Kyrie straight up, for me, is not enough for San Antonio. I think you would have to get a couple of those first round picks that the Boston Celtics have to make that deal a lot sweeter."
"With the emergence of Terry Rozier in Boston and the way he played throughout the playoffs, I think it makes Kyrie a little bit more expendable," he added. "So if I'm Danny Ainge, I'd do that deal in a heartbeat but if I'm Pop… no, no, no. You're going to have to give me more than just Kyrie."
"When you're looking at Kawhi Leonard, you're looking at one of the best two-way players in our game today."
"Kyrie, we all know on the offensive end can do it against anybody but the defensive end is where he lacks so now you're really giving up a lot more when you talk about that trade just being a straight-up trade," Scott explained.
Irving has one year left on his current deal and confirmed he will not sign an extension at the moment. But the Celtics expect him to remain with the team in the long-term and the team's general manager Ainge made it clear that they are not looking to trade him this offseason.
© Copyright IBTimes 2023. All rights reserved.