Celtics vs. Warriors 2022: NBA Finals Matchup Goes From Major Long Shot To Near Certainty
The Boston Celtics and Golden State Warriors are on the verge of meeting in the 2022 NBA FInals. While the matchup might seem inevitable now, it was considered to be extremely unlikely at the start of the season.
The odds of a Celtics vs. Warriors NBA Finals is -800 at BetMGM. In the preseason, the two teams were given 100/1 odds of facing off in the final series of the 2022 NBA playoffs.
The now-likely NBA Finals matchup seemed like it had little chance of happening even well into the regular season. Boston didn't go over .500 for good until Jan. 29, while the Warriors were plagued by injuries for much of the season.
Golden State has a 3-1 series lead over the Dallas Mavericks in the Western Conference Finals. After winning each of the first three games of the series by at least nine points, the Warriors are heavy favorites to eliminate the Mavericks in Game 5 at home.
Boston took a 3-2 series lead over Miami, winning Game 5 on the road 93-80. With three wins in the last four games by a combined 58 points, the Celtics appear poised to close out the series at home Friday in Game 6.
The Heat has been overmatched since winning the series opener, struggling on offense amid injuries to some of their most important players. Tyler Herro has missed two straight games with a groin injury. Kyle Lowry and Max Strus, both of whom have been dealing with hamstring injuries, shot a combined 1-for-28 in the last two games.
Jimmy Butler scored 70 points in the first two games before sitting out the second half of Game 3 with knee inflammation. Butler totaled 19 points in Game 4 and Game 5.
The Celtics' defense is responsible for much of Miami's poor shooting. Boston had the NBA's best defensive rating in the regular season. Golden State ranked second.
The Warriors have made five NBA Finals appearances since 2015. The Celtics are in their fourth Eastern Conference Finals since 2017. Boston last reached the NBA Finals in 2010.
The Heat and Mavericks have 100/1 odds to pull off series comebacks and meet in the 2022 NBA Finals.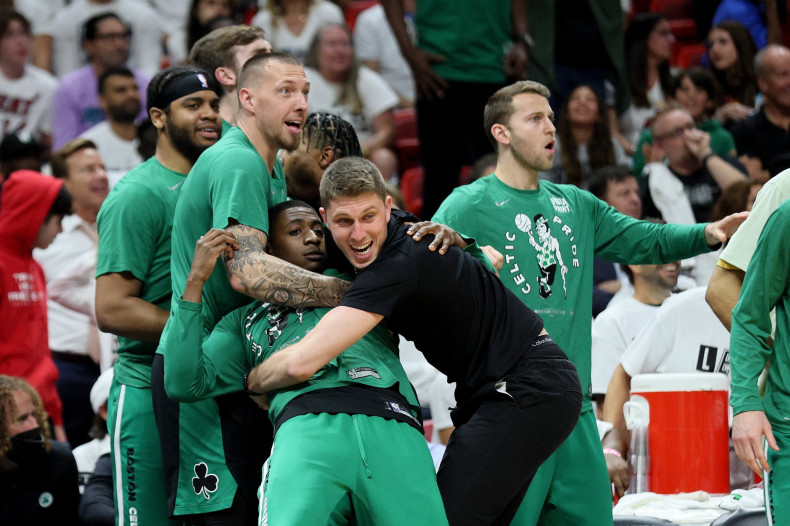 © Copyright IBTimes 2022. All rights reserved.