Centerra Gold (CG) Says Kyrgyz Mine Shutdown Won't Be A Real Setback
Centerra Gold Inc. (TSE:CG) said Friday the temporary shutdown of its mine in western Kyrgyzstan will not damage profits, as the Canadian company scrambles to meet the demands of protesters who stormed the Kumtor shafts earlier this week.
The Central Asian country's fragile government declared a state of emergency earlier on Friday as police cleared road blocks and arrested 92 villagers, who stormed the mine on Tuesday, overtaking a substation and cutting off electricity.
But the company said the first three quarters of this fiscal year were slated for meek production of gold as miners carved out shafts in the mountainous Issyk-Kul Oblast.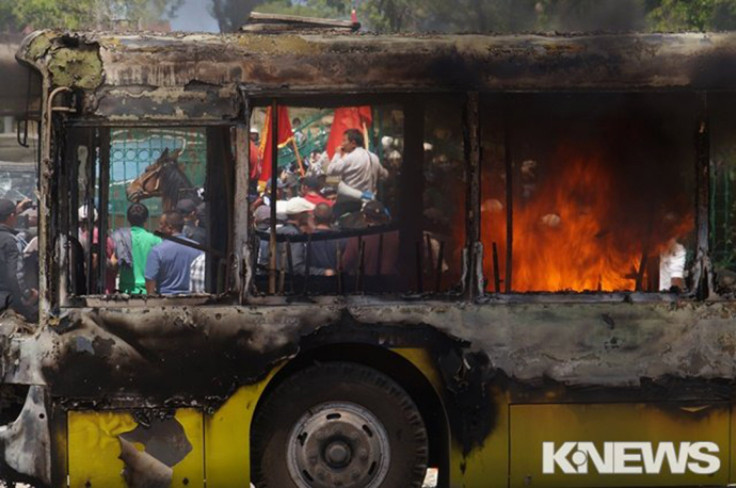 "Now, we're mining through the waste to gain access to the main zone, which we hope to hit toward the end of the fourth quarter," John Pearson, the vice president of investor relations, told International Business Times. "We're forecast to produce an excess of 300,000 ounces [of gold ore] in the fourth quarter."
The protesters, who have accused the company of polluting the region, demanded that Centerra Gold build new roads, water pipelines and schools in their villages. But Pearson said that 1 percent of the 14 percent gross revenue tax paid to the government in Bishkek is allotted to the oblast in which the Kumtor mine is located.
"We do quite a lot of community help and infrastructure programs and things like that," Pearson said. "There's been a lot of unfounded allegations regarding health and environmental concerns. We're trying to get good information out there."
President Almazbek Atambayev imposed the state of emergency and a curfew on Dzhety Ohuz district of the Issyk Kul region until June 10, his office said in a statement, adding that "those who broke the law must be brought to justice."
The mine is critical to the former Soviet republic's economic vitality.
Centerra Gold alone contributed 1 percent to Kyrgyzstan's gross domestic product in 2011. Yet, recently, nationalist groups have been calling for Bishkek to nationalize the mine. Parliament has a June 1 deadline to renegotiate or repudiate a 2009 deal with the Canadian company to operate Kumtor. Kyrgyzstan owns a third of the company.
Shares in Centerra Gold fell 7.95 percent by market close on Friday.
© Copyright IBTimes 2023. All rights reserved.