KEY POINTS
The JLab JBuds Frames address the limitations of Bose Frames of being limited by a single frame
These new products come at only a small fraction of Bose Frame prices
The JBuds Frames matches Bose Frames in functionality, even surpassing it in some areas
Bose opened up a new wearable category when it built mini-speakers into sunglasses, and has incrementally increased its range from Bose Frame Alto to the new Tenor and Soprano models. However, at CES 2021, JLab announced JBuds Frames Wireless Audio - essentially clip-on mini-speakers that can be attached and turn any glasses frame into a personal listening device - breaking any boundaries and limitations of style and use.
JBuds Frame lets you attach the speakers onto any frame, including normal prescription or reading glasses Photo: JLab
Bose Frame's limitations
Bose Frames, just like any of Bose's products have polished good looks going for them, and are a sleek product that implements tech in a classy and tasteful way. However, it must be said that they have their limitations.
For example, having the speakers embedded in the sunglasses means it will only be suitable to pull out in the sun. You won't be able to enjoy those miniature Bose speakers if it's a cloudy day, or if you're indoors. Any glasses wearers will also know glasses are prone to scratches over time and need changing, but scratching a pair of Bose Frames means losing a pair of 'headphones' as well as the glasses.
JBud Frames: frames not included, and that's a good thing Photo: JLab
JLab breaks free of the limitations
The JLab JBuds Frames Wireless Audio breaks free of these limitations by making the miniature speakers detachable, with clips that clip onto most types of glasses frames, with even different sized silicon sleeves to ensure a tight fit (Just like silicone earbud tips that come with earphones). This completely breaks the limitation of being stuck to one pair of sunglasses and actually opens up using the speakers on prescription glasses, reading glasses, blue light blocking glasses, or even augmented reality glasses with HUD projections.
Sure, it's not as sleek as being built into the frames of the glasses themselves, but one can also argue having a bulky, oversized frame does not necessarily make the user much spiffier than someone with attachments to their glasses.
Combining the detachability with independent connectivity of each side, the JBuds Frames can even be used single-sided when stereo sound is not critical, For example, when using them as a hands-free headset, or listening to audiobooks and podcasts.
JBuds price advantage
JLab also takes full advantage of Bose's premium pricing, which sets one back $200-250, while the JBuds Frames pricing have been announced at $49 when released in early spring 2021 - a fraction of its unexpected rival's pricing, breaking another limitation of sorts: an economic one.
Accessories include magnetically attached charging cables and silicone sleeves for a secure fit Photo: JLab
Rivaling functionality
In terms of functionality, the JLab challenger is tit-for-tat with the Bose Frames. It uses a miniature speaker that fires directly at the ears and causes minimal disturbance for others, it keeps the ears open for awareness of the surrounding, it includes onboard controls and microphone for calls, and even the convenience of magnetically attached charging cables for recharge.
According to JLab JBuds Frames official specs, they in fact have a few functionalities that actually surpass the Bose Frames, including the 8 hour playback time on each side, as well as an IPX4 rating which will at least keep sweat and rain from messing with the unit in any way.
JBuds Frames lets you use whatever frame you want to use Photo: JLab
Final Verdict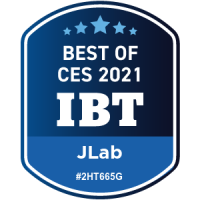 It took some thinking outside the box, but JLab has definitely come up with a product that made people think: "Oh yeah, why didn't I think of that?" Riding on a wave made by Bose Frames, the JBuds Frames are a much more flexible product that matches its predecessor in functionality at a significantly more affordable price. We're awarding JLab's ingenuity with our Best of CES 2021 award