CES 2022: Biodisc Allows You To Monitor Your Vital Signs With The Tip Of Your Fingers 
<figure class="pull-left ibt-badge"><img src="https://d1.spcdn.ibt.com/award/2022/best-of-ces/winner/badge-biospectal.png"></figure>
Remote patient monitoring software company Biospectal has made it its mission to revolutionize blood pressure monitoring by making it as accessible as possible. They have taken this initiative to the next level with Biodisc, which will be unveiled at CES 2022.
Biodisc is a beautifully designed blood pressure monitoring device that lets consumers measure their vital signs with the mere tip of their fingers, without the headache of a traditional blood pressure cuff.
Biodisc's core technology uses an optical sensor to record a photoplethysmography (PPG) signal at the fingertip, which is then converted into a user's vital signs by a series of algorithms.
It's also cloud-connected, using Bluetooth Low Energy connection to move data safely to the cloud for analysis in Biospectal's OptiBP app, available for Android and iOS devices. It can automatically send blood pressure readings securely to the user's designated doctors and clinicians, even if disconnected from Wi-Fi.
Biospectal envisions Biodisc to be a crucial aspect of medical clinics and hospitals in the future, where patients can verify themselves using a fingerprint detector.
Biospectal, founded in 2017, is headquartered in Lausanne, Switzerland, with an additional office in Silicon Valley.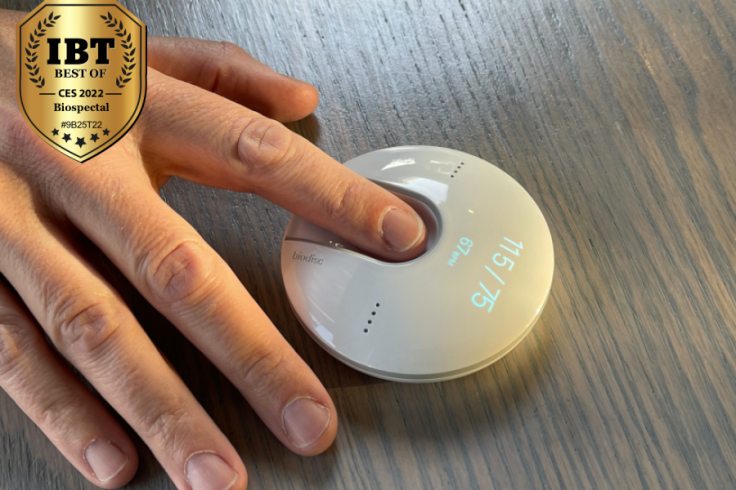 © Copyright IBTimes 2023. All rights reserved.