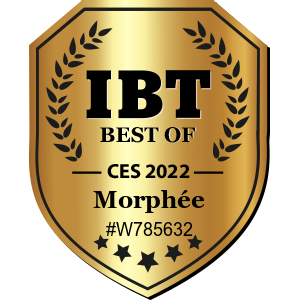 There is plenty of software and hardware that is designed to improve sleep and manage stress. Morphée Zen, however, offers consumers an effortless way to do so and has a device optimized for those that live a fast-paced lifestyle.
Developed in France, Morphée Zen offers 72 audio sessions produced by meditation and relaxation specialists based on six themes, including dynamic relaxation, deep relaxation, and immersive journeys.
With an emphasis on portability, the screen-free product is ready to start whenever a mental break is needed. Perfect for early morning commutes, or at home, it supports anxiety management and improves concentration whenever and wherever you are, optimized to de-stress the user in five minutes.
"Our sessions have been proven to help people calm down and relax at home as well as to fall asleep with ease at night. Now, Morphée Zen is a portable solution for a quick meditation and refocus during the day wherever the user may be," Charlie Rousset, co-creator of Morphée, said.
Headphones are required to use Morphée Zen, highlighting its transportability. It weighs just over 2.5 ounces and has a three-hour battery life.
Morphée Zen joins a product family which also includes Morphée, which provides a more extensive library of sleep and relaxation-inducing programs, offering an impressive 210 options. Users can choose from one of many sleep themes, including breathing, cardiac coherence, nature sounds, and relaxing music exercises that range from eight to 20 minutes.
Children aged three to 10 have access to 192 meditative journeys with My Little Morphée, where kids can experience visualizations, breathing and relaxation exercises, and guided meditation.
Morphée Zen will be available in the third quarter of 2022 and is priced at $79.99. Morphée and My Little Morphée are currently available for purchase at us.morphee.co, Amazon, and selective retailers for $99.99.
Morphée Zen consumers a quick way to improve sleep, optimized for a fast-paced, overwhelming lifestyle. Photo: Morphee
© Copyright IBTimes 2022. All rights reserved.