Challenges For China's Economy Continue, As Mixed Manufacturing PMI Data Shows Demand Still Weak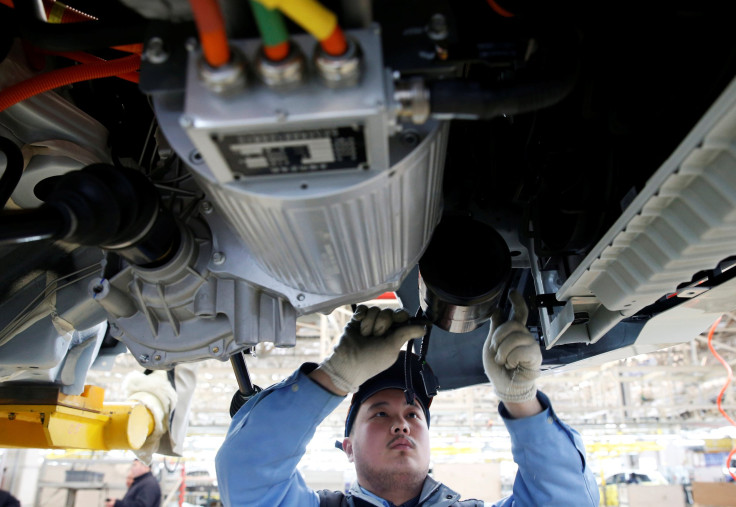 SHANGHAI — China's latest manufacturing data suggests continuing challenges for the country's slowing economy, analysts said, after surveys of industrial activity for May produced mixed results. Official figures suggested a slight expansion in China's manufacturing sector – but another survey focusing more on private and small businesses showed continuing contraction.
And with further signs of slowing export demand, it's a reminder of pressure on China's economy, which saw growth fall to 6.7 percent in the first quarter of this year, from 6.9 percent — its slowest in 25 years — in 2015. However, some analysts said the data could fit in with the Chinese government's recent pledges to weed out underperforming industry and push ahead with what it calls "supply-side" structural reforms.
China's official purchasing managers' index (PMI) for the manufacturing sector remained unchanged at 50.1 in May (with any figure above 50 indicating expansion in activity) – the third successive positive figure after seven months of contraction between last August and February. The figure, based on a survey of some 3,000 mainly state-owned and larger manufacturers, was slightly above market predictions. Industrial output also rose slightly – but new orders grew at a slower pace for the second month in succession, falling from 51.0 to 50.7, with the sub-index for export orders dropping from 50.1 to 50.
Official data for the service sector — which has been a major driver of growth as manufacturing demand has slumped over the past year — remained well in positive territory: it fell back to 53.1 from 53.5, but the drop was not significant since the index was typically relatively volatile, Raymond Yeung, Chief China Economist at ANZ bank in Hong Kong , told International Business Times.
However, employment in manufacturing continued to fall, though at a slower pace than in April. And while the official survey suggested that small and medium enterprises were among the best performers, the separate Caixin/Markit manufacturing PMI index — which measures a smaller number of companies but focuses more on the small and private business sector — showed continuing contraction, falling to 49.2 from 49.4 in April (and 49.7 in March), slightly below market expectations.
Hopes were raised in March when a series of Chinese economic indicators rebounded after months of contraction, but Caixin — the Chinese financial magazine whose research arm compiles the index — said demand remained weak in May, and new export orders fell at their fastest rate in three months. It added that job losses from factories remained close to their February rate, which was the worst since the financial crisis in 2008.
Rises in input and output costs slowed compared to April, however, suggesting a slight cooling of inflationary pressure, Caixin said.
"Overall, China's economy has not been able to sustain the recovery it had in the first quarter and is in the process of bottoming out," said Zhong Zhengsheng, of Caixin subsidiary CEBM Group.
ANZ'S Yeung said that some sectors such as hi-tech industry — which registered 50.8 on the official PMI index — were doing well, but the overall picture remained mixed, with even hi-tech electronics affected by "global cycles and saturation of demand."
And Caixin's Zhong said the latest figures showed the government should "make full use of proactive fiscal policy measures accompanied by prudent monetary policy" in order to prevent a further slowdown.
The Chinese government increased infrastructure spending last year, and also took a number of steps to relax credit, partly to boost China's real estate market, leading to a mini-boom in property prices in some bigger cities in recent months. And HSBC China economist Julia Wang said in a research note sent to IBT Wednesday that the latest data showed continuing expansion in China's construction sector: this saw a high official PMI reading of 59.4, which Wang said "could suggest that the financing has helped to support infrastructure investment on the ground."
However, the government has recently taken measures to cool the housing market, fearing the Chinese banking sector's faces growing exposure to bad loans. And a commentary in the official People's Daily newspaper last month — believed to have been written by an influential policy-maker close to President Xi Jinping — warned of the risk of excessive debt levels leading to a financial crisis.
ANZ's Yeung said the article was a sign that the government was now likely to tolerate slower growth, and would target its fiscal aid and monetary policy more carefully.
"The growth rate in the first quarter of this year was highly related to property," he said. "But the policy maker who wrote the article said they were prepared to see [slower] 'L-shaped growth,' so the most dominant policy agenda currently is supply-side structural reform. I believe they're willing to sacrifice some of the growth to push forward faster structural reform."
And Yeung said there was evidence that "policy makers don't really want to see very strong credit growth," as they seek to promote deleveraging. "They may urge banks to tighten credit to some sectors, including mortgages, to prevent a property bubble. I think they're trying to be less aggressive in terms of printing money – they're trying to look at effectiveness of credit, and they're also taking a more targeted approach to fiscal stimulus."
Many economists agreed that this is a key time for China's economy as it seeks to rebalance away from a reliance on traditional industry. As one commentator in the official Global Times newspaper put it on Wednesday, "it is crucial that Beijing gets its economic policy right" over the coming years. Another Global Times commentary also said that rising labor costs had "eroded the competitiveness of the country's manufacturing sector." Noting that investment in U.S. industry was growing, the paper suggested that "China's status as the world's factory is being challenged," and called for an upgrading of China's industry.
Earlier this week, President Xi hosted a high-profile meeting in which he called for a major push to boost innovation and high technology industry. Yet it remains to be seen whether such areas, along with the service industry, will provide jobs for the millions the government has said may be made redundant from traditional industry in the coming years. And some observers fear concerns about employment could lead the government to slow down the implementation of what are seen as crucial reforms of the often unproductive state enterprise sector.
And with continuing speculation about pressure on China's currency to depreciate further as the dollar, to which it is loosely pegged, continues to strengthen, Bill Adams, an economist at PNC Financial Services Group, said in a note sent to IBT that "weakening export demand increases pressure on the Chinese government to allow the last month's yuan depreciation to become a trend."
FOR FREE to continue reading
✔️ Unlock the full content of International Business Times UK for free
offer available for a limited time only
✔️ Easily manage your Newsletters subscriptions and save your favourite articles
✔️ No payment method required
Already have an account?
Log in
© Copyright IBTimes 2023. All rights reserved.