In Chaos Of Deadly Texas Gang Fight, Self-Defense Claims May Abound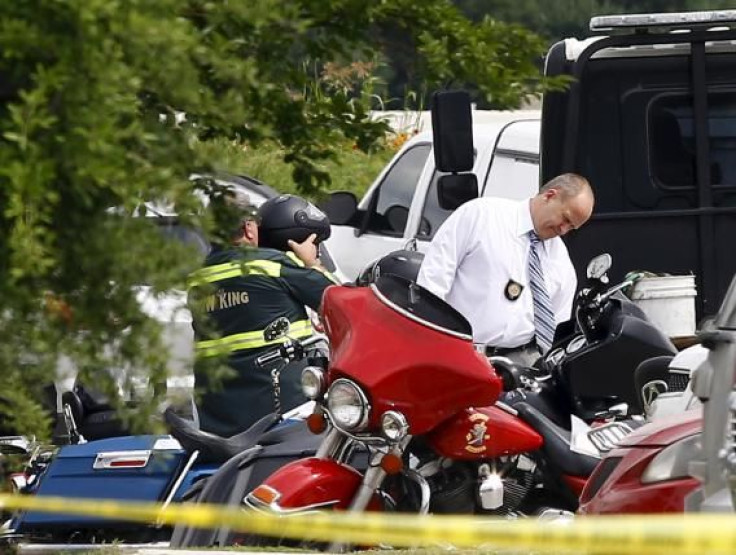 Texas laws that offer a high degree of protection to those who act in self-defense may make it difficult to prosecute the 170 people jailed for a Sunday motorcycle gang fight that left nine dead, with hundreds of weapons seized by police.
Texas allows a person to use deadly force with legal arms in self-defense if they believe such force is immediately necessary to protect against someone using deadly force against them. The use of force, deadly or not, is not justified if a person provoked the encounter.
A person can also claim self-defense to protect themselves if someone is prepared to use force against them for a variety of crimes including aggravated kidnapping, sexual assault or robbery.
It is an argument those in jail may use, claiming they were protecting themselves from violent people who were attacking each other with guns, knives, clubs, brass knuckles and chains.
"If they are there in a public place, legally armed, they can argue they were using self-defense," said Susan Klein, a professor of law at the University of Texas with expertise in criminal law.
Klein said facts surrounding the incident are important and can be established by eyewitness testimony and forensic evidence.
Texas law also supports those who stand their ground.
"They can shoot first and retreat later," she said.
Lawyers for those arrested have said many were swept up indiscriminately by police and had nothing to do violence that spread from a Waco restaurant patio to two parking lots that became blood-soaked crime scenes strewn with shell casings.
Bond has been set at $1 million each for those being held on organized crime charges relating to capital murder, a figure set high to keep them behind bars as police try to figure out who did what to whom, legal experts said.
Those likely to face prosecution are gang members who fired on about two dozen police waiting outside in anticipation of violence.
Those inside, where the fighting was widespread and deadly among members of gangs not known for cooperating with police, may be able to escape serious criminal charges by saying they feared for their lives.
"It appears to me that a number of these people may very well have a legitimate self-defense claim in light of the gangs being there and prepared for battle," former Galveston County Assistant District Attorney Michael Haskell said.
(Additional reporting by Brendan O'Brien in Milwaukee; Editing by Lisa Shumaker)
© Copyright Thomson Reuters 2023. All rights reserved.