Charlie Gard's Mother Yells At Hospital To 'Start Telling The Truth' About Terminally Ill Baby
The mother of terminally ill baby Charlie Gard had some choice words for the hospital in which her son remained during a court hearing Monday. Connie Yates and Chris Gard arrived at the United Kingdom's High Court of Justice Monday in an attempt to get a final decision about the fate of their son. Instead, they were told they would need to wait until Thursday.
"When are you going to start telling the truth?" Yates yelled at a lawyer representing Great Ormond Street Hospital, according to U.K. news outlet The Press Association.
Read: Charlie Gard's Mother Speaks Out About Trying To Save Son: 'An Absolute Living Hell'
Charlie's parents have been trying to get him out of the hospital and to the United States where he would be able to undergo an experimental treatment for his rare genetic disease. The 11-month-old suffers from mitochondrial depletion syndrome, a disease that has rendered him unable to eat, breathe or move his limbs on his own.
The hospital said it didn't think the treatment would be effective and would ultimately do Charlie more harm than good. In a prior ruling, the court said Charlie did not need to be released and could be taken off life support.
"Our doctors have explored every medical treatment, including experimental nucleoside therapies," Great Ormond Street said in a statement Friday. "Independent medical experts agreed with our clinical team that this treatment would be unjustified. Not only that, but they said it would be futile and would prolong Charlie's suffering. This is not an issue about money or resources, but absolutely about what is right for Charlie."
Charlie's parents, however, cited support from doctors far and wide. The couple delivered a petition to the hospital Sunday that had garnered more than 350,000 signatures, asking for the hospital to release Charlie so he could be taken to the U.S.
"There are now seven doctors supporting us from all over the world – from Italy, from America, from England as well," Yates said Sunday when she arrived at the hospital. "They think that [experimental treatment] has a chance, you know, up to 10 percent chance of working for Charlie and we feel that's a chance worth taking."
In addition to the hundreds of thousands of signatures on the petition, the family received support from a few notable figures and organizations. President Donald Trump advocated for the family in a tweet posted last week.
"If we can help little #CharlieGard, as per our friends in the U.K. and the pope, we would be delighted to do so," the president wrote.
Read: Trump Offers To Help Terminally Ill Baby Charlie Gard
Pope Francis also offered to help the boy by supplying a Vatican passport to the family so that he might be treated at a Vatican hospital. New York Presbyterian Hospital in New York City said last week it would admit and evaluate Charlie if he could get to the U.S. In addition, two Republican congressmen planned to introduce a bill to the House of Representatives this week to grant the baby and his parents permanent residency in the United States.
"Our bill will support Charlie's parents' right to choose what is best for their son, by making Charlie a lawful permanent resident in the U.S. in order for him to receive treatments that could save his life," Brad Wenstrup and Trent Franks said in a joint statement Friday.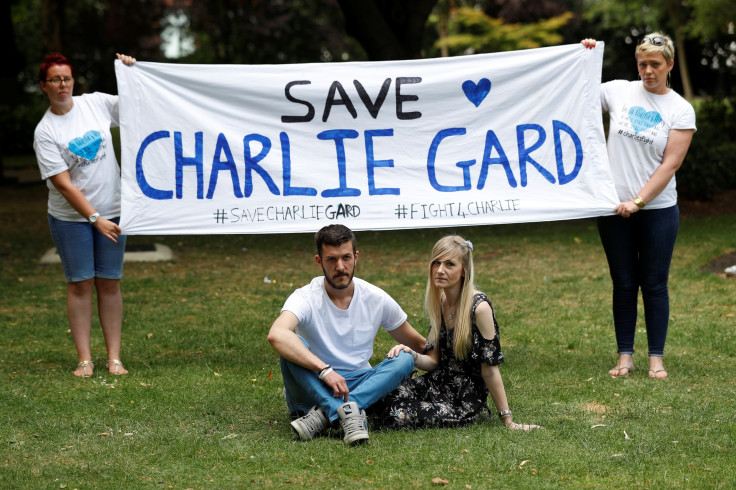 © Copyright IBTimes 2023. All rights reserved.