Chicago Airport Update: Hundreds Of Flights Canceled At O'Hare, Midway Airports After Fire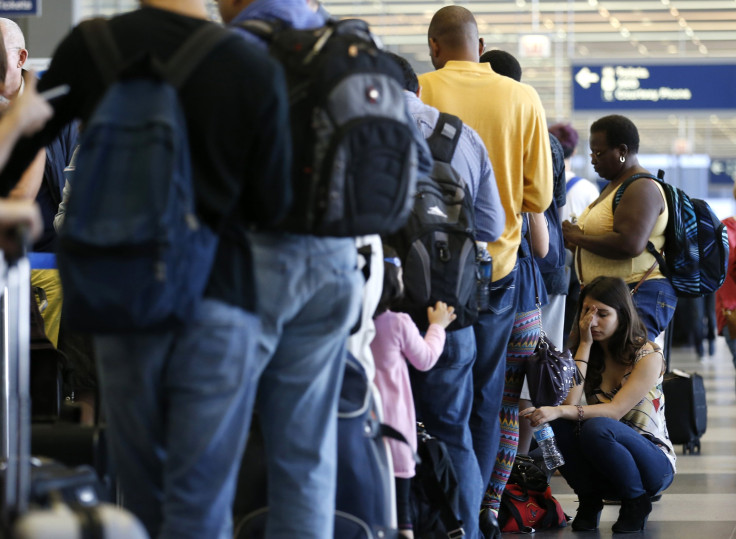 Update 6:45 p.m. EDT: The Federal Aviation Administration said Sunday the Air Traffic Control Center in Aurora, Illinois, would not be back in full operation until Oct. 13, CBS reported. ABC said the FAA has decided to build a duplicate facility within the control center's building rather than try to repair the equipment damaged in Friday's incident. The first of the equipment was to arrive Sunday night.
Original post
O'Hare and Midway airports reported hundreds of canceled flights, as well as delays of 60 minutes and longer, Sunday. The intentionally set fire at the Federal Aviation Administration's air-traffic-control facility in Aurora, Ill., Friday has led to thousands of canceled flights at the two major Chicago airports this weekend.
Similarly, Midway has had delays of as long as 90 minutes and more than 125 canceled flights.
Brian Howard is the main suspect in air-traffic-control facility fire. Howard, a contract employee working at the Aurora facility, was charged with one count of destruction of aircraft or aircraft facilities and remains hospitalized after he attempted suicide following the fire.
Howard allegedly exposed cables and wires prior to starting the fire, leading to a loss in communication between the facility and the airports. "Air traffic controllers initially had to file flight plans manually after yesterday's fire compromised some communications systems. The FAA is using all other tools at its disposal to reduce disruptions as much as possible," the FAA said in a statement Saturday.
Local FAA facilities are communicating with airlines and an automated system to file flight plans, and the effort has resulted in reductions of both cancellations and delays. Still, the agency said O'Hare operated at 60 percent capacity and Midway operated at 75 percent capacity Saturday this weekend, compared with Saturday last weekend.
U.S. Sen. Dick Durbin, D-Ill., said an FAA investigation will examine the hiring practices at Howard's employer, the Harris Corp., as well as procedures that could have prevented the fire, the Chicago Tribune reported. "A couple of things come to mind: First, inspecting whatever the employees bring in, even if they have security clearance going in, and secondly, making sure that in critical positions, like the one where he was posted, there are two people," Durbin said.
The FAA will replace the central communication systems at the facility, with components arriving Sunday. The agency said there will be a "substantial increase in operational capabilities" for both airports Monday.
© Copyright IBTimes 2023. All rights reserved.