Chicago Airport Fire: Suspect Brian Howard Possible Motive, Flight Status Update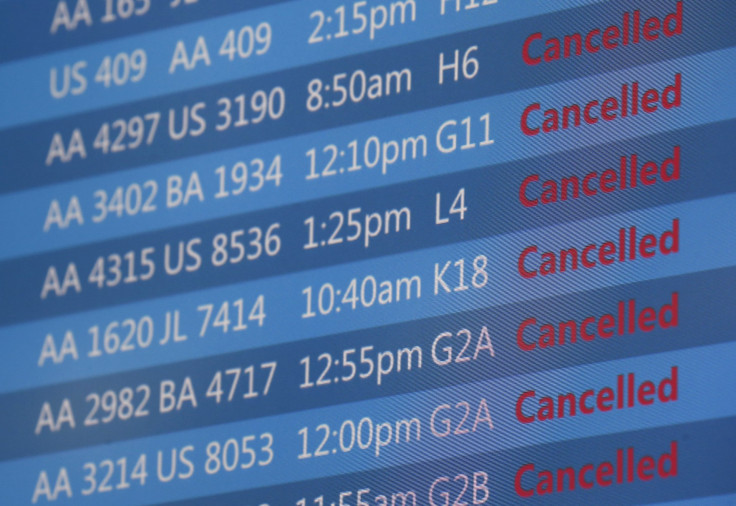 UPDATE 9:30 p.m.: Flight cancelations plagued travelers Saturday in the aftermath of the fire at the Air Traffic Control Center in Aurora, Ill. Some 1,100 flights were canceled, 60 percent of them at O'Hare International Airport in Chicago, among the world's busiest, Reuters reported.
To compound travel woes, a storm sporting high winds disrupted travel at Phoenix Sky Harbor International Airport.
Original post
Flights at Chicago's O'Hare and Midway airports are expected to fully resume after the fire at a nearby air-traffic-control facility Friday. Brian Howard, 36, has been charged with one count of destruction of aircraft or aircraft facilities and remains hospitalized following the blaze, which affected air travel across the country by causing the cancellation of more than 2,000 flights.
Howard, a contract employee working in "telecommunications matters," was told he was going to be transferred to Hawaii after eight years of working at the Federal Aviation Administration's regional facility in Aurora, Ill., WLS-TV Chicago reported. Following his arrival at the facility Friday morning, Howard sent a Facebook message to one of his relatives, according to an FBI affidavit.
The Chicago Tribune reported the message read as follows: "Take a hard look in the mirror, I have. And this is why I am about to take out ZAU [the control center's call letters] and my life. April, Pop, love you guys and I'm sorry. Leaving you with this big mess. Do you best to move on quickly from me please. Feel like I give a [expletive deleted] for the first time in a long time again ... but not for too long (haha!) So I'm gonna smoke this blunt and move on. Take care everyone." A relative called 911 after Howard sent the message.
Howard allegedly exposed cables and wires before starting the fire. When paramedics arrived on the scene, he was attempting to take his own life.
"Southwest Airlines anticipates operating a full schedule at Chicago-Midway International Airport (MDW) and Milwaukee's General Mitchell International Airport (MKE) beginning Saturday, Sept. 27," Southwest said in its most recent statement about the effects of the fire. "A majority of customers impacted by this service interruption opted to work with Southwest Airlines' representatives to modify their travel plans."
Flights have resumed at O'Hare and Midway although there have been many cancellations, as WLS-TV Chicago noted. FlightAware shows both cancellations and delays for O'Hare and Midway airports, but it is best to check with the relevant airlines for status updates.
© Copyright IBTimes 2023. All rights reserved.
FOLLOW MORE IBT NEWS ON THE BELOW CHANNELS