Chicago Red-Light Cameras: Emanuel Takes Down 50 Red-Light Cameras, Sets New Rules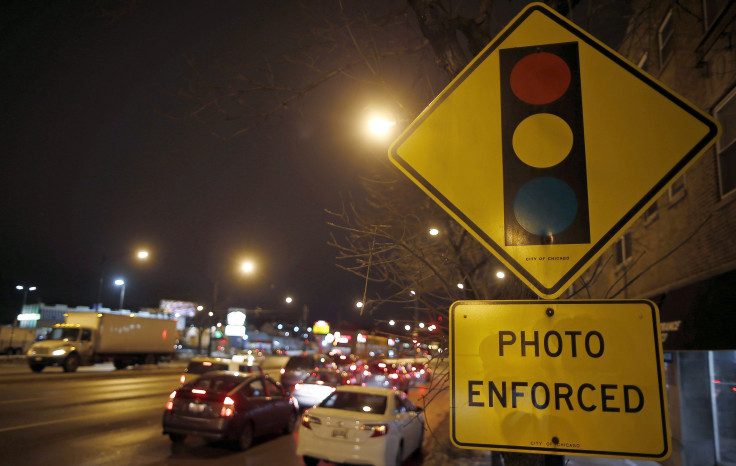 Chicago Mayor Rahm Emanuel Sunday announced the removal of 50 of the city's hated red-light cameras along with changes to enforcement. The action came on the heels of a call to end the program by mayoral challenger Jesus "Chuy" Garcia, who cited an International Business Times report highlighting links between the camera program and former Emanuel congressional aide John Borovicka.
"Red light cameras help reduce the most dangerous crashes and allow police officers to concentrate on fighting crime, not writing traffic violations, and public trust is vital for this program to be effective," Emanuel told a news conference, WBBM-AM, Chicago, reported.
The announcement included a plan to allow first-time offenders to take an online traffic safety class to avoid paying the $100 fine. The Chicago Tribune reported no specifics of the program were released. Emanuel said the 50 cameras are coming down at 25 intersections, and tickets at those intersections were suspended as of Friday, the mayor's office said in a press release. Emanuel eliminated 32 of the city's 384 cameras last year.
The red-light camera program has produced more than $500 million in revenue for the city since 2003, and Emanuel has defended it as a safety measure despite studies that have indicated it actually increased the number of rear-end collisions.
The program was started by former Mayor Richard M. Daley, and the original vendor was replaced amid allegations of a $2 million bribery scheme at City Hall. Some 77,000 tickets were issued to drivers for running yellow lights that timed out at less than the 3 seconds mandated by federal law. However, the city declined to refund the nearly $8 million amassed from those tickets.
Garcia said the mayor's announcement is "too little, too late," WBBM reported. "I am confident voters will see this announcement today for what it is -- pure politics. It's time for a change."
Garcia last week pledged to eliminate the cameras if elected.
"We got new evidence this week that the red-light camera rip-off has nothing to do with safety and everything to do with profits," the Chicago Sun-Times quoted Garcia as telling a news conference. "The program is just one more way the mayor takes our money and gives it away to his corporate backers. It's time to end the red-light rip-off. I will do it on Day 1."
Emanuel, a former congressman and White House chief of staff, faces Garcia in a runoff election April 7.
© Copyright IBTimes 2023. All rights reserved.
FOLLOW MORE IBT NEWS ON THE BELOW CHANNELS