Rahm Emanuel Challenger Jesus Garcia Denounces 'Red-Light Camera Rip-Off' In Chicago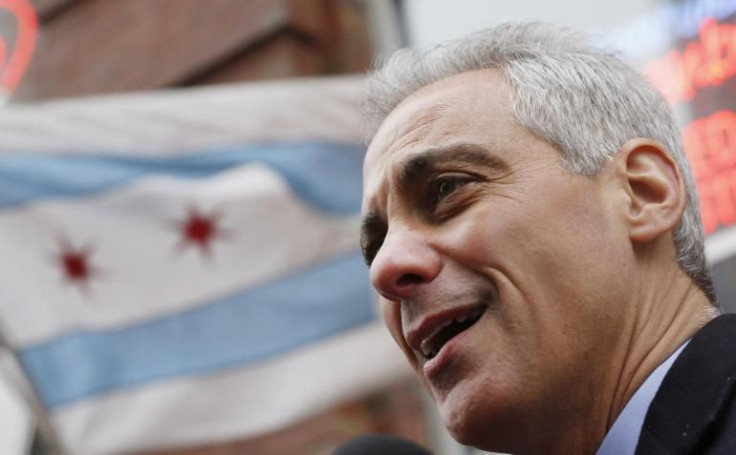 Challenger Jesus "Chuy" Garcia is pummeling Chicago Mayor Rahm Emanuel over his problematic ties to the city's red-light camera program. Garcia announced that if he beats Emanuel in the April 7 mayoral runoff, he'll end the controversial program on his first day in office.
"We got new evidence this week that the red-light camera rip-off has nothing to do with safety and everything to do with profits," Garcia said at a press conference on Thursday. "The program is just one more way the mayor takes our money and gives it away to his corporate backers. It's time to end the red-light rip-off. I will do it on Day One."
International Business Times found that a close associate of Emanuel's, John Borovicka, was hired by Xerox State and Local Solutions' lobbying firm in Chicago just 18 days before Emanuel finalized the lucrative contract with Xerox.
In response to Garcia's call, Emanuel campaign spokesman Steve Mayberry told the Chicago Sun-Times that Emanuel "quickly threw out the corrupt camera operator, took down 32 cameras at 16 intersections, and immediately engaged the inspector general to review the program."
"These systems, which are used in hundreds of cities around the world, save lives and keep police on the beat taking on gangs and guns rather than writing speeding tickets," Mayberry said.
Much of the reporting on the red-light cameras, which has been led by the Chicago Tribune, contradicts Mayberry's claims.
Emanuel did ultimately remove the "corrupt camera operator" firm in question, Redflex -- halfway into his four-year term, in February 2013. Emanuel ousted Redflex just five weeks before a federal criminal investigation was announced into the company's alleged bribing of Chicago officials. Emanuel had given Redflex a six-month extension four weeks before he ousted the company.
Another close Emanuel associate, Greg Goldner, received money from Redflex to create a fake grass-roots group designed to promote the cameras, the Tribune reported.
And while the mayor has taken down cameras at 16 intersections, the program grew significantly during his tenure. Emanuel pushed the Illinois legislature to expand the program to include speeding tickets (not just running red lights) for cars traveling as few as 6 miles per hour over the limit.
And while Emanuel did ultimately ask the inspector general to review Redflex, he did so six months after Redflex had indirectly employed a former City of Chicago manager, John Bills, via Emanuel associate Goldner (and after Emanuel had been in office for more than a year). Bills had been influential in the original decision to award the contract to Redflex.
Neither the City of Chicago nor Xerox nor Redflex have been able to prove that red-light cameras save lives. In February 2012, in response to Tribune reporting, Emanuel claimed the cameras had reduced fatalities by 60 percent in affected intersections. The Emanuel administration never released the study, ultimately admitting that it was an "informal analysis."
A Tribune-commissioned study in December found that injury-related crashes had not been reduced and that there were few safety benefits to the cameras.
© Copyright IBTimes 2023. All rights reserved.
FOLLOW MORE IBT NEWS ON THE BELOW CHANNELS