Chile Earthquake 2015 Update: At Least 5 Dead, Mass Evacuations And Tsunami Warnings Follow Magnitude 8.3 Quake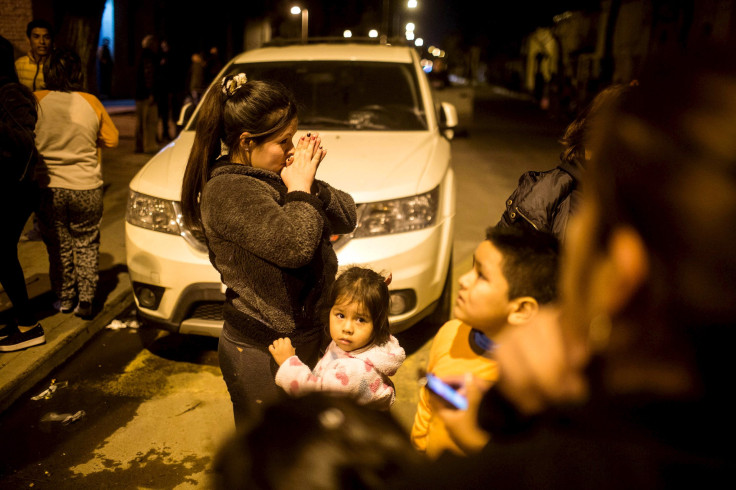 Officials said late Wednesday that at least five people have died and several have been injured after a magnitude 8.3 earthquake struck off the coast of Chile Wednesday, triggering tsunami warnings in New Zealand, Hawaii and other Pacific islands, as well as Chile itself.
Mass evacuations have been ordered along 2,400 miles of Chile's coast, after the quake struck in the ocean, to the west of Illapel, 144 miles north-west of the capital Santiago at approximately 7:54 p.m. local time Wednesday (6:54 p.m. EDT). Tsunami waves over 15-feet high have already been reported to be hitting Chile's coast.
Four aftershocks above magnitude-6 and other strong shakes rattled the region after the first major tremor, the Associated Press reported. Chile is one of the countries most vulnerable to earthquakes. In 2010, an earthquake in the south of the country killed 525 people, and a magnitude 8.2 earthquake caused widespread damage in the country in April, 2014.
In an address to the country, Chilean President Michelle Bachelet said that the towns of Coquimbo and Tongoy were heavily flooded. Both areas have been declared catastrophe zones and the army will be sent in to prevent looting, the Guardian reported. She added that casualties appeared to be low, with the damage confined to walls and roofs, "and not entire towns getting flattened".
Cristian Galleguillos, the mayor of the town of Coquimbo, told CNN that the city was starting to flood, and that 95 percent of residents had lost power.
In the U.S., the National Tsunami Warning Center said that a tsunami capable of producing strong currents or waves dangerous to people on or near the water was expected on parts of the California coast.
Images posted on social media showed the effects of the quake.
Vídeo de las olas en avenida BORGOÑO @PublimetroChile @biobio @24HorasTVN @soychilecl @adnradiochile @Emol @CNNChile pic.twitter.com/ARSVNimZIr

— Periódico La Mirada (@PeriodicoMirada) September 17, 2015
#BREAKING: 7.9-Magnitude #earthquake hits center of #Chile, #tsunami alert issued https://t.co/qiPTnHW13e

— China Xinhua News (@XHNews) September 17, 2015
© Copyright IBTimes 2023. All rights reserved.