Chile Volcano Calbuco Could Erupt Again, Experts Warn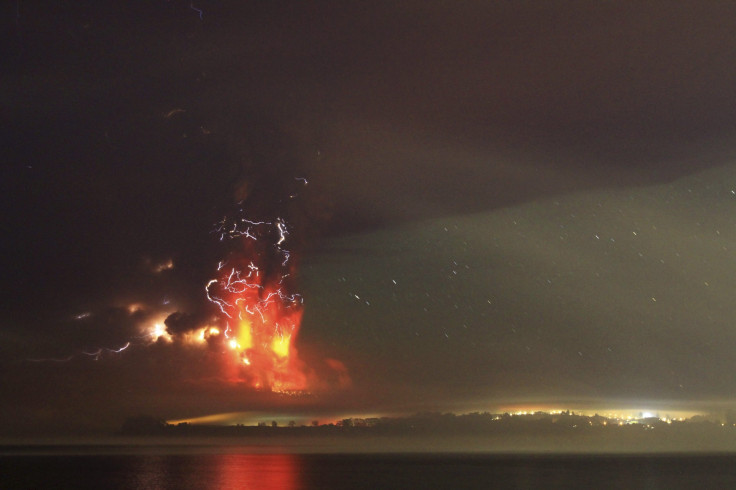 Chilean authorities warned on Sunday that the Calbuco volcano in southern Chile, which erupted twice last week, could erupt several more times in the coming months. Last week's eruptions were the volcano's first in 42 years.
Most airports in Chile and neighboring Argentina reopened over the weekend, after tons of ash from the eruptions rained down on the region forcing their closure, BBC reported. Ash turned the town of Ensenada, which sits at the base of the volcano, into a ghost town after most of its 1,500 residents were evacuated. Overall, about 6,000 people have been evacuated, and experts warned that more eruptions could occur in the near future.
"We have observed sporadic secondary explosions correlated with seismic signals in turn associated with the movement of fluids within the volcano," the National Office of Emergencies said, according to Reuters, adding that this meant that more eruptions in the future were likely.
Last week's eruptions began Wednesday, throwing plumes of ash and smoke over six miles into the sky. Calbuco expelled an estimated 210 million cubic meters (7,420m cubic feet) of ash during the eruptions, coating the area for miles around with fine volcanic dust, prompting concerns it could contaminate water supplies, trigger respiratory illnesses and cause more flight delays, BBC reported.
Scientists also said that rainfall in the next few days could mix with the ash to form dangerous mudslides. No injuries have been reported from the eruptions so far.
Residents of Ensenada have begun cleaning up their homes after they were buried under volcanic ash. The national emergency organization has maintained a 20-kilometer (12-mile) exclusion zone around the area and scientists are maintaining a "red alert" status over further possible eruptions, according to Agence France-Presse.
On Saturday, the Chilean government said it was preparing to provide financial relief to cover huge losses sustained by local farmers, and to help evacuate farm animals in the area.
Calbuco, which is considered to be among the three most dangerous of Chile's 90 active volcanoes, last erupted in 1972.
© Copyright IBTimes 2023. All rights reserved.