China announces ambitious plan to clean up its water, close down polluting factories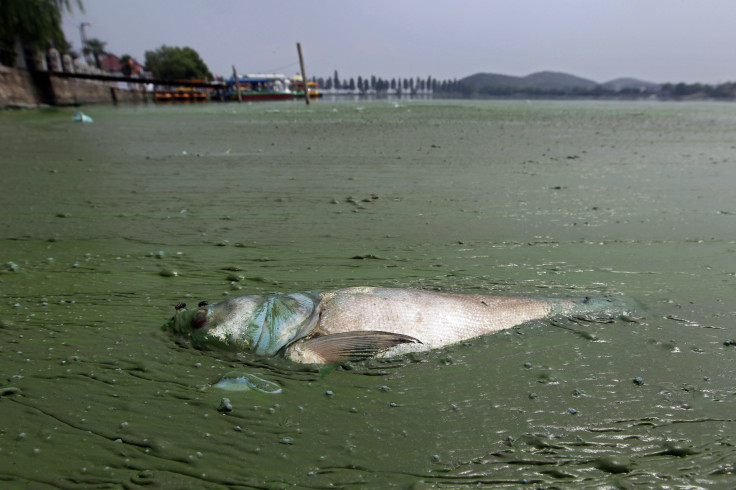 SHANGHAI -- China has announced an ambitious action plan to clean up water pollution over the next five years -- though experts say implementing it effectively will be a challenge. There is concern there may be pushback from industry and local governments that place greater value on the bottom line.
The plan, released by China's State Council, or cabinet, follows a pledge last year by the nation's Ministry of Environmental Protection that China would spend more than $11 billion (RMB 70 billion) to tackle its water problems. It promises a "massive reduction" in serious pollution, strict controls on extraction of underground water, and continuing improvements in drinking water quality by 2020.
Announcing the "Action Plan for Water Pollution Prevention and Control," the State Council said that the "aquatic ecosystem has been severely damaged in many parts of China, threatening public health and economic development."
Many experts agree that water has become a bottleneck in China's development. China faces a variety of problems including severe water shortage in the north, industrial pollution of lakes and rivers and in some areas serious contamination of groundwater.
China's Ministry of Environmental Protection (MEP) said last year that 280 million people in the country do not have access to safe drinking water. And figures quoted by the official China Daily on Friday showed that 9.2% of groundwater is unusable even for irrigation.
The action plan seeks to improve the quality of water in China's seven major river valleys and coastal areas so that 70 percent is "good" by 2020 and over 75 percent of the water is "clear" by 2030.
To achieve this, it pledges to shut down small, "outdated" factories in 10 polluting industries -- including paper making, production of agricultural chemicals and fertilizer, printing and dyeing, and tanning -- by the end of next year. Bigger plants will be required to reduce emissions and upgrade technology, and new projects will be controlled more carefully. The plan also says that impact on water resources will become a key factor in future city planning and industrial project location, with restrictions on constructing new petrochemical and iron and steel plants in major river basins.
The plan also calls for improved water consumption efficiency in industry and irrigation. The MEP said China has lagged far behind on these indicators, using twice as much water per dollar of added value than most developed countries.
However, experts say implementation of environmental regulations at the local level remains a challenge, in a nation where local governments have been focused on achieving fast economic growth for the past two decades. Chinese Premier Li Keqiang said earlier this month that getting officials to implement policy swiftly and effectively was one of his hardest tasks.
And Mu Jianxin, a senior engineer at the China Institute of Water Resources, said the water action plan "might encounter resistance from industries and local governments … concerned over potential loss in profits," according to the Global Times. In particular, Mu said, iron and steel, "pillar industries" in some parts of China, would be hard-hit, since requirements to upgrade technology would lead to a rise in production costs. He said this could "even stall the economic development in their region."
However, the government is seeking to use both carrots and sticks to encourage implementation. From next year, according to the plan, companies which exceed their pollution quota will be named on a public blacklist, and serious violators will face closure.
http://www.ecns.cn/2015/04-16/162005.shtml
The plan also says that the results of annual pollution checks will be taken into account when reviewing the performance of provincial officials, and the allocation of government funds will depend on the results.
At the same time, it pledges that the cleanup measures could create a new area of industrial growth. According to the Global Times, the MEP estimates that it will spend $220 billion (RMB 1.4 trillion) on eco-friendly products and services as part of the plan, which could bring a total of $306 billion (RMB 1.9 trillion ) in growth. It also says the government is also planning to lower import tariffs on technology involved in water treatment.
The plan further calls for preservation of wetland, mangrove swamps and coral reefs. And it requires all Chinese cities to release water quality statistics to the public by next year, and all county level governments to release figures by 2018.
Du Sha, a toxics campaigner at Greenpeace East Asia, said the plan contained more specifics, particularly with regard to reducing hazardous chemicals, than previous government measures. "It's definitely an upgrade on previous plans for tackling water pollution," she told IBTimes. "We will be hoping that the implementation matches up to this."
Wu Shunze, deputy head of the Chinese Academy for Environmental Planning, said "a series of detailed regulations" regarding implementation would follow. Officials have acknowledged, however, that there is a long way to go: One official at the Ministry of Water Resources told the Global Times that there could be "challenges in cooperation" between his department and the Ministry of Environmental Protection, since they had "different priorities."
And Chen Ming, deputy head of the Water Resources Bureau under the Ministry of Water Resources, told the China Daily that even after the implementation of the plan, emission of water pollutants "would continue to grow, but more slowly." He said China's water consumption would peak by around 2030.
There have been some signs that the government is beginning to take environmental issues more seriously, in the face of growing public concern. This year China will introduce tiered pricing for household water. And state monopoly China National Petroleum Corporation was recently forced to pay around $16 million in compensation for a leak which polluted the water supply in the northwestern city of Lanzhou last year.
Environmental campaigners say they hope that growing public awareness of environmental issues will now encourage governments at all levels to implement policies from the top more effectively.
FOR FREE to continue reading
✔️ Unlock the full content of International Business Times UK for free
offer available for a limited time only
✔️ Easily manage your Newsletters subscriptions and save your favourite articles
✔️ No payment method required
Already have an account?
Log in
© Copyright IBTimes 2023. All rights reserved.