China calls for emergency talks, South Korea 'accidentally' fires into DMZ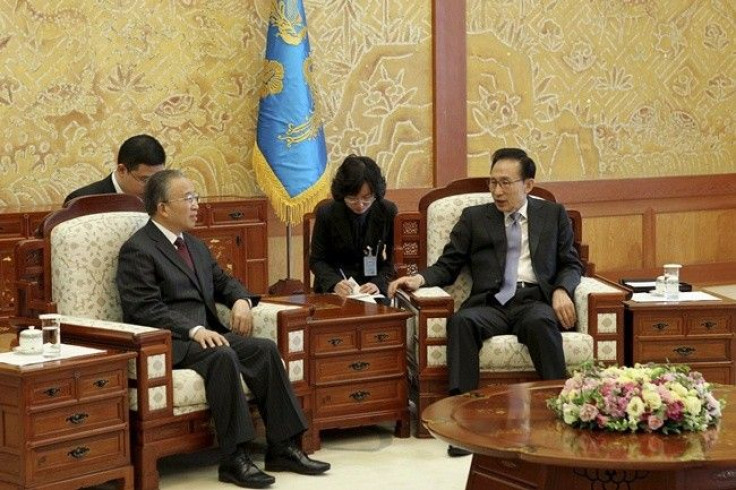 China on Sunday proposed an emergency meeting of all nations involved in the six-party talks over North Korea in early December. Seoul responded immediately dismissing the resumption of talks as not timely. Both the South and North along with the United States, China, Japan and Russia are involved in the talks that have been stalled since April 2009.
Speaking at a media conference in Beijing, Wu Dawei, Chinese special representative for the Korean Peninsula affairs said, The Chinese side, after careful studies, proposes to have emergency consultations among the heads of delegation to the Six-Party Talks in early December in Beijing to exchange views on major issues of concern to the parties at present.
However, a statement from South Korean President Lee Myung-bak's office stated that the Chinese officials have been informed that Seoul was not interested in the early resumption of the six-party talks. It is more urgent to deal with Pyongyang's belligerence, it said.
In recent months, South Korea and its ally, the United States, have declined a dialogue with the North. The countries have demanded immediate disarmament of the North and appropriate response on the South Korean ship sinking, which killed 46 sailors in March this year. Last week, United States' top envoy on North Korea, Stephen Bosworth, stated that 'there would be no talking just for the sake of talking'.
Meanwhile, South Korea mistakenly fired an artillery shell towards the Demilitarized Zone (DMZ). The Yonhap News agency reported that South's military admitted to have fired a shell on the southern side of the DMZ on Sunday afternoon. A message was reportedly sent to North Korea immediately claiming that the firing was accidental. Officials maintained that no casualties occurred from the discharge.
South Korea and US forces began joint military exercises in waters west of the Korean Peninsula on Sunday morning. The exercise is seen a 'show of force' by the alliance after the last Tuesday's attack by North Korea on Yeonpyeong Island. The artillery shelling by the North killed two soldiers and two civilians of the South. China, meanwhile, raised severe objection to the drills and maintained that it would oppose any party to take military actions in their exclusive economic zone without permission.
© Copyright IBTimes 2023. All rights reserved.