China Calls For Religion To Be 'Localized' To Reduce Foreign 'Infiltration,' Says Party 'Severely Damaged' By Members' Religious Beliefs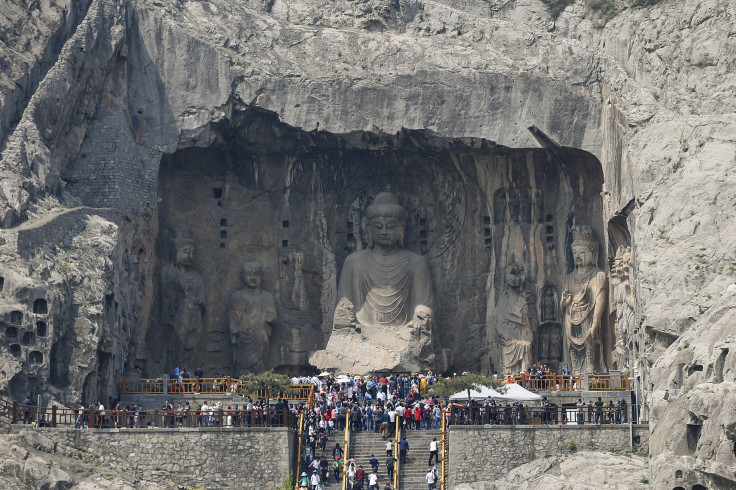 SHANGHAI — China's leaders have stepped up a campaign to "localize" the country's officially sanctioned religions and help prevent "infiltration" by foreign forces, as a senior official warned that many Communist Party members had turned to religion and this had "severely damaged the Party's ideology."
The remarks were made at a rare national religious working conference, presided over by China's President and Communist Party Secretary General Xi Jinping at the weekend. It was the first such conference since 2001, and some observers said it was further evidence of Xi's concerns at foreign influences and a lack of ideological purity among party members.
Religion under government control is officially tolerated in China, and has become a growing part of life over the past two decades, after being banned during the Cultural Revolution of the 1960s and 70s. There are now some 100 million believers, according to official estimates, a figure some religious believers say far underestimates the situation.
However, Xi has sought to re-impose more orthodox Marxist values, at least on the country's 88 million Communist Party members, since he came to power some three years ago. And he told the meeting that China should "resolutely resist overseas infiltration through religious means and guard against ideological infringement by extremists," according to the official Xinhua news agency.
Xi said that "localization" is a "key mission in helping religions adapt to [China's] socialist society," adding "We should guide and educate the religious circle and their followers with socialist core values."
Zhu Weiqun, chairman of the Ethnic and Religious Committee of the advisory body to China's legislature, the Chinese People's Political Consultative Conference (CPPCC), told the official Global Times newspaper: "Localization of foreign religions does not mean a denial of their basic doctrines and canons, but to follow the lead of the Party, as well as adding Chinese characteristics to the religions."
Zhu said there were "some problems that need to be urgently solved," notably "foreign forces' infiltration in China through religions," and what he described as the "de-Sinicization and extremist infiltration" of Islam "in some regions."
China's officially sanctioned religions – Islam, Buddhism, Taoism and the Protestant and Catholic churches – have in theory always been expected to pay allegiance to the Communist Party's rule, while the Chinese Catholic Church must take orders from Beijing not Rome. Yet Zhu suggested the Vatican, with which Beijing does not have diplomatic relations, was seeking "to vie for dominant rights over China's Catholics."
And analysts say Beijing has been alarmed not only by the rise of extremist Islam in north-west China — which has seen a number of terrorist attacks, and reportedly, cases of local Muslims seeking to travel to the Middle East to join the Islamic State Group — but also by the continuing influence of exiled Tibetan leader the Dalai Lama over Tibetan Buddhists, and by the popularity of Christianity among China's young generation.
The government last year launched a crackdown on a number of officially registered churches in Wenzhou, in the eastern province of Zhejiang, forcing them to remove crosses that it said were too large, and jailing one prominent pastor, as well as detaining the lawyer who defended him for some seven months. It is also reported to have detained the pastor of the country's biggest official Protestant church, in the Zhejiang provincial capital, Hangzhou, for opposing the crackdown on crosses.
State media did not specify exactly what form the localization prescribed by President Xi would take, but said that religious leaders and scholars had "voiced support" for the government's line.
Willy Lam, a specialist on Chinese politics at the Chinese University of Hong Kong, told International Business Times that "the Xi Jinping leadership is particularly paranoid about the Christians, including Catholics. ... Particularly in rural China, many local-level Communist officials have become Christians and they are offering protection to house churches (unregistered Protestant worship places that do not take orders from the government.)"
"'Localizing' Christianity means injecting Chinese elements, including Confucian and Buddhist ideas about harmony, respect for and subservience to authority, into the Western creed," Lam added.
And he noted that a recent party directive, one of many aimed at tightening controls on party members in the past three years, had stressed "that retired party officials or members must not become Christians or Tibetan Buddhists."
Such anxieties were confirmed by CPPCC committee chairman Zhu, who said that "In recent years, many Party members, even some officials, have fallen away from the Party's dialectical materialism outlook and found spiritual consolation in religions, which has severely damaged the Party's ideology, organization and work style and disturbed the country's religious work."
Zhu called on party members to be "unyielding Marxist atheists, consolidate their faith, and bear the Party's tenets in mind."
And President Xi was also quoted as saying more effort should be made "to help teenagers form a scientific outlook on the world, and guide them to believe in science, study science and promote science" — apparently as an antidote to religion. He also warned that China must take care to prevent the internet becoming a channel for dangerous religious ideas.
The Chinese government has tolerated religion up to a point in recent years, tacitly acknowledging that it can play some social role in an increasingly fragmented society. Some religious groups now organize community welfare activities, for example. However, observers say a leadership that has become increasingly nervous about social and economic stability is ever more concerned about foreign influences -- as suggested by recent warnings to Beijing citizens about the dangers of foreign spies, and a new draft law on NGOs, which critics say seeks to reduce foreign influence in China's civil society.
And the Global Times added in an editorial: "Many rival countries are also religious powers, whose geopolitical interests will, consciously or unconsciously, permeate into their cultural exchanges with China. Thus it is of vital importance for China to stay unaffected …and avoid being exploited by external political and zealous ideological forces. As religion shapes its believers' faith … it will become the weakest link for external forces to infiltrate their influences into China if it is controlled by international politics."
© Copyright IBTimes 2023. All rights reserved.