China Carrier Hainan Airlines Says It Will Order 30 Boeing 787-9 Dreamliner Jets In $7.7B Deal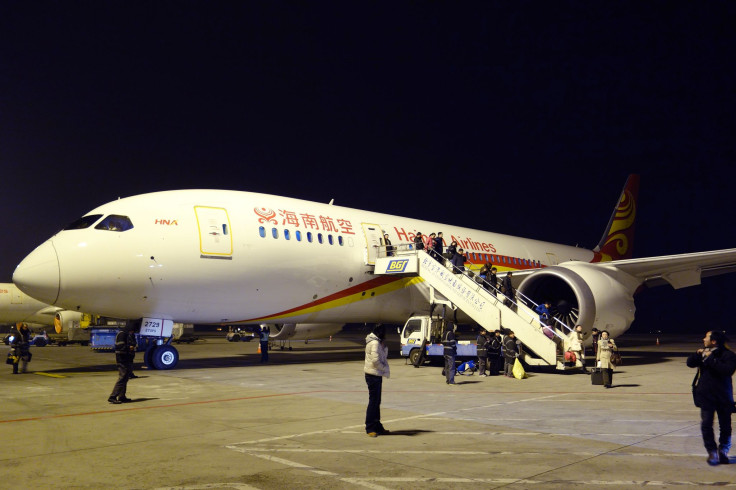 Responding to increased demand from Chinese travelers, China's fourth-largest carrier Hainan Airlines Co. has hefty expansion plans, including more direct flights to U.S. cities. According to a filing Wednesday on the Shanghai Stock Exchange, Hainan plans to place a $7.7 billion order with Boeing Co. for 30 787-9 Dreamliner long-haul jets.
The deal, which has yet to be announced by Boeing, is huge. It would be the U.S. aerospace giant's largest 787 Dreamliner order since 2013 and would make up nearly half of last year's 787 orders. The purchase would more than triple Hainan's current fleet of nine Boeing Dreamliner jets, but the first delivery isn't scheduled until 2021.
"They will need this for their long-haul flights," Li Xiaolu, a Shanghai-based analyst with Capital Securities, told Bloomberg. "Because the deliveries are stretched over the next 10 years or so, this order isn't as aggressive as it looks."
This year, Hainan is starting five new routes: Beijing-Tel Aviv, Beijing-San Jose, Shanghai-Boston, Shanghai-Seattle and Chongqing-Rome. It's also increasing the frequency of flights between Beijing and Boston.
The 787 is the first commercial aircraft built from carbon fiber, which is stronger and lighter than aluminum. Lighter planes burn less fuel. The 787-9 seats as many as 280 passengers.
Boeing said in a report last year that it expects China to surpass the U.S. as the world's largest air travel market by 2033. The company sees Chinese airlines buying more than 6,000 commercial jets over that period of time, or about $870 billion worth of business that will largely be split between Boeing and Airbus.

Boeing says it has sold 466 of the 787-9 Dreamliners since deliveries began in 2013. Hainan's order would make the jet the most popular of the three 787 variants, which also includes the smaller 787-8 and the larger 787-10.
© Copyright IBTimes 2023. All rights reserved.