China Censors Interview With Anti-Corruption Activist Who Alleged He Was Framed By Police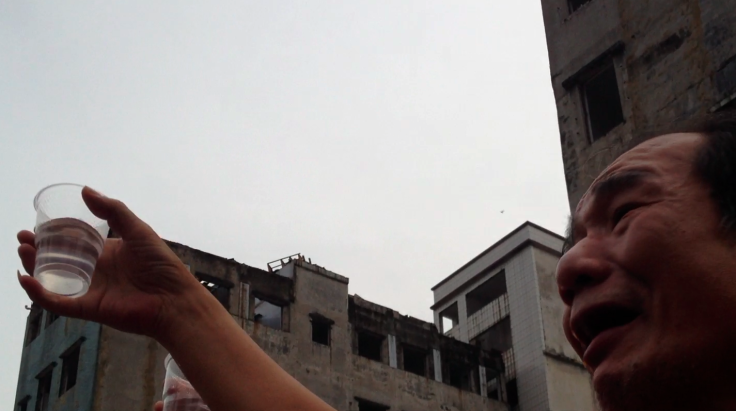 SHANGHAI -- A Chinese news website on Thursday published an interview with a well-known anti-corruption campaigner, who was detained last week on prostitution charges, in which he said he was framed by police. The interview, published by official Shanghai news website thepaper.cn, received more than 700 comments online, but was later deleted and replaced with a message saying 'this article has been taken down' -- though it was still available on some other sites.
Ou Shaokun, who campaigns against misuse of official cars in his home city of Guangzhou, was arrested on March 26 in a hotel in the city of Changsha, Hunan province, on charges of consorting with a prostitute. Changsha police announced his detention on their official microblog, and a local TV station later broadcast an interview with Ou in which he apologized for failing to control himself, and for letting down his fans and the public.
But supporters of the 62-year-old, commonly known as Uncle Ou, have speculated over the past few days that he was set up -- and several of China's more populist news outlets have reported their views.
Ou, who has over 100,000 followers on Chinese social media, has won fans for taking photographs of cars with official plates outside entertainment venues, posting them online and sending them to the authorities for investigation.
He has also brought court cases against the local government and has advised villagers from Guangzhou fighting against expropriation of their land by the authorities. One of the village activists, who was accompanying Ou on his trip to Changsha, was also detained on prostitution charges. Their arrest occurred soon after Ou uploaded pictures of a car which he said was a government vehicle from Guangzhou at a park in Hunan.
After his release from five days' detention early on Thursday morning, Ou gave a telephone interview to thepaper.cn, in which he said he had been a victim of a miscarriage of justice. He denied that he had solicited a prostitute, and said he had been "set up."
Ou told the website he had been invited to Hunan province by friends he had met via his social media site. On the third day, they had taken him and his friend to meet a local businessman, who invited them for dinner and then to sing karaoke in their hotel. Ou said he was introduced to a young woman, who later came to see him in his room after he retired feeling sick. He said he had initially tried to avoid being alone with her -- but after she used his bathroom and emerged clad only in a towel he had "been unable to live up to his values" and had begun embracing and kissing her.
At this point, he said, police burst in and began taking photographs, before detaining him on prostitution charges. Ou insisted he had not had sex with the woman and had not paid her any money. However, he said that after several days in detention he had agreed to be interviewed by Changsha's "Politics and Law" TV channel, after a police officer threatened to put a video recording of him and the naked woman online. Ou said that while he did apologize to his followers in the TV interview, a section in which he said he had been wronged was deleted from the final broadcast -- which was titled "Uncle Ou admits to illegal behaviour."
Ou said the prostitution charges were intended to make him lose face, so that he would stop his anti-corruption work. However, he said that when he returned to his home town he intended to hire a lawyer to appeal against the charges, and "would be braver than ever," as he believed in the overall honesty of China's legal system.
The paper.cn also quoted a statement from Changsha police, saying they had raided the room in response to a tip-off from a member of public. They said Ou's detention was part of a local crackdown on prostitution, and everyone was equal before the law.
By early Thursday afternoon, when the report was removed from thepaper.cn's website, it had attracted more than 700 comments. Some posters criticized Ou. One said he should be grateful the police had driven him all the way back to Guangzhou after releasing him; another said that even if he had been set up, it was his own fault for not keeping his belt buckled.
But the majority of comments were supportive. Several praised Ou for his courage and "righteousness." One said the authorities frequently used prostitution charges against those they didn't like; others said even if Ou had done something wrong it didn't invalidate his campaigning work. Others went further. One said it was getting harder for the authorities to fool people in China; another criticized some media for having "no conscience," and said people needed to take action "for the next generation."
The case is a reminder of continuing tensions in China over the role of the media and public scrutiny. The Chinese leadership, which is currently engaged in a major campaign against official corruption, has said repeatedly said that "supervision" by the public and media are an important part of the campaign. Yet there have been a number of cases in which citizens who have taken this approach too literally have been punished -- and there has also been increasing pressure on China's news media, which remains state-owned, to tone down criticism of official policy.
In 2013, for example, well-known blogger and social critic Charles Xue was detained on prostitution charges. He was filmed confessing to the charges, and also apologized for misleading people with some of his online posts. He was later released without trial. Some observers believed the authorities' intention was to discredit such prominent social media critics.
Ou Shaoukun has previously accused the local authorities of victimizing him: last year he was taken to hospital after slitting his wrist, in protest against being refused permission to act as an elected neighborhood representative. Local media quoted Ou as saying "I'm not afraid of dying, but I must protest against constant persecution I have been subjected to over the years." Chinese media reports on that case were later also deleted.
© Copyright IBTimes 2023. All rights reserved.