China Charges Former Security Chief Zhou Yongkang With Bribery, Disclosure Of State Secrets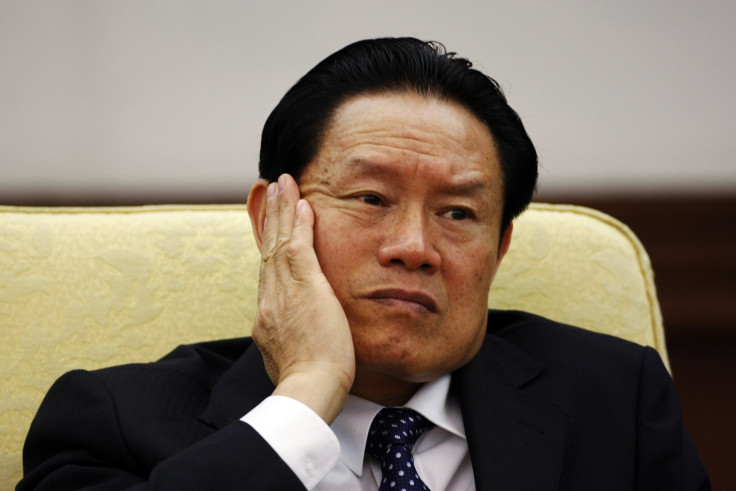 SHANGHAI -- China has charged its former security chief Zhou Yongkang with taking bribes, abusing his power and disclosing state secrets. State media said on Friday that Zhou, formerly a member of the Chinese Communist Party's elite Standing Committee, "took advantage of his posts to offer interests to others, and illegally accepted a huge amount of money and property."
The indictment added that he abused his power, resulting in "grave losses of public property" and a "negative social impact," and that he also "intentionally disclosed state secrets." Both these acts, it said, were "particularly serious," though it did not give any further details.
No date was given for Zhou's trial, which prosecutors said would take place at a court in the northern city of Tianjin. Zhou, who retired in 2012, is the highest profile victim of a crackdown on corruption launched by China's President Xi Jinping, who took power the same year.
The indictment suggested that Zhou's alleged crimes took place over several decades. Before becoming head of the Communist Party's Commission for Political and Legal affairs in 2007, he had served as China's police minister, and as party chief of Sichuan province. But much of his career was spent in the state-run oil industry, where he rose over three decades to become head of the China National Petroleum Corporation (CNPC).
The petroleum industry has become a major target of China's current anti-corruption campaign, with many senior executives detained. The official China Daily newspaper on Friday quoted an earlier Chinese media report alleging that Zhou's son had "accumulated a huge amount of wealth" thanks to his father's influence in the industry. It said Zhou Bin had bought an oilfield from CNPC for $3.2 million and sold it for over $88 million.
Last year China's Xinhua news agency said that Zhou took bribes "directly and via his family members," and used his position to help family members and friends "gain huge profits through business activities." It also accused him of committing adultery with "a number of women," saying he had "traded money and power for sexual advantages," and had also helped his mistresses go into business.
Chinese media said last month that Zhou would be given an "open trial" as a sign of official transparency, and reports of his indictment included the unusual detail that prosecutors had informed Zhou of his rights, and "listened to the opinion" of his lawyers.
However, experts say the inclusion of state secrets charges make it unlikely that all the details of the trial will be revealed. Willy Lam, a specialist on Chinese politics at the Chinese University of Hong Kong, said the trial was likely to be similar to that of disgraced former politburo member Bo Xilai, who was jailed for life in 2013. In that case, edited sections of the court proceedings were released via Chinese media.
Professor Lam said there was speculation that Zhou may have "illegally taped telephone conversations by China's top leaders, or may have colluded in the release of information about the wealth of family members of President Xi or of [former Premier] Wen Jiabao. He ran the state security apparatus so he could have done this." However, he added, "the full details of the state secrets charges may never be known."
China's Supreme People's Court recently accused Zhou of colluding with Bo Xilai to conduct what it called "non-organizational political activities," which some analysts have seen as a reference to unconfirmed rumors that the pair tried to stage a coup in 2012, shortly before Bo's arrest.
Lam said there was no doubt that Zhou was "the most powerful head of China's state security apparatus ever," noting that spending on internal security had exceeded that on China's army in 2011-12. "He built a huge empire, he was the ringleader of a gang of around 100 senior officials and members of his family."
President Xi has since replaced many top officials within the security apparatus, according to Professor Lam. Chinese media reported last month that two of Zhou's former close associates had been charged with bribery and abuse of power. Lam said Xi's crackdown on Zhou and his associates was a demonstration of his power and control of China's system.
News of the charges came as the official China Daily newspaper announced that a new app for mobile phones was being launched by the Communist Party's central Party School, offering access to books and writings by President Xi. The newspaper said this would "attract more people to study Party theories." Observers have said President Xi is emphasizing a return to traditional Communist values as he seeks to clean up corruption in the party, which he has described as "a matter of life and death."
© Copyright IBTimes 2022. All rights reserved.
FOLLOW MORE IBT NEWS ON THE BELOW CHANNELS