China Civil Rights Lawyer Pu Zhiqiang Gets 3-Year Suspended Jail Sentence For 'Provocative' Comments Online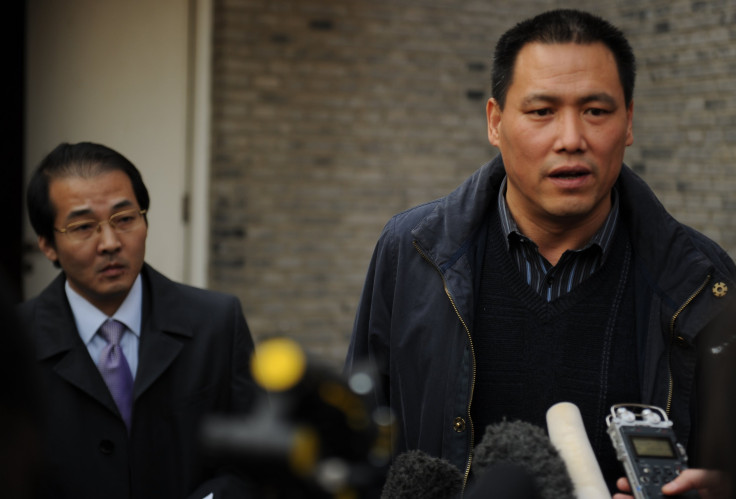 SHANGHAI — A court in Beijing has sentenced leading Chinese civil rights lawyer Pu Zhiqiang to three years in jail, with a three year reprieve, for a handful of tweets, which the court said provoked trouble and incited ethnic hatred. The verdict, effectively a suspended sentence, is rare in such a political case in China, and some analysts said it might suggest court's lack of confidence in the case against Pu.
Rights groups, however, condemned the verdict as harsh and unfair, and said it would effectively prevent the lawyer from working, with the threat of jail still hanging over his head.
The case has attracted international attention, with critics saying it is the latest sign of a deepening crackdown on civil rights in China under the leadership of President Xi Jinping. The U.S. has called the charges against Pu vague, and called for his release. The 49-year-old lawyer is one of China's most outspoken advocates of rights of the underprivileged, and his forceful courtroom style is seen to have contributed to the success two years ago of a campaign to scrap China's re-education through labor system — which previously allowed police to send suspects to labor camps for up to four years without trial.
The case against Pu was based on seven tweets, which criticized officials and questioned government policy in the mainly Muslim north-western region of Xinjiang. The government has launched a tough crackdown on Islamic extremism in the region, but Pu's tweet, which followed a terrorist attack last year, suggested the attack was "effect not cause" — apparently implying that official policy could have caused some of the problems.
Human rights groups welcomed the news that Pu, who had been in detention for 19 months before his trial, would not be immediately jailed, but criticized the fact that he was ever brought to trial. Amnesty International researcher William Nee said on Twitter that the verdict was "somewhat positive, but he still should never have been detained," and noted that he would not be able to practice law for the next three years. Amnesty said in a statement that the sentence was "a deliberate attempt by the Chinese authorities to shackle a champion of freedom of expression."
Nicholas Becquelin, a researcher at Human Rights Watch, said in a Tweet that the sentence "looks like a political compromise," and suggested the suspended verdict somewhat undermined the prosecution's case against Pu (Another leading civil rights lawyer, Xu Zhiyong, was jailed for four years on similar charges last year).
The court had previously thrown out two of the original charges against Pu, including one of "inciting separatism." However, Becquelin noted that a similar sentence was previously given to another lawyer Gao Zhisheng — and Gao was eventually jailed during the last week of his probation. He said the verdict thus both "saves face" for the authorities, and "keeps the screws" on Pu.
Sophie Richardson, China Director of Human Rights Watch, said in a statement that "nothing Pu Zhiqiang has written has violated any law," adding that he was only debating social problems that the Chinese government itself was likely to have discussed during its recent work conference.
However, the court's verdict said Pu's tweets on Xinjiang had "provoked strong ethnic hatred and confrontational feelings" among internet users. And it said four other tweets had "insulted many people": this is believed to refer to Pu's posts criticizing a grandson of late leader Mao Zedong, and a legislator who said he had never voted against the government. State media noted that these tweets "were resent over 900 times and had attracted 500 comments," and had thus "incited further insulting and negative comments," which had caused "psychological damage, ... caused chaos in the internet space, and damaged social order to a serious degree."
The official Xinhua News Agency said Pu had "pleaded guilty and repented" and was therefore given a "light" sentence. However, Chinese media had previously quoted his lawyer as saying he denied the charges — though his lawyer also said Pu had apologized during his trial for any offense caused. Official reports Tuesday also say Pu had told the court during his sentencing hearing that his experience had helped him to feel the progress in China's legal system, rule of law and society. One critic, writer Murong Xuecun, said on Twitter that claims Pu had pleaded guilty were a distortion of his views.
Observers said the case was the latest sign of the Chinese government's twin campaigns to rein in civil society activism and to control China's social media and internet, which have seen increasingly outspoken expression and criticism of policy over recent years. The government previously introduced rules threatening jail terms for those who post "rumors" online, and at an internet conference last week, Chinese President Xi Jinping reiterated the government's official line that "without order online there is no freedom."
Some members of the public continued to express support for Pu. The lawyer is a popular public figure in some circles in China — he was previously quoted frequently in the Chinese media and was once named person of the year by a Chinese news magazine. As at his trial last week, a small group of supporters stood outside the courthouse where the verdict was announced, to offer support, though some were later taken away by police. Some foreign journalists also had their press cards confiscated until they left the scene.
Other members of the public showed solidarity with Pu by posting his name or photograph online. On Shanghai-based news website the Paper, some readers who commented on an article about his sentence wrote simply "no comment," a reference to government attempts to hush up Pu's opinions, while others wrote "oh," "sigh" or "sadness."
The suspended sentence for Pu follows the recent reduction on appeal of the jail term for journalist Gao Yu, who was accused of leaking state secrets but was released from jail on medical parole. State media have pointed to such decisions as a sign that China is "a country ruled by law." However, at the end of a year that has seen the continuing detention of more than 20 legal professionals from one Beijing civil rights law practice, and the detention of feminist activists, bloggers and journalists, rights groups continue to express alarm about the depths of the government's crackdown. Freedom of press activist Guo Feixiong was recently jailed for six years, while novelist Wang Lixiong, who has also criticized China's ethnic policies, said he was last week denied permission to leave the country on grounds of "national security."
China's tightening controls were also highlighted by the draft of a new anti-terror law released by government this week. Observers noted that it defines terrorism broadly to include acts that "infringe personal and property rights… with the aim to realize certain political and ideological purpose." Chinese media have this year reported on the police carrying out "anti-terrorism" exercises targeted at villagers fighting against being forcibly evicted from their homes for redevelopment — a common cause of tension in rural China in recent years.
FOR FREE to continue reading
✔️ Unlock the full content of International Business Times UK for free
offer available for a limited time only
✔️ Easily manage your Newsletters subscriptions and save your favourite articles
✔️ No payment method required
Already have an account?
Log in
© Copyright IBTimes 2023. All rights reserved.